It's been a little over a month since Baiano Pizzeria took over the old Don Agapito's / Go-Getter's Pizza spot on Gough and Page streets, and already the corner has been transformed. Gone are the dark maroon walls, and in their place a colorful mural is emerging, celebrating the Bahia region of Brazil. 
A Brazilian-centric mural may seem an odd fit for a pizzeria, but the story goes much deeper. Owners Bruno and Ian Matos grew up in the northeastern state of Bahia in Brazil, and the mural is an homage to their home country. Executing the colorful new look is artist Chris Burch, a friend of the Matos brothers. 
Burch (who some may recognize as a bartender from Little Baobab) is no stranger to large-scale pieces; his exhibitions in galleries often include big site-specific paintings. But the Baiano piece marks his first outdoor mural.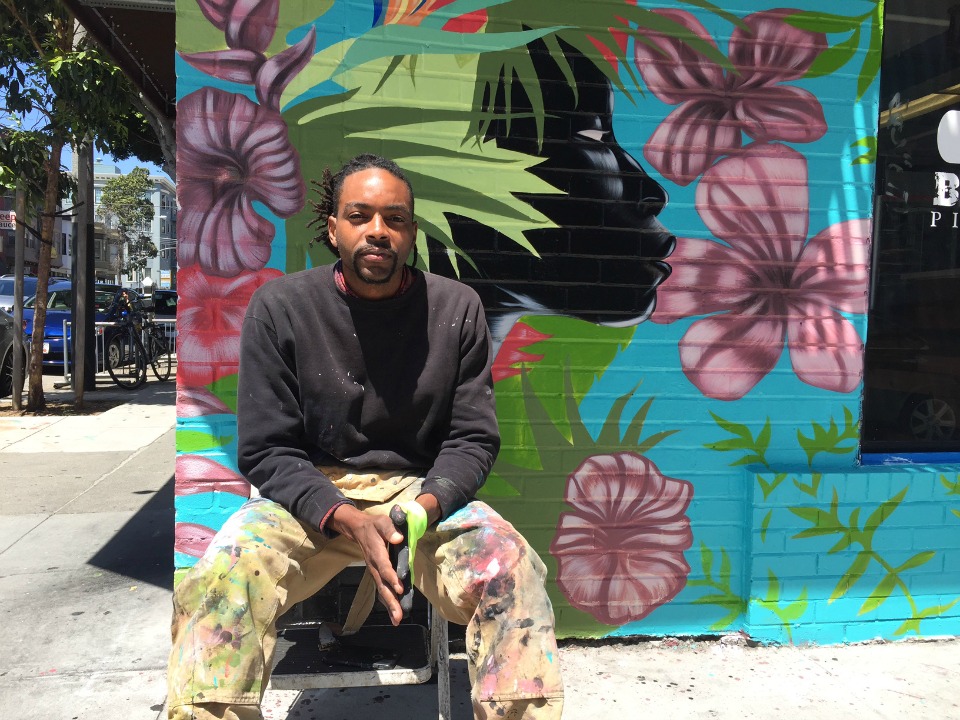 Painter Chris Burch. (Photo: Nuala Sawyer/Hoodline)
"I wanted to do something honest to my work, while combining the folklore and spirituality of the Bahia region," Burch told us. The theme he landed on was a celebration of Yemanjá, a Brazilian goddess of water and flowers. 
The mural work is a favor to his friends, and his first foray into large-scale outdoor work, but Burch says the mural goes deeper than that for him. "I want to give back to the neighborhood, and the community," he told us. 
Although the mural isn't yet finished, it already appears to be achieving Burch's goals. While we were chatting, a couple walked by and said "good job!" to Burch. An older lady who lives nearby brings him candy throughout the day as he works. But the best story so far involves a meter maid. 
"She was writing tickets along Page Street, but got distracted by the mural and was staring at it for a while," Bruno Matos told us. "Just then a guy ran up and said, 'Hey, that's my car,' narrowly avoiding a ticket getting written for him. She told him it's a good thing she was distracted!"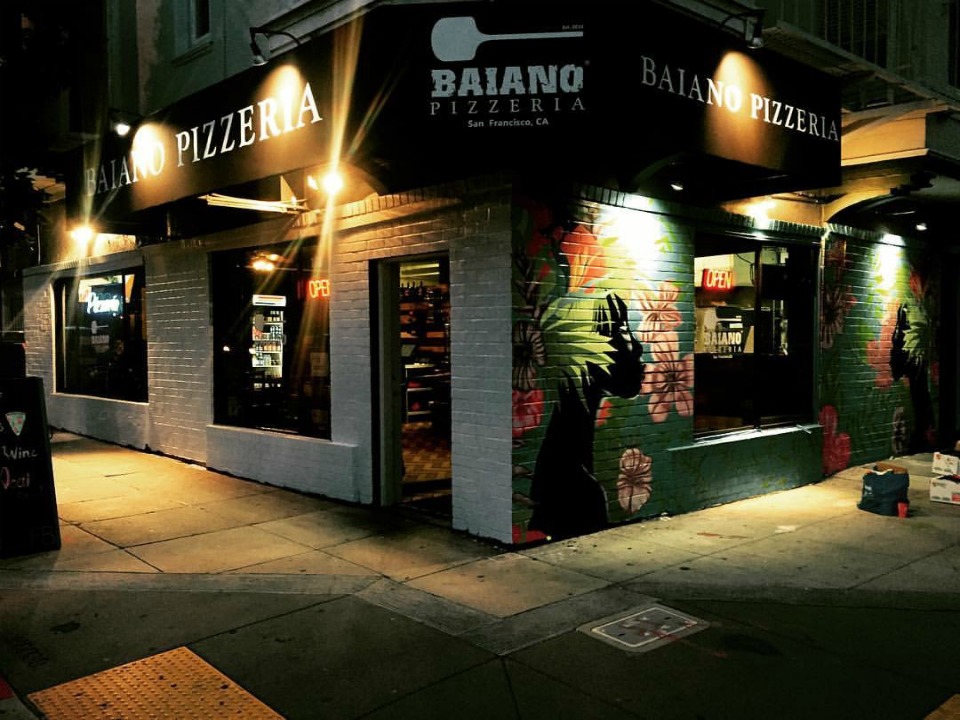 The mural at night. (Photo: Bruno Matos/Baiano)
The south side of the mural should be complete in another week, at which point Burch will begin on the western wall. It will build on the same theme, but won't be a continuation of the existing mural. "It'll have more red, though still lots of flowers," he told us. 
Baiano Pizzeria will be celebrating its newest location with a party this evening at 7pm. Swing by to grab a slice and have a look at Hayes Valley's latest piece of public art.