Kan Ramen quietly opened for lunch on Saturday at 229 Columbus Ave., formerly the home of Japanese spot Yokohama. It will be in "soft opening" mode until late May, when it will have its official grand opening, says manager Derek Chan. 
The ramen joint is offering North Beachers an alternative noodle dish, for a break from the usual pasta places. We'd noticed activity for a few weeks and saw the sign go up recently, so we decided to pop in and take a peek. "We didn't tell anyone that we were opening, we just opened the door," Chan told us.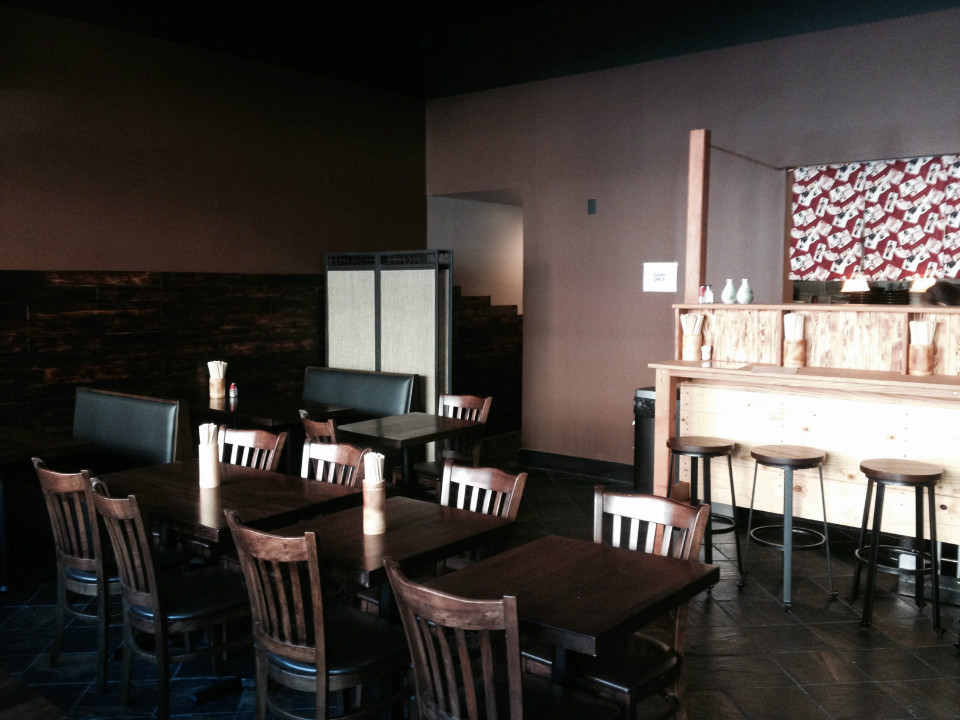 Chan said Kan will be in a soft opening phase at first, as they gauge how much product to prepare each day and hire and train more staff. As for the first day, "it was really good," he said. "When we opened, people came in from the street even though we didn't advertise."
Every ramen shop has its specialties, especially when it comes to the broth, and Kan Ramen will be specializing in a pork bone broth for all of the noodle dishes. Chan told us that the kitchen is making one huge vat of broth each day, because the flavor is better if done that way. It takes about eight hours to prepare. He's sourcing as much product as he can in nearby Chinatown, and will try to use only organic produce, when available. 
The pork bone broth simmering before dinner service.
The temporary menu is simple, with only four ramen dishes and two udon dishes to choose from, but diners can add extra toppings like duck breast, quail egg, and stewed pork belly. Tonkotsu ramen ($11), with pork chashu, kikurage mushrooms, bamboo shoots, spinach, seaweed and green onion, is the restaurant's staple, but those seeking something a little more decadent can try the black garlic ramen ($17), with a marinated soft-boiled egg, pork chashu, duck chashu, bamboo shoots, kikurage mushrooms, lotus root, kampyo, spinach, seaweed and green onions. 
All of the other familiar Japanese sides are on the menu as well, including gyoza, chicken karaage, and agedashi tofu, all $5. Chan told us that they'll expand the menu a bit as they tweak their soup base recipe, and will consider adding a vegetarian broth if enough people ask for it. 
For now, Kan Ramen will be open for lunch 11:30am–3pm daily and for dinner 5–9:30pm Sunday–Thursday and 5–10pm Friday and Saturday. But Chan said he may extend hours later if there's demand, and he's also weighing closing one day per week. So be sure to call first if you're heading in: (415) 800-7795.