This weekend marks the season's second installment of Sunday Streets following the street festival's debut in the Mission earlier this month. On Sunday, May 1st, the festivities (of which Hoodline is a media sponsor) will take over the Bayview/Dogpatch neighborhoods from 11am-4pm, in what will be one of the longest routes in the season (2.5 miles of Third Street, stretching from 18th all the way to Yosemite Street.)
Over 100 free activities will be on offer on for adults, children, pet lovers, bicycle enthusiasts and neighbors near and far. Longstanding partners will be returning, such San Francisco Recreation and Park (with BMX and skateboard ramps for youth),  San Francisco Bicycle Coalition's Freedom From Training Wheels program, a live art demo sponsored by 1AM Gallery, and the infamous roaming bubble girl, plus new additions to enjoy.
Here are some highlights:
Free Admission to Museum of Craft & Design
In conjunction with their current textile exhibition, titled "Lines that Tie" and curated by Debora Valoma, Professor and chair of the textiles program at California College of the Arts, this museum is offering free admission and a variety of free weaving classes until 6pm. Visit the website for more information. 
Taste of the Southside
Starting at noon, this event provides the opportunity to try some of restaurants along Dogpatch/Bayview that will be offering  $4-8 small bites and drink specials. Participating businesses include but are not limited to Triple Voodoo Brewery and Taproom, Sam Jordan's Bar and Grill, All Good Pizza, Butchertown Gourmet, Let's Eat BBQ, the new Laughing Monk Brewery and Seven Stills. (Stay up to date with the list of participants by visiting the Facebook event page.)
Grape Crush by Gratta Wines
From noon to 2pm, join Gratta Wines for a lesson on grape juice-making. This live demonstration is aimed at educating the community about the process of pasteurizing grape juice and its health benefits upon drinking. Following the demo will be a live grape crush where the community is encouraged to kick off their shoes (and socks) and stomp. (For more information visit the Facebook page.)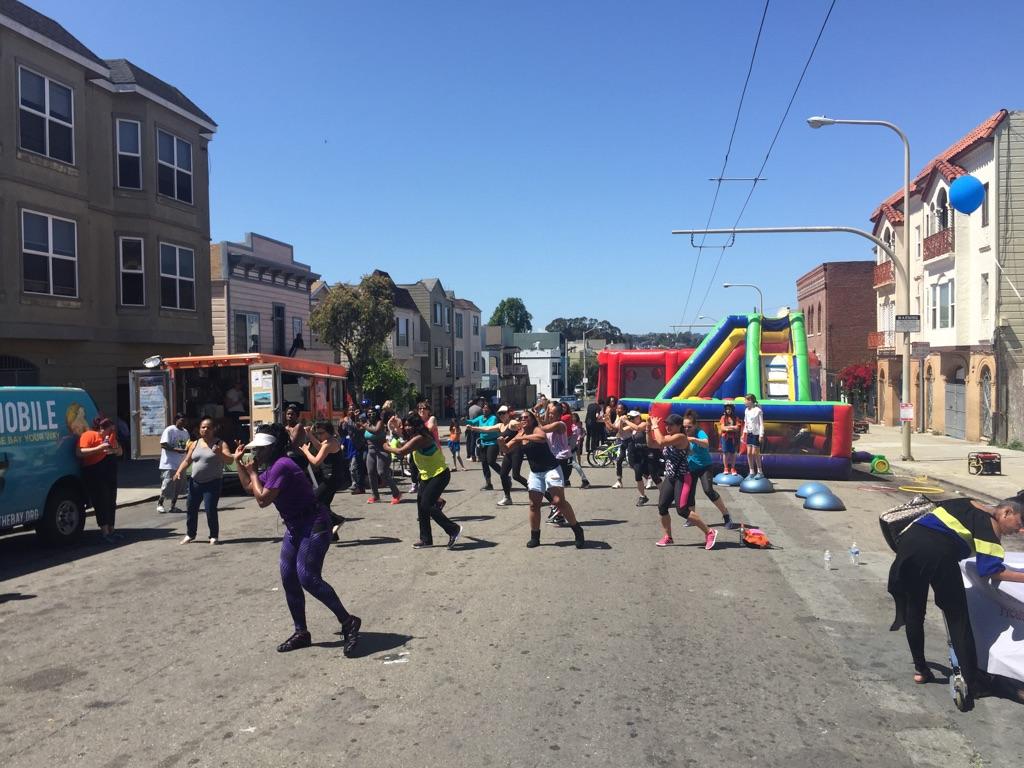 Other fun happenings include a clothing swap at All Good Pizza and a youth-inspired community festival hosted by the Bayview Senior Center, complete with live music, face-painting, and healthy food fresh off the grill.
There will also be a free shuttle for seniors, sponsored by the Bayview YMCA, which will allow them to hop on at Galves & Third and ride down to Yosemite Street. This service will be available throughout the course of the event.
Visitors can also keep a lookout for our Hoodline tent at Quesada Avenue, complete with writers, editors, and other members of the Hoodline team looking to meet more of our readers and future contributors in person.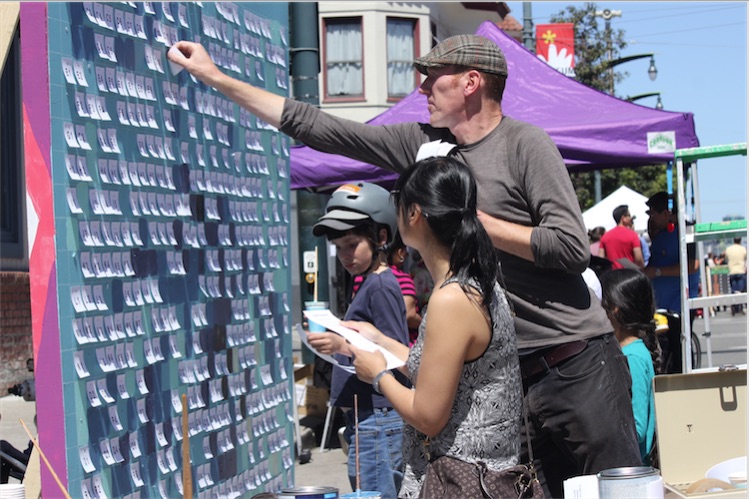 "It's been a personal goal of mine to engage more deeply with my community," said Katy Birnbaum, Sunday Streets Programming & Partnerships Director and Bayview resident, in a press release. "Bringing folks together from different backgrounds to figure out how we can all thrive in the same space is exactly what brought me to this job ... It's a dream come true to see it happening here with my friends and neighbors at Sam Jordan's, Imprint City, YMCA Bayview, Bayview Senior's Services (BHPMSS), Abundance Garden and City of Dreams, to mention a few."
As with other Sunday Streets events, there will be plenty of other family-friendly and community-building activities to participate in along the route. To see a map of the route and list of programs, visit the 
website
.