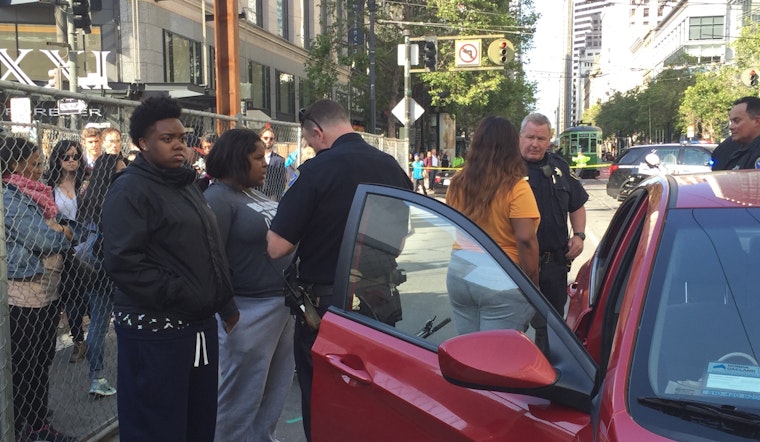 Published on May 12, 2016
It wasn't a happy Bike to Work Day for one cyclist, who was struck by a driver near Fourth and Market this afternoon. While police say that the cyclist did not sustain serious injuries, the collision has completely stalled rush-hour traffic on Market Street, backing up vehicles and several Muni lines.
The cyclist appeared to have been traveling southwest on Market Street, just past Fourth Street, when they were struck by a red Hyundai Accent. One witness claims that the driver attempted to flee the scene, but pedestrians blocked the car. The cyclist was transported from the scene in an ambulance just after 5pm, with what police say are non-life-threatening injuries.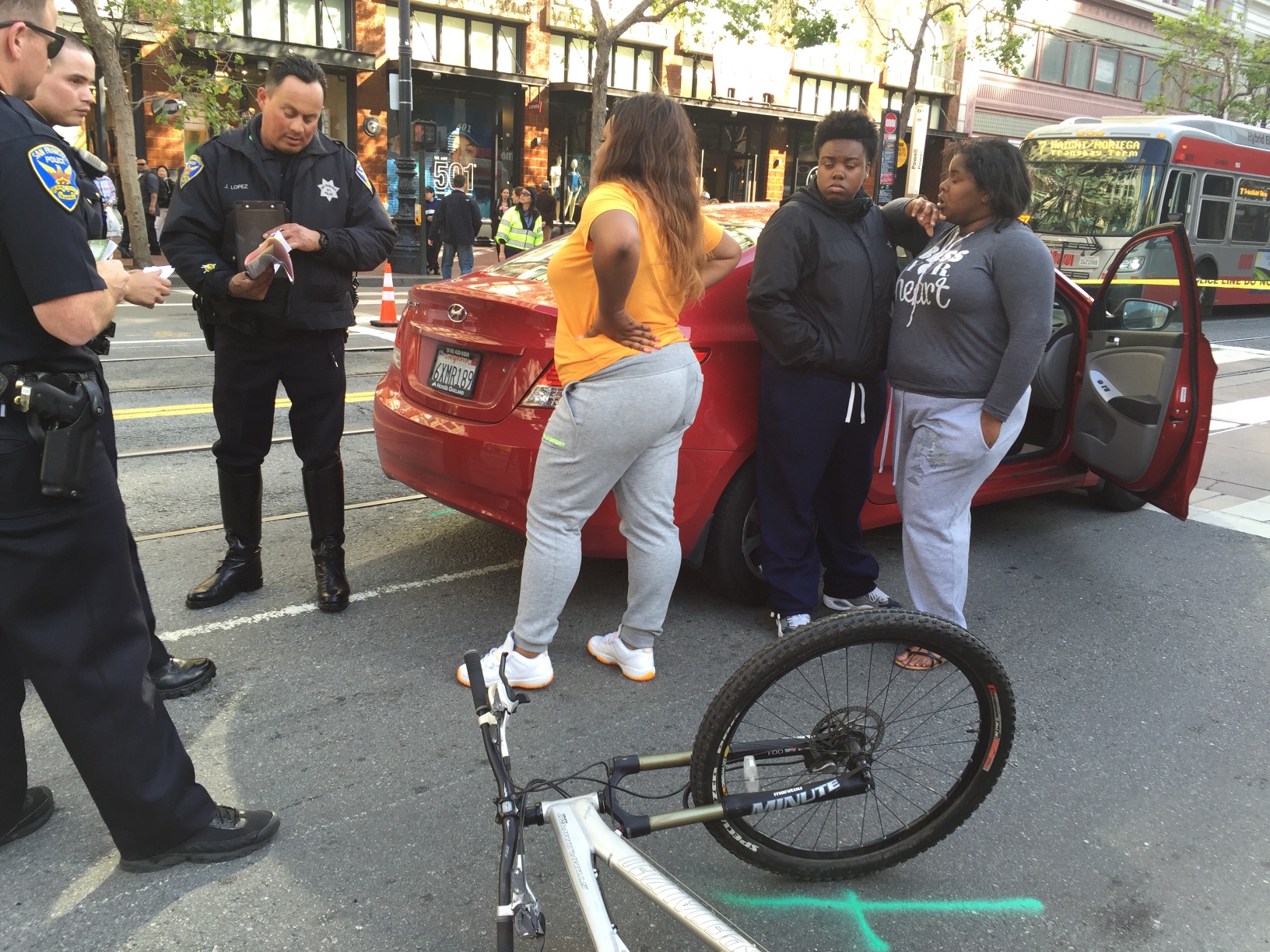 The bicycle and the Hyundai remain at the intersection, with police questioning the driver and witnesses. The front license plate of the car was bent slightly, and there was a scrape above the driver's-side rear wheel well, though it was unclear whether that was from the collision.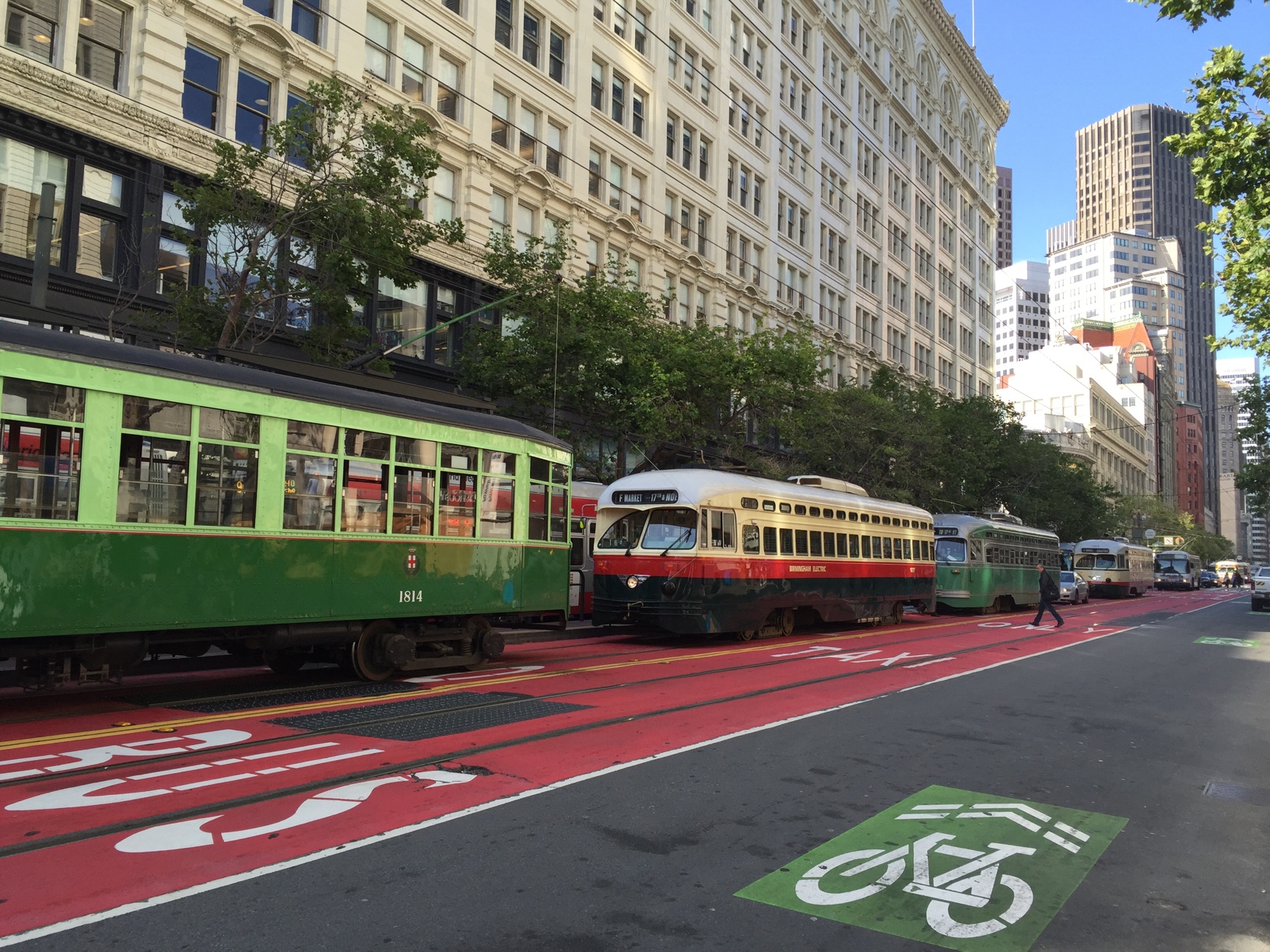 Traffic at the scene is snarled in all directions, with some buses letting passengers off while others managed to squeeze through. All outbound F-line streetcars toward the Castro have been stopped just north of Fourth, and buses are being rerouted east on Fourth. 
ATTN: Report of non Muni collision near Market/4th. #FMarket switching back: EB at 11th, SB at Ferry.

— SFMTA (@sfmta_muni) May 13, 2016
UPDATE: WB 21 routing via 4th to Miss. to 9th to Hayes; WB 5 routing 4th to Miss. to 9th to Hayes to Franklin to McAllister.

— SFMTA (@sfmta_muni) May 13, 2016
ATTN: Westbound 2, 38, 38R experiencing residual delays along Market from slow moving traffic due to non Muni collision at 4th.

— SFMTA (@sfmta_muni) May 13, 2016
Update, 5/13: SFPD confirmed in an email that the driver in this incident "intentionally ran over the bicyclist." Taj'zanae Zakira Thomas, an 18-year-old Oakland woman, was booked on assault with a deadly weapon. The San Francisco Examiner also had further information from the scene that indicated a Good Samaritan stopped her from fleeing the scene after the collision. Police had no further information on the cyclist's condition, other than to confirm the report listed the victim with complaint of pain to the back and pelvis.