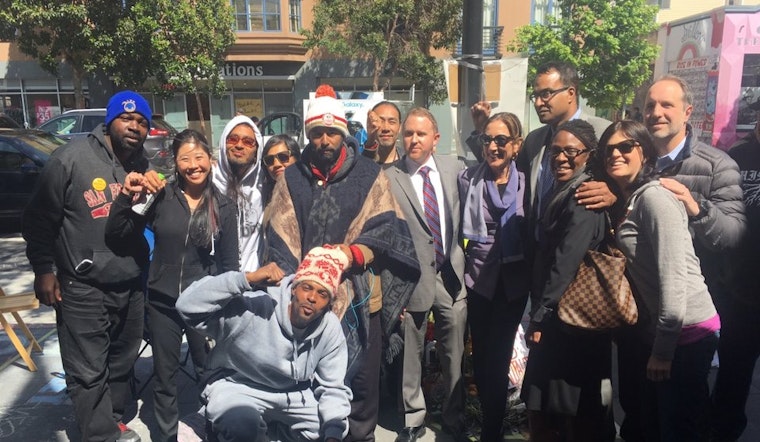 Published on May 01, 2016
Since April 21st, five local activists have been staging a hunger strike against police brutality in front of the Mission District station.
It was prompted by a string of police-related incidents in the city, mostly recently the nearby shooting of Luis Gongora on April 7th.
But the protesters are also focused on everything from police brutality issues nationwide to housing and displacement across the city and region.
With so many intersecting topics, groups, and goals, we've been stopping by the protest to hear why people are participating in their own words. 
Too Many Problems
The strikers, now being called the "Frisco Five" by supporters, are comprised of 39 year-old Sellasie Blackwell, 42 year-old Ike Pinkson, 42 year-old rapper IIiyich Sato (also known as Equipto), 66 year-old Maria Cristina Gutierrez, and the youngest at 29, Edwin Lindo, who is currently running a campaign for District 9 Supervisor. All are from San Francisco.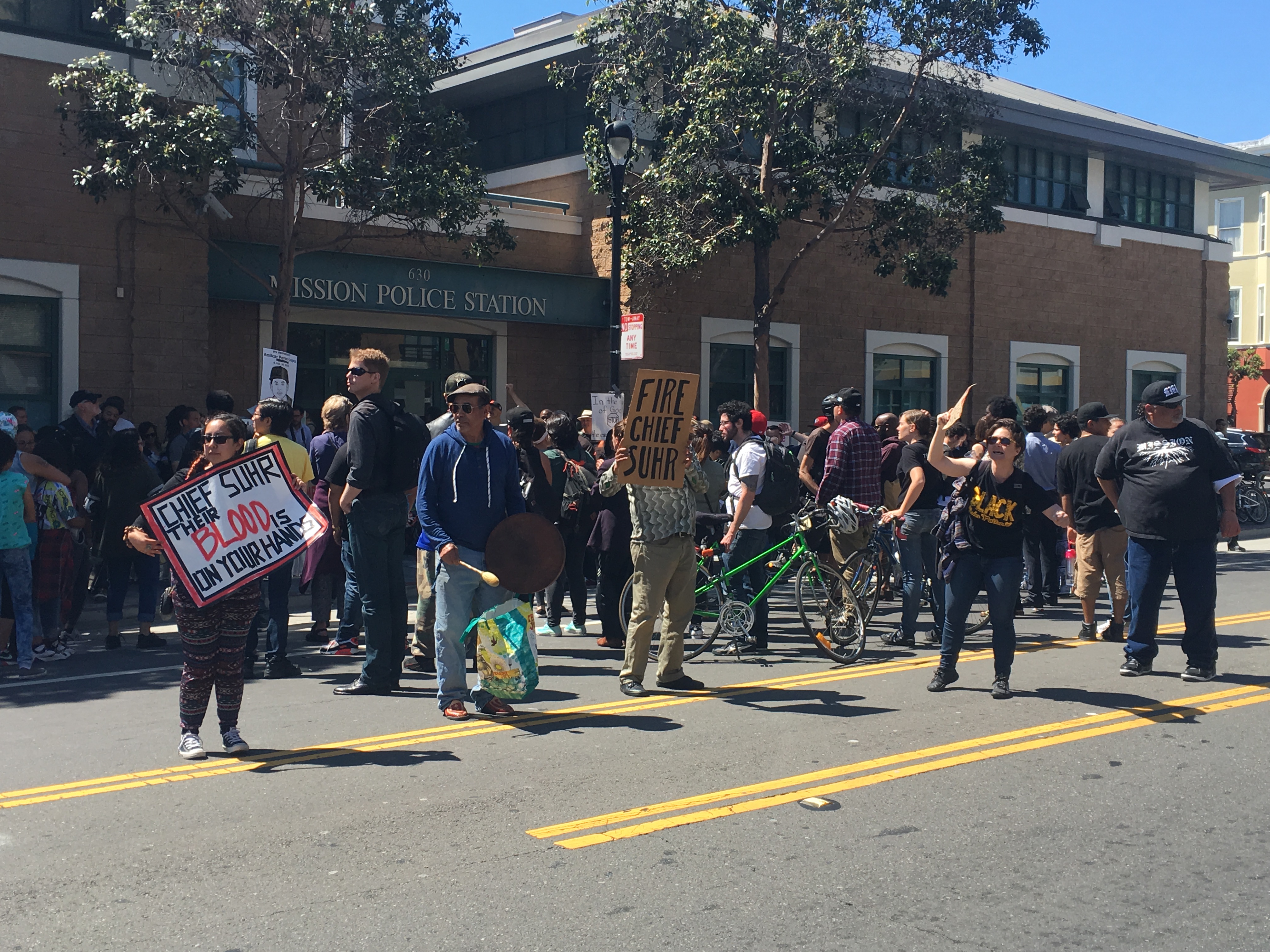 Hunger Strike Day 10

The Gongora shooting follows the recent killings of Alex Nieto and Mario Woods, and the revelation of racist text messages, most recently from SFPD officer and accused rapist Jason Lai.
Here's what Lindo said to the audience at the rally on the protest's second day, from our recording on the scene:
All avenues have been exhausted, he said. We have gone to rallies, we have gone to town hall meetings, we have gone to police commission meetings. The exact same things are happening every single day. The latest is our brother Luis Gongora who was on 18th and Shotwell, a homeless man evicted from his home.

Gentrification is a huge issue and it's why we have criminalization, and the killing of the black and brown community. What's ironic that we are starving ourselves for justice in a city that has been starving our communities for decades. It continues to do it. It leaves people on the streets living in tents. It is pushing black communities out to less than three percent of this population. This is not by chance. This has been calculated and planned. We are starving ourselves because the discomfort that we feel is nothing like what these victims felt. When I think of my hunger, I think of 59 bullets going through Alex Nieto. And that's what keeps me here.
Today marks the eleventh day since the strikers have gone without solid food. They are looking noticeably weaker, but they vow to continue. 
At The Protest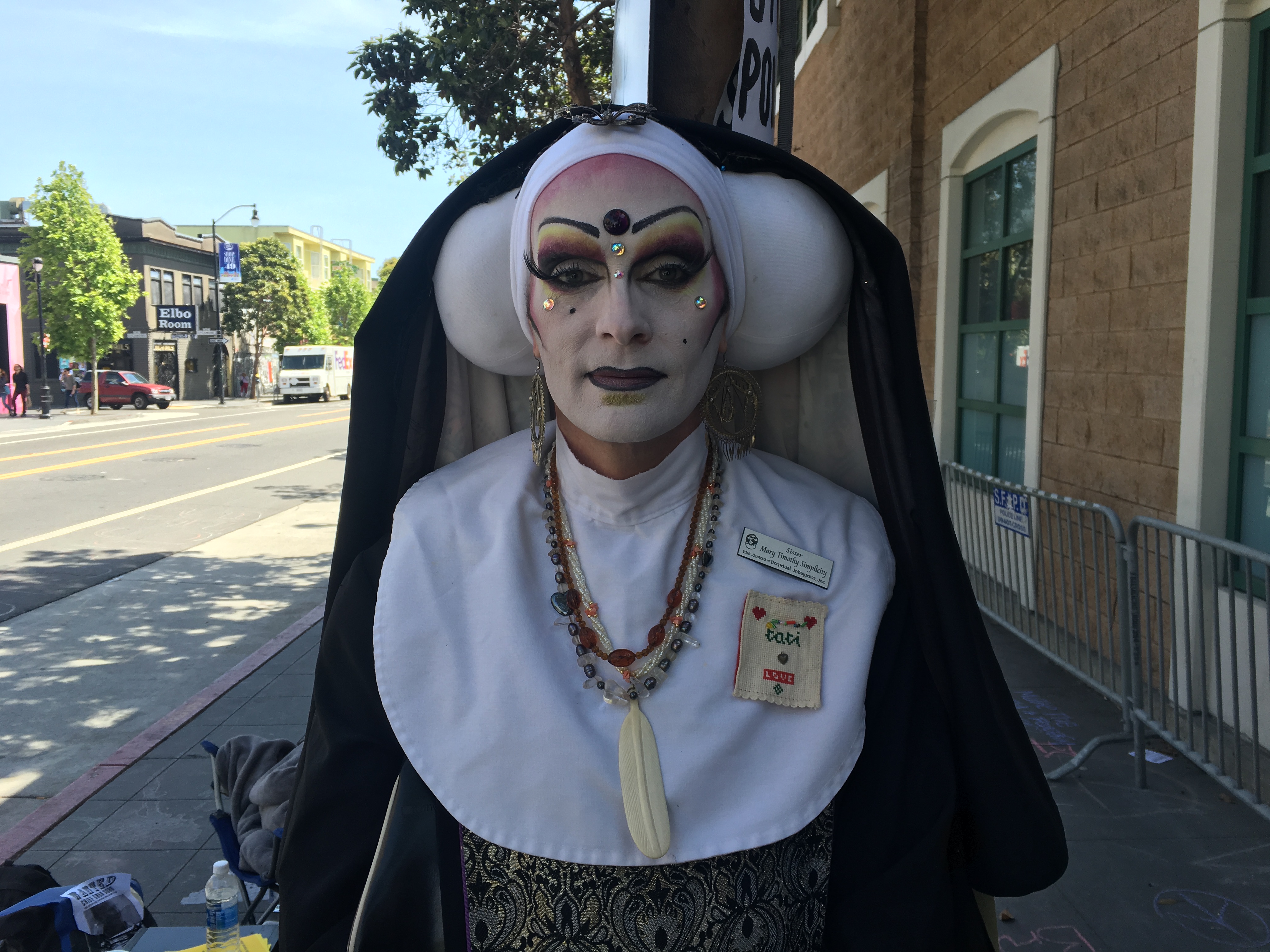 Sister Mary Timothy Simplicity of Sisters of Perpetual Indulgence.

"I'm here today because I'm from the Bayview and I live about four blocks away from where Mario Woods was shot," said Sister Mary Timothy Simplicity of the Sisters of Perpetual Indulgence, the prominent local charity/protest/street performance group. "I heard the shooting happen. I know violence happens in my neighborhood that is not police related, so I assumed it was some kids being stupid until I saw it on the news. It really blew my mind. It happened in my city and it's affecting the people I know and love.
"If [SFPD Chief Greg] Suhr is going to let something like this happen on his clock," Sister Mary continued, "then he needs to resign. You're hired to do a job you should be held accountable when the public feels you are falling short of your duties. He's a joke."
Chief Suhr has said that he has no intention of resigning, but that hasn't discouraged protestors. As we continued talking to them cars drove up and down Mission Street honking their horns in support, some people making stops to deliver water to the group.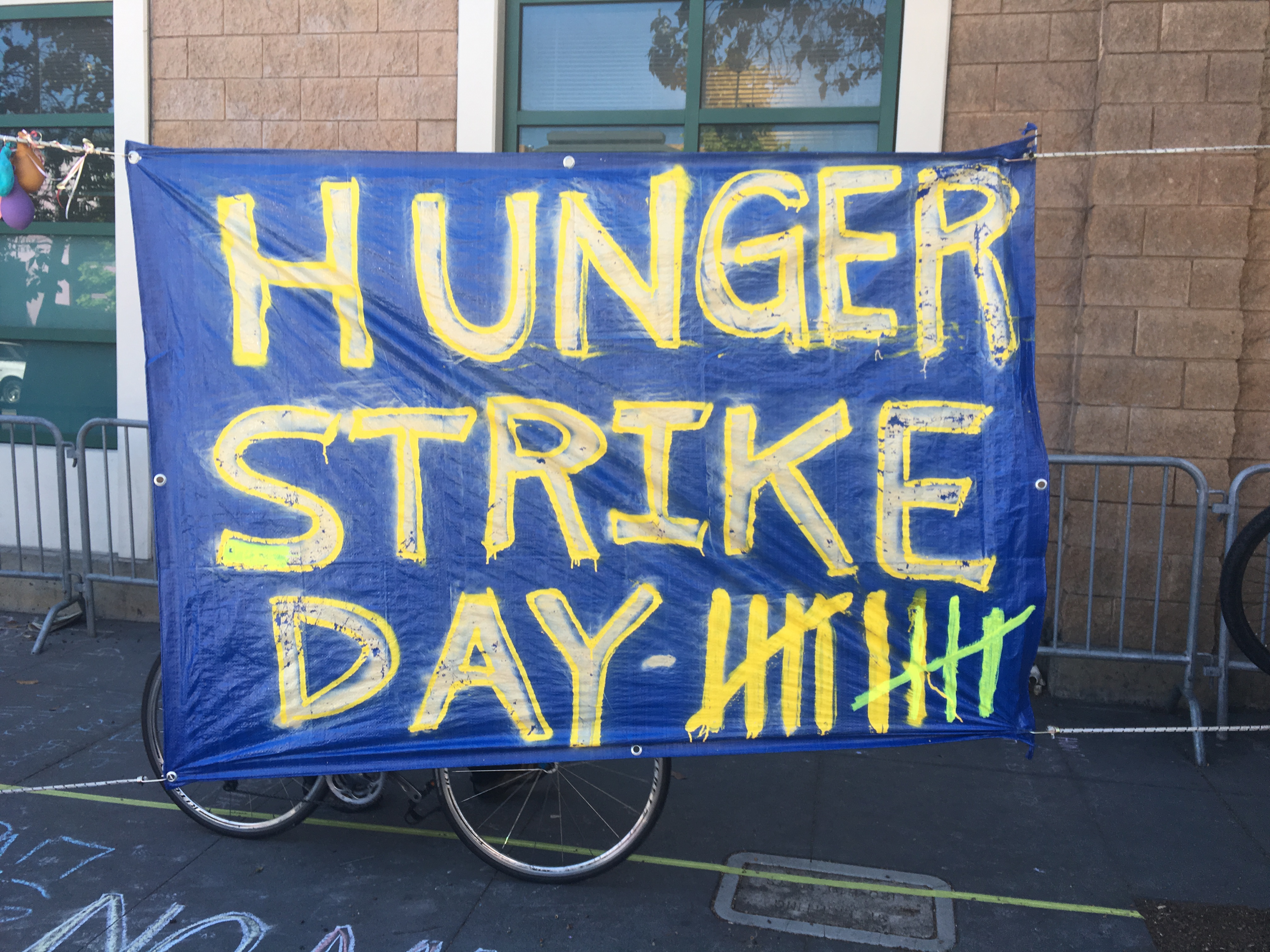 Hunger strike count-off
They have also been visited by religious leaders, politicians and other allied groups.
"I agree that racial bias and bigotry in the SFPD can not be tolerated," said Demarris R. Evans, a deputy public defender on the scene. "The Mayor and the Board of Supervisors must take action to show that such behavior and attitudes are not acceptable. It's actually not enough to say that its unacceptable. Specific consequences for conduct illustrating implicit or explicit racist and bigoted attitudes is necessary."
So far, Mayor Ed Lee isn't commenting about the demands. "Everybody has a right to protest," he told The Examiner last week. "Even if they're protesting they have a right to do so. We care for them, for their health, but they also have that first amendment right to protest and their cause and we'll respect that." 
Edwin Lindo
"They may have no plan to have Suhr resign today, but plans change. And we are going to make sure they do. The SFPD has operated with impunity for far too long. The time has come for San Francisco and its people see the Justice we all deserve.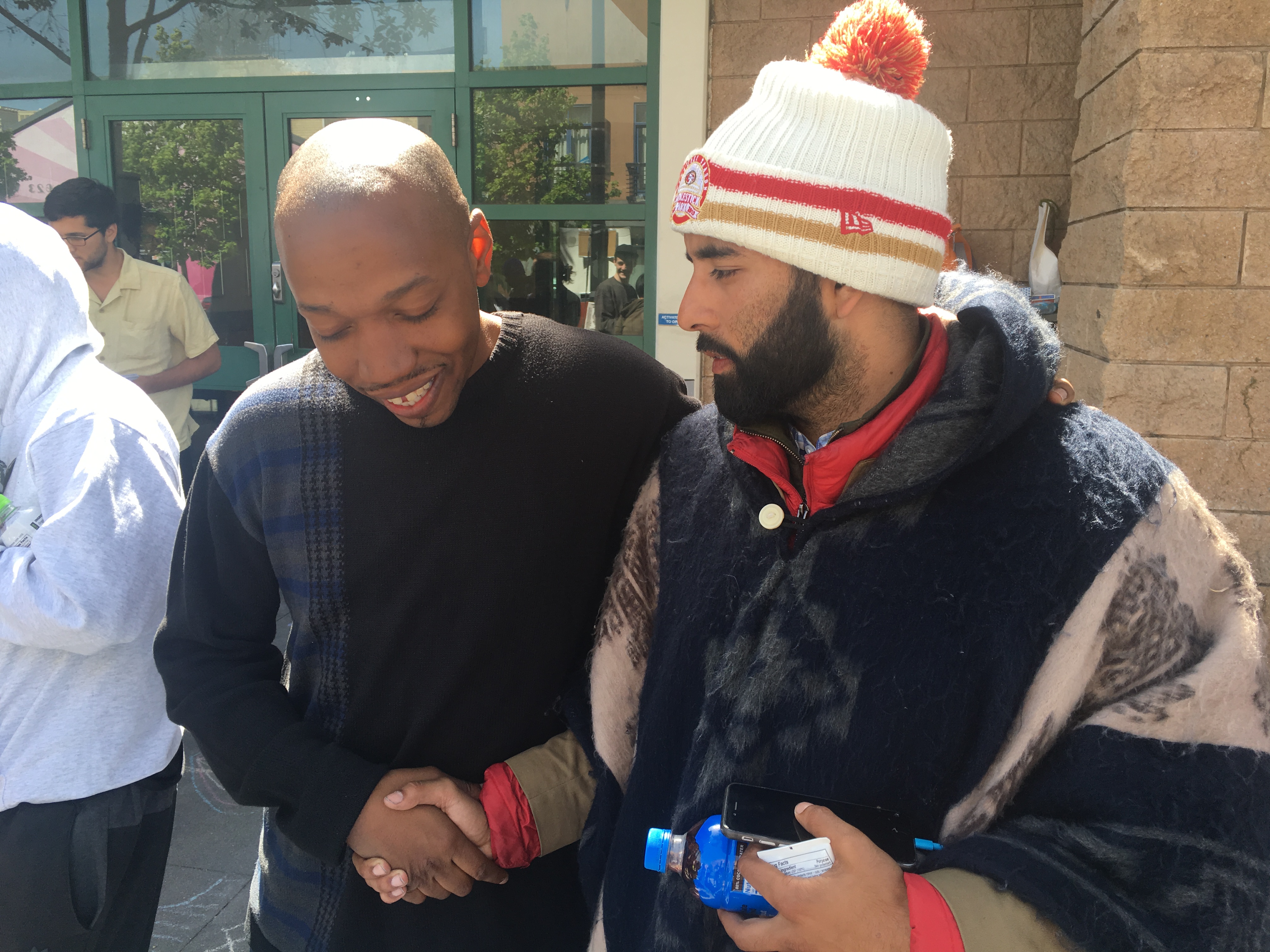 Lindo and a supporter

"We also want to make the very important point that Chief Suhr is only step one for us to take back the city — we must address housing, education, jobs, transit, and environmental issues. But those issues will not matter if the people who are affected by them are dead. We must preserve the sacred value of human life from being taken indiscriminately."
Equipto
"We knew this wasn't going to be easy, that's why it's going to take something like a hunger strike. But I think the attention in the media is a small victory and a huge step. We are trying to put San Francisco issues in the forefront. Alex Nieto, Mario Woods, Kenneth Harding- the list goes on. In the last year and a half are not household names and they should be. Because people are trying to move in to San Francisco because it the techie utopia, so they're trying to scoot things under the rug.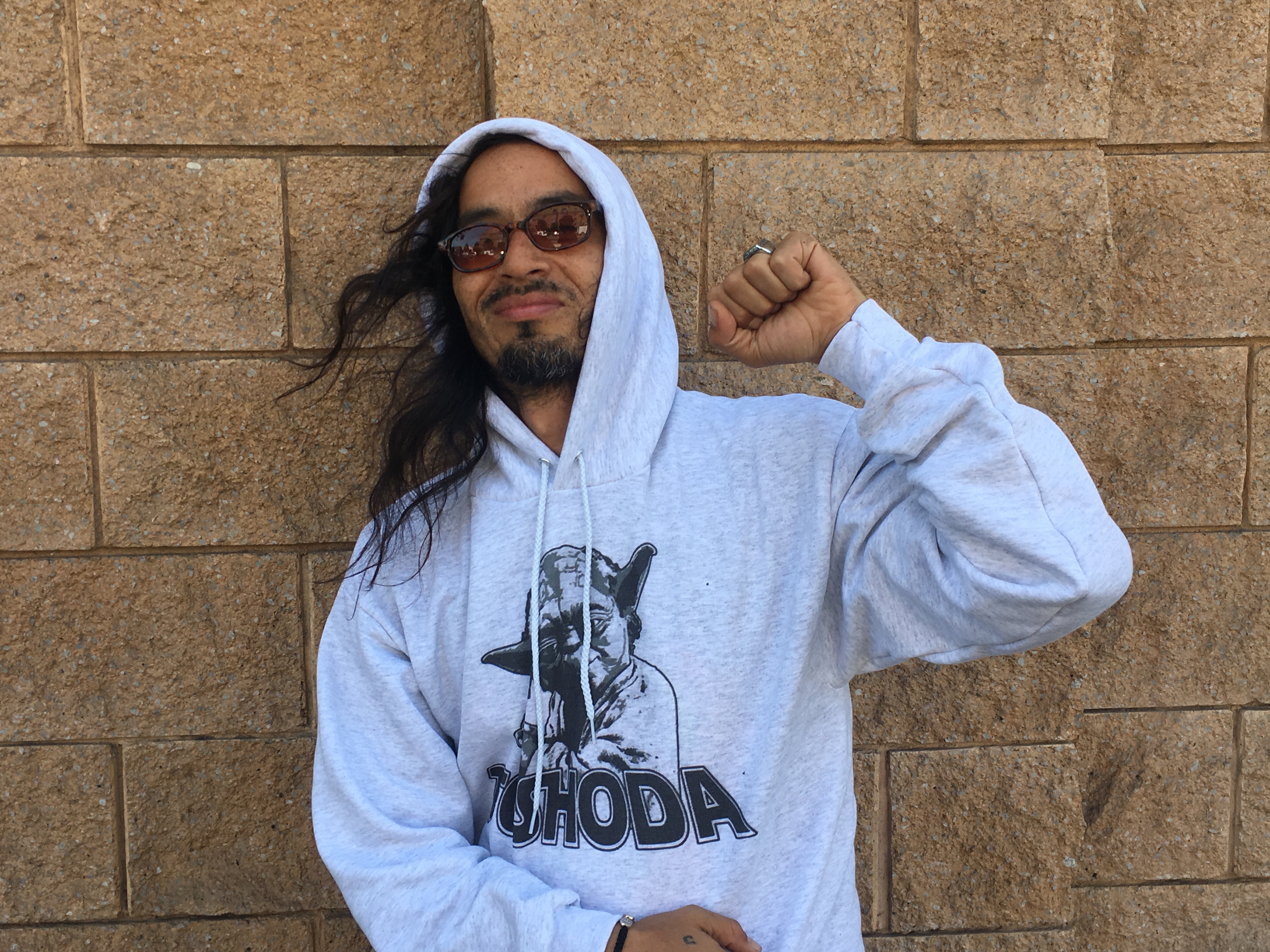 Equipto
"Our demand is to get Chief Suhr fired and Mayor Ed Lee to step down, but a part of the process is getting these issues out there. I think it's working. A lot of people are waking up and the city is coming together and there community is involved. I'm not really concerned with what he says to the media. I want to know what he's going to say to us. We are tired of people just talking and making short statements like we have the right to protest, he continued. To me that's like texting 'I love you.' We're in that type of modern day technology world where people feel like that's the best way to communicate with the people.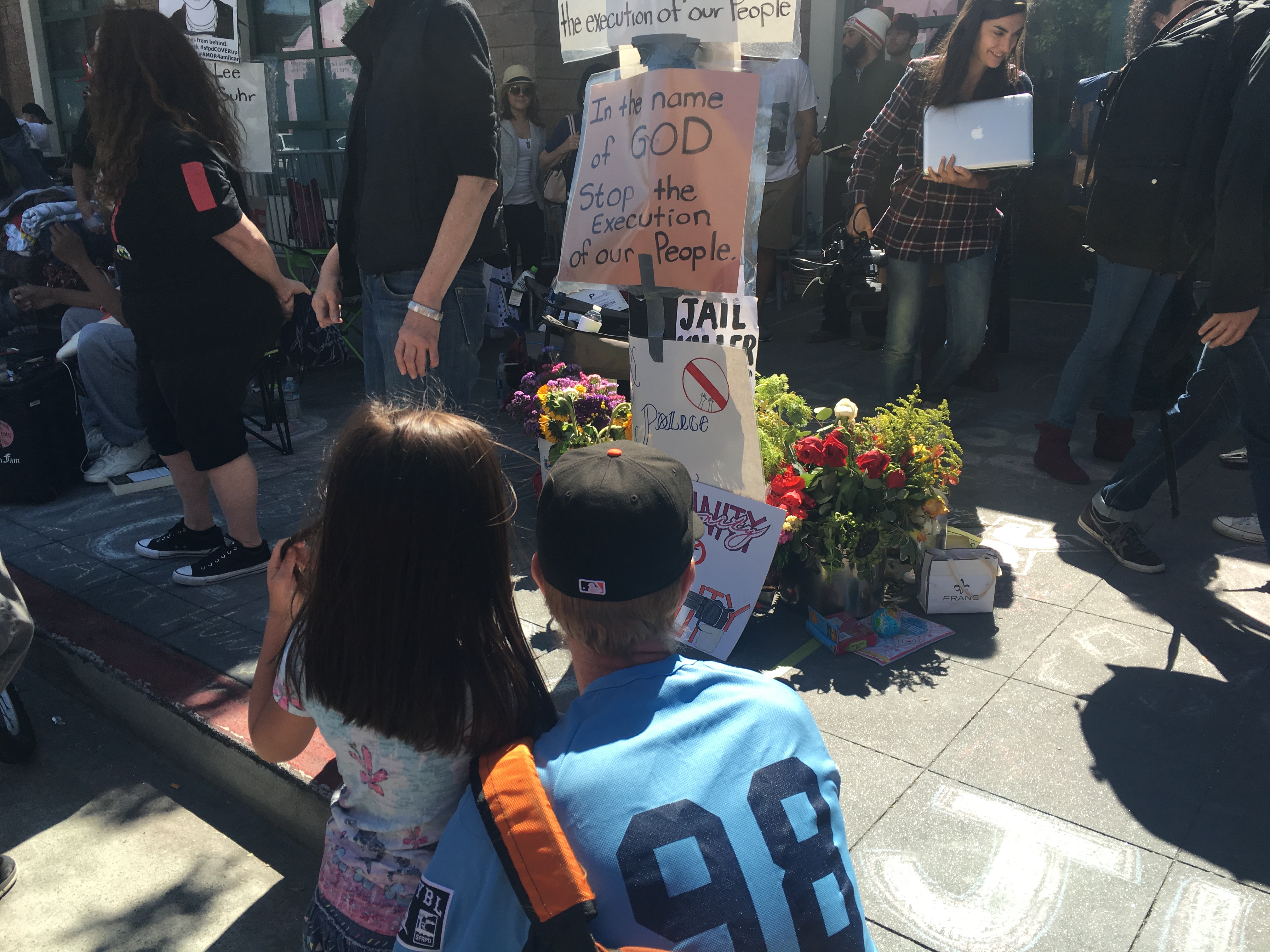 Supporter and daughter

"He's flying to Israel, Brazil and China to make all types of deals but he can't deal with the citizens of San Francisco? That's our problem. Come out here and talk to us, Ed Lee. Get your body guards or whatever will make you feel safe and do it. We have a peaceful protest. We've been holding the space for almost 11 days.  The citizens of San Francisco that haven't eaten in over 200 hours, where's your concern? You can't just say that you care about us, come out here and show us. You're our public servant. So him saying that he's not going to step down doesn't concern me. I know what type of monster we are dealing with. I never expected him after the fourth or fifth day to think that we are right, but I think that if we continue to apply pressure that anything is possible. He has four more years in office. Chief Suhr might retire soon, but Ed Lee will be there. It's our job to make sure that's cut short by any means necessary."
Ava Sasso
"I'm out here to support my people. I was born in the city and it hurts me everyday that this protest is going on. I'm also currently out of work because it's hard to get a job that's not in tech. You know, I have been personally affected by police brutality. The department unjust and forceful. It's scary to think that people of color live here and are raising children with this type of violence going on.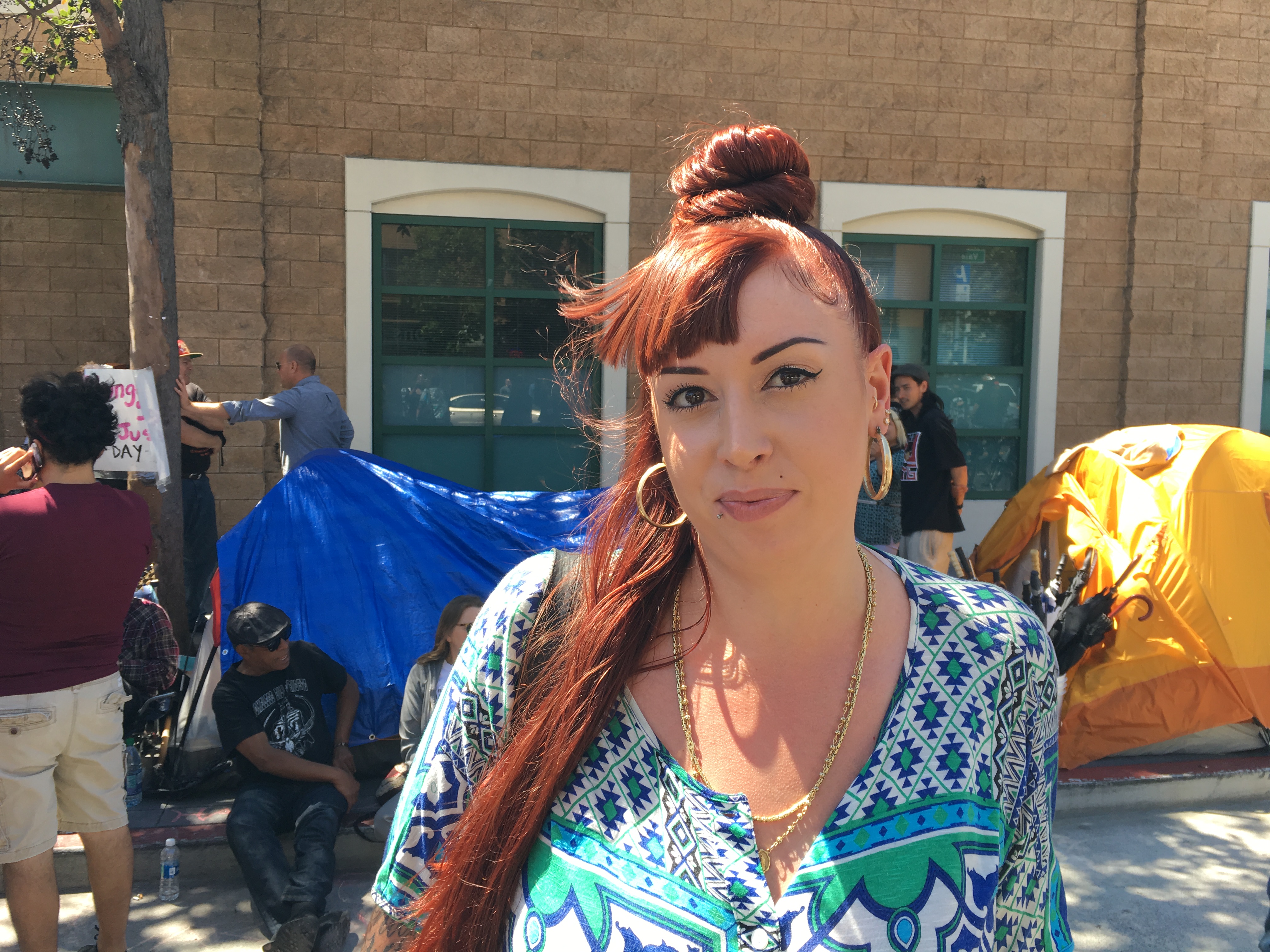 Ava Sasso

"So I'm trying to do everything I can to support. I've been friends with Equipto for a long time. I think it's making a difference, especially because there is a lot on the internet. People are becoming more aware of the cause."
Yayne Abeba
"I helped organized the hunger strike, so I've been working with the strikers since the inception. I've been organizing press and making sure that they are taken care of. I've been here every day.

Yayne Abeba
"I'm here because I had a cousin that was killed by the police in San Bernardino County and I know a few others that have been murdered by police. But I'm here because I'm a person of color and I can't see this happen to my community anymore. I was born here. Enough is enough."
Krea Gomez

"I'm a Dean of students in North Oakland, but very much a San Francisco native. I went to Ida B. Wells High school, Luther Burbank Elementary. There's a lot of things that make me really passionate about this protest. I was a community organizer for many years in San Francisco and a displaced San Franciscan. The only reason I'm in Oakland is because I could no longer afford to be here. I've known many of these protesters and supporters for years. The corruption and connection between law enforcement and displacement is not ironic, it's by design. The idea that we must move people out to make room for new people is connected to these murders. All of the men that were killed were shown an unnecessary amount of force without cause.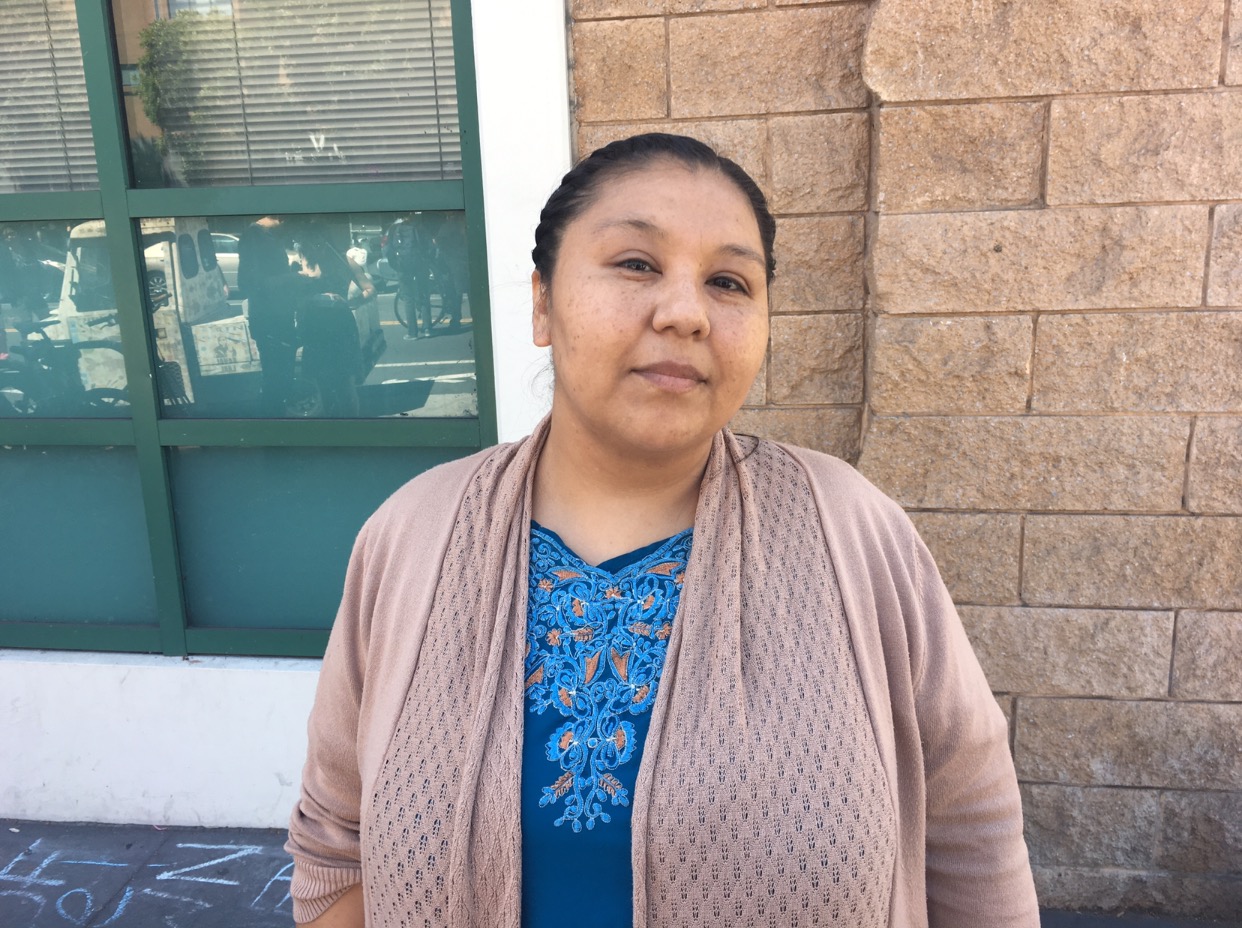 Krea Gomez

"A lot of people here knew Alex Nieto who was also a community organizer.  Luis was displaced. Mario Woods was going home from prison. These men were just trying to survive in a city that should be friendly towards them. We built this city — black and brown folks. It's not a coincidence that we are dying at the command of Chief Greg Suhr. I'm here in solidarity and Ed Lee should be ashamed that he has not responded. He shouldn't have appointed Chief Suhr in the first place. Chief Suhr was demoted twice. How does that happen? It's like, if you are an employee of Target, you can't steal shit twice and then become a manager. It doesn't work like that. So he should have never been promoted to captain and chief. He's gotta go.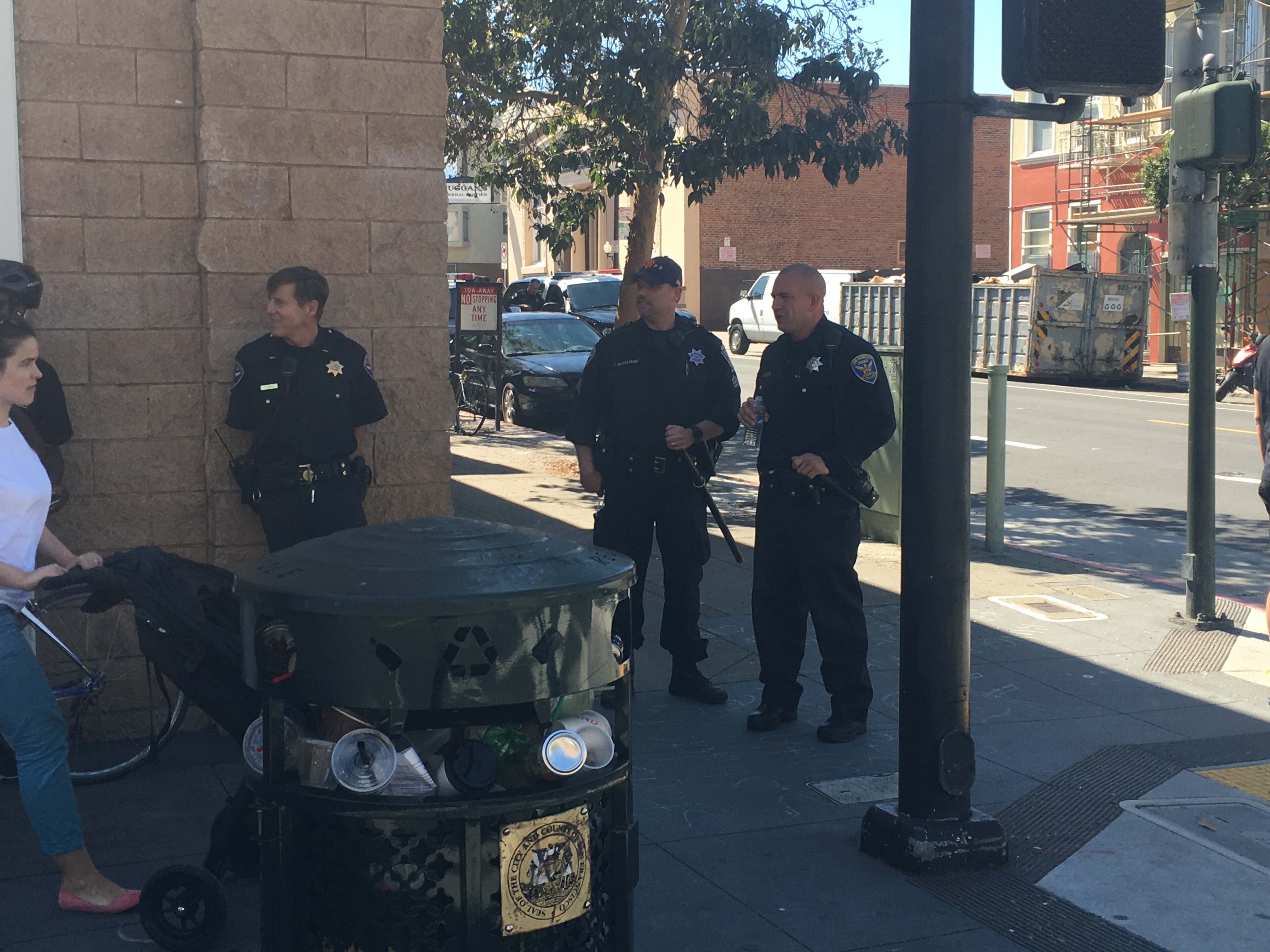 SFPD monitoring protesters

"These people are putting their lives on the line. What makes this special to me is that it's all San Francisco Natives. I watched these guys grow up. I've known Equipto for years and he is a well known rapper. Much of his lyrics are about surviving in San Francisco. He speaks for the downtrodden. He speaks for the people that have been harassed on the streets and now he's putting his life on the line. So I'm here to support."

Daniel Landry
"I work in the Fillmore community and have been an activist for years. I'm currently involved with the Mario Woods Coalition and that's what brought me here to today.  These protesters are risking their lives for justice in San Francisco. In my experience many of minority youth have being shot by police in San Francisco. This is something that is finally getting the public eye. It's been taken on as national tragedy as every one has seen over the past few years since Obama took office, and it's rapidly increasing where law enforcement is shooting people  punitively, and it does not seem like in any way that they are being punished for the outright murders and executions that are happening through out the U.S.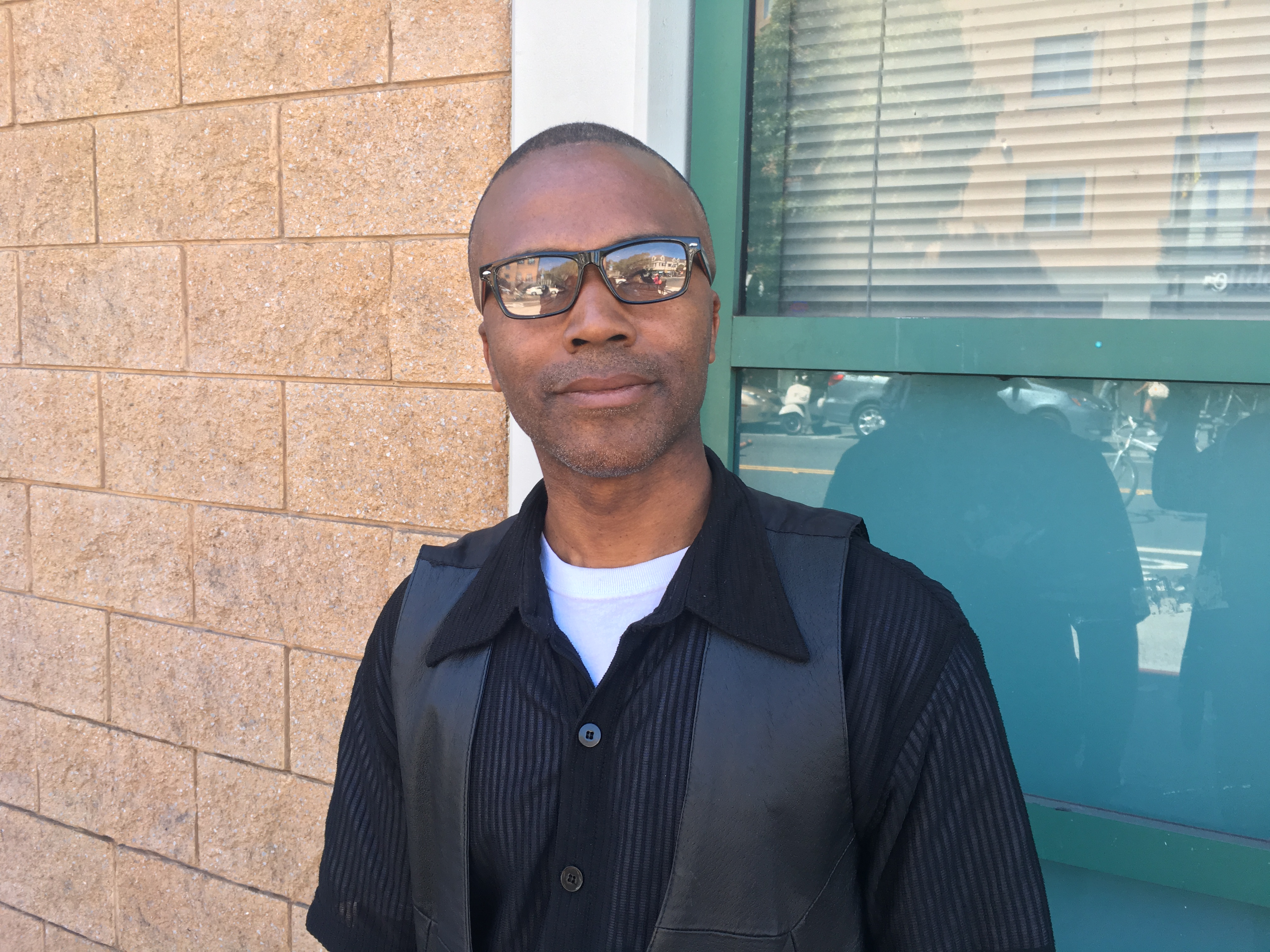 Daniel Landry
"With the Mayor yet to say anything. Protests like this are a referendum on the movement and is also re energizes. We are just coming together as black and brown people and bringing attention because these Frisco Five hunger strikers are putting their lives on the line, so the Mayor and Chief would be wise to adhere to the demands stated by not only by the strikers, but the coalitions that support the cause."
T.D. Camp
"Besides the cause and what they are fighting for, most of these people in this protest are very close to me. Equipto is like a brother to me. We have been best friends and made music for decades. To see them out here has motivated a lot of us and it's clear that a change needs to be made.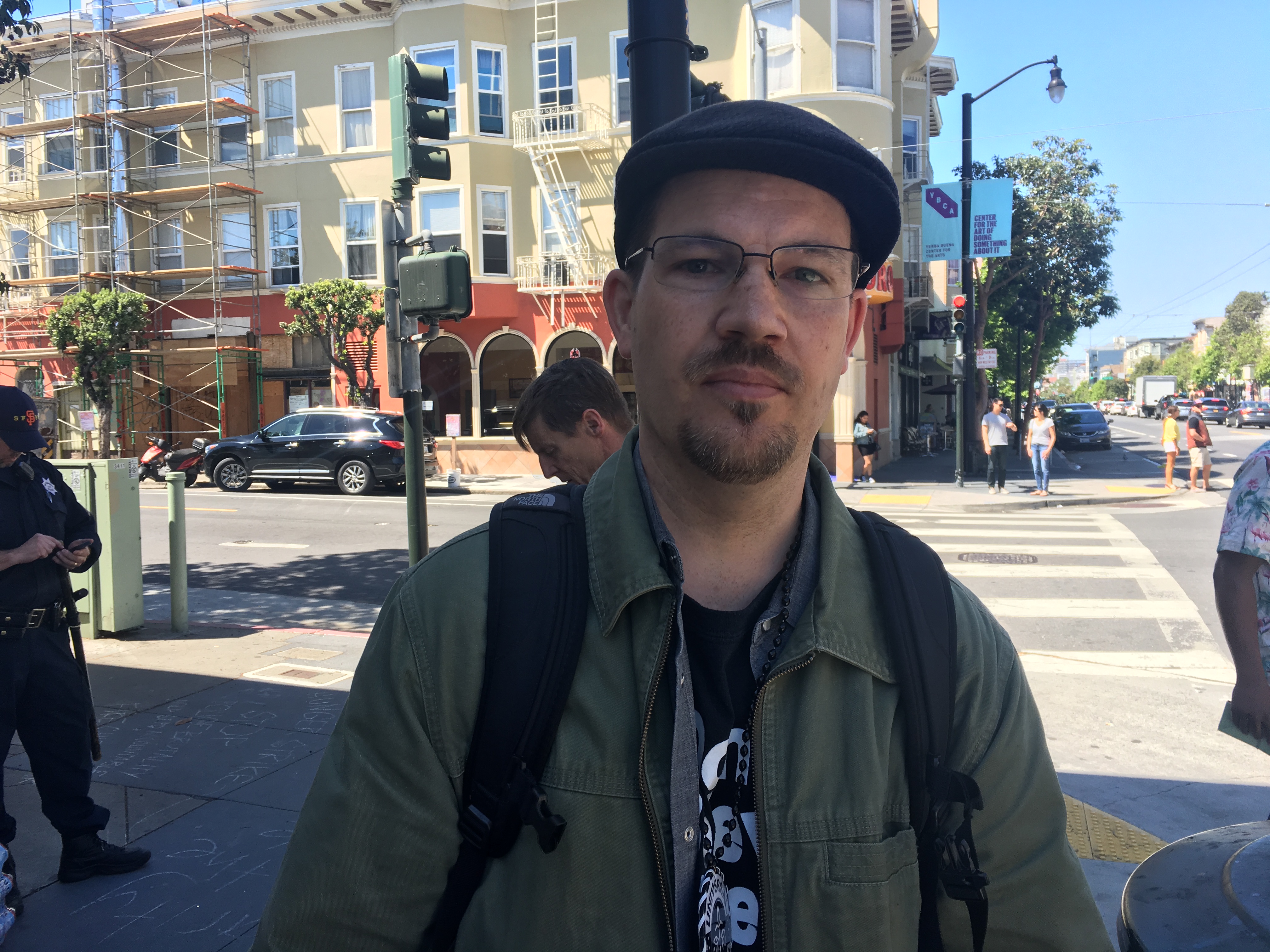 T.D. Camp

"Chief Suhr is at the head of that and he hasn't done anything. There's been numerous people killed under his demand. There are lots of baby steps that need to be taken to reach our goal. The first thing is making people aware and that's happening. If he doesn't resign, we are just going to be at his door step. We're going to keep pushing."
Victor Picazo
"I just turned 46 last Tuesday and spent my birthday with the hunger strikers, I've been knowing Ed Lindo as a personal friend for at least three years. I was born and raised in the Mission. My family was raised here and pushed out due to gentrification.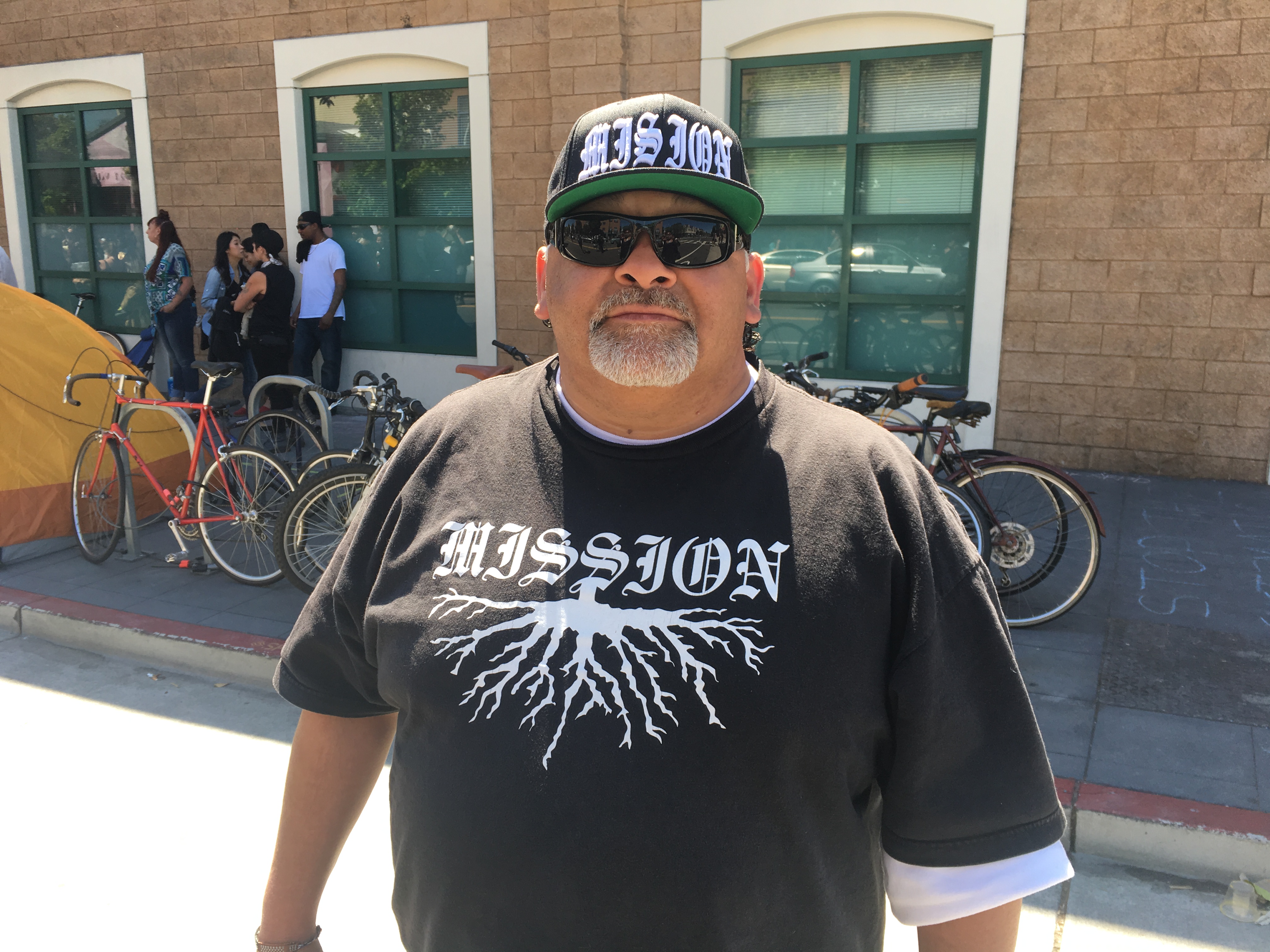 Victor Picazo
"I believe in what they're doing and have been here helping them overnight. I spend 30 hours a day on my feet supporting them. I just want our city back because its changing too fast." 

Carolyn Seastrong
"I'm from Bayview. I went to Woodrow Wilson High school. All the changes that have been going on in San Francisco due to gentrification. All the social and economic injustices that black and brown has people go through are wrong. Being familiar with law enforcement I know that its the good ole "buddy system" and the police are supposed to protect and serve. Historically speaking, they have never been there for black and brown people. You have to look at history to bring us up to now.

Carolyn Seastrong
"So that's what brings me here. Mario Woods is one in a million. Black lives matter and has always mattered. We live in a color struck society. Although you don't see a  strong presence of people with melanin in this city, we all have connections. What affects black America, affects of ALL america. The sooner that is understood, the sooner the world would be a much better place. Because if you do it to me, it's going to be done to someone else sooner or later. We are all here gathered here in unity. It's a diverse crowd."
John Avalos
This is my third time coming. I'm very proud of all the people coming together. I'm proud that we are making the stand that we are making. I am concerned that there is disconnect between all the great organizing here and what's going on at City Hall. I am trying to help build that bridge. Yesterday I was working with hunger strikers and to see how we can have a plan thats intermediate between their demand of firing the Chief and getting some other things in between that they identify is going to be helpful. So I'm hopeful that's something that could happen. I don't want them to harm themselves. I think its important that we can get some things along the way.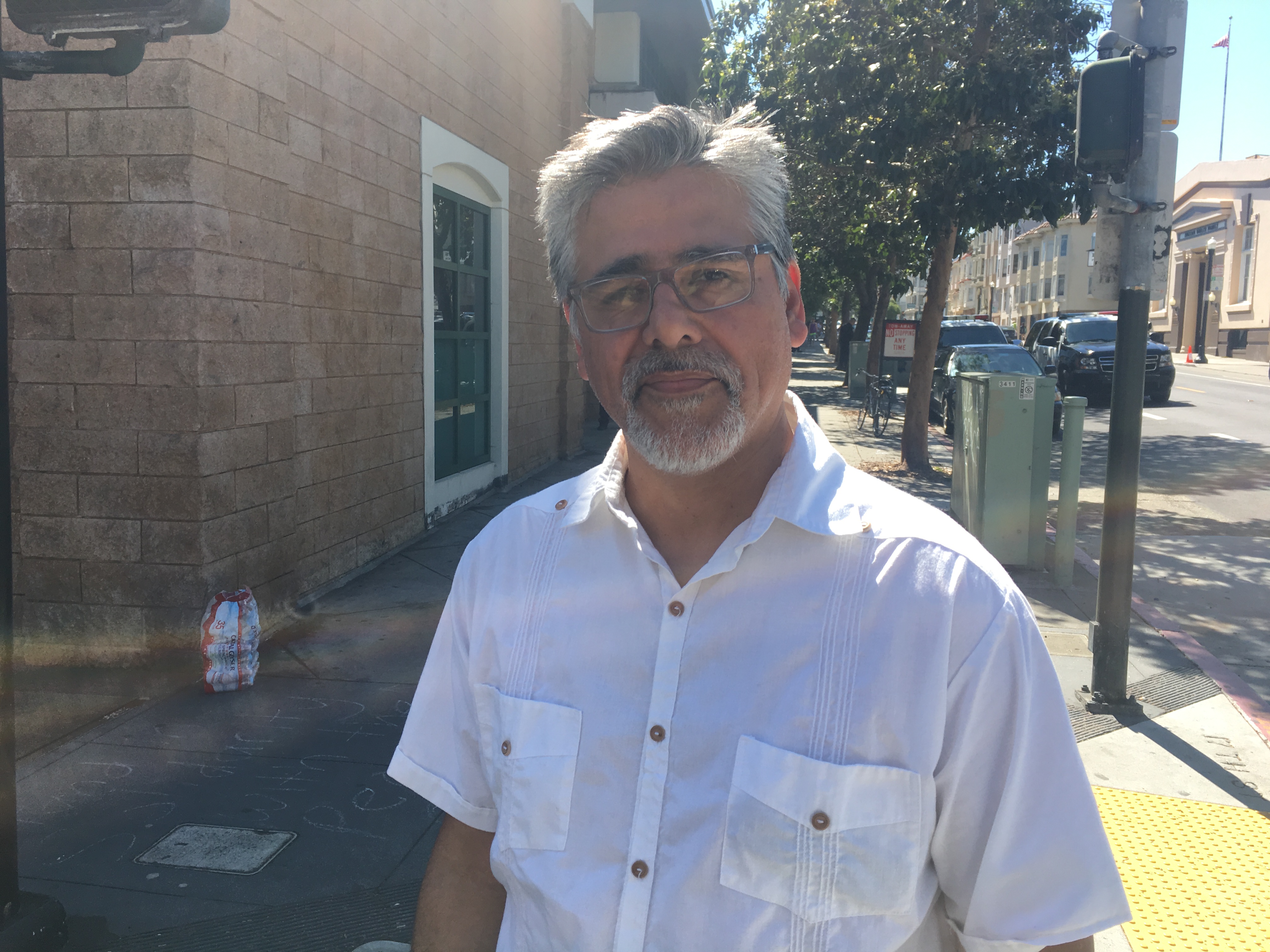 John Avalos
"As the Supervisor I can't legally speak on whether I feel the Chief should be fired or not. I can't act on that. But I certainly want to make sure that people's free speech right can be made and the power of the people that can be a structured power that can get some wins. That's what I'm hoping to do with my time. I am trying to talk to the Mayor but he won't talk to me, so I'm working with the police commission. I've seen stuff on social media and read articles, but I'm not seeing any direct communications with City Hall or real clear steps that City Hall can take besides firing Greg Suhr which I have no jurisdiction over.
The "Frisco Five" protest is planning to march to City Hall this Tuesday, May 3rd. Supporters are encouraged to meet at the Mission Police Station (630 Valencia St. /17th St.) at 12:30pm sharp.