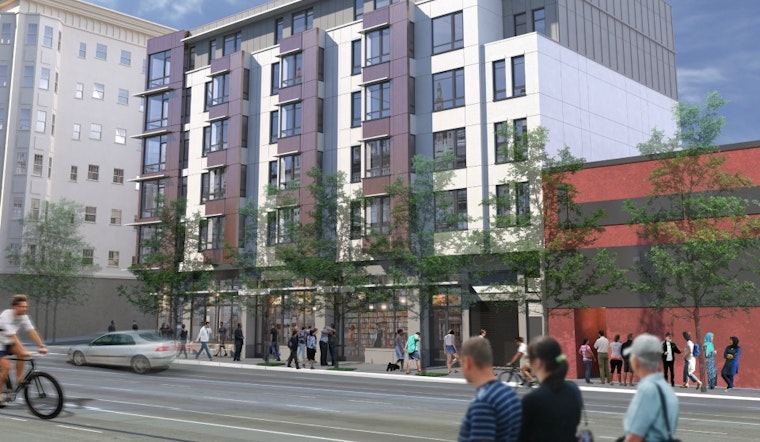 Published on May 25, 2016
As plans are finalized for the large housing development proposed for Divisadero and Grove streets, a design change has once again taken place.
At Monday's meeting of the Alamo Square Neighborhood Association, developer Patrick Szeto of WebCo Group and architect Warner Schmalz of Forum Design presented the updated version of the 650 Divisadero project, with a slightly different facade and breakdown of units. 
We first reported on plans for the 650 Divisadero building back in July 2014. Since then, zoning changes, community feedback, and the Planning Department have all impacted the building's look and layout. 
The new design is sleeker and softer than the renderings we saw last August. The colors have shifted closer to two tones, and the large windows along the corner have been raised to roof-level. The bay windows have been extended higher along the corner of the building, but retreat lower as the hill climbs up along Grove Street.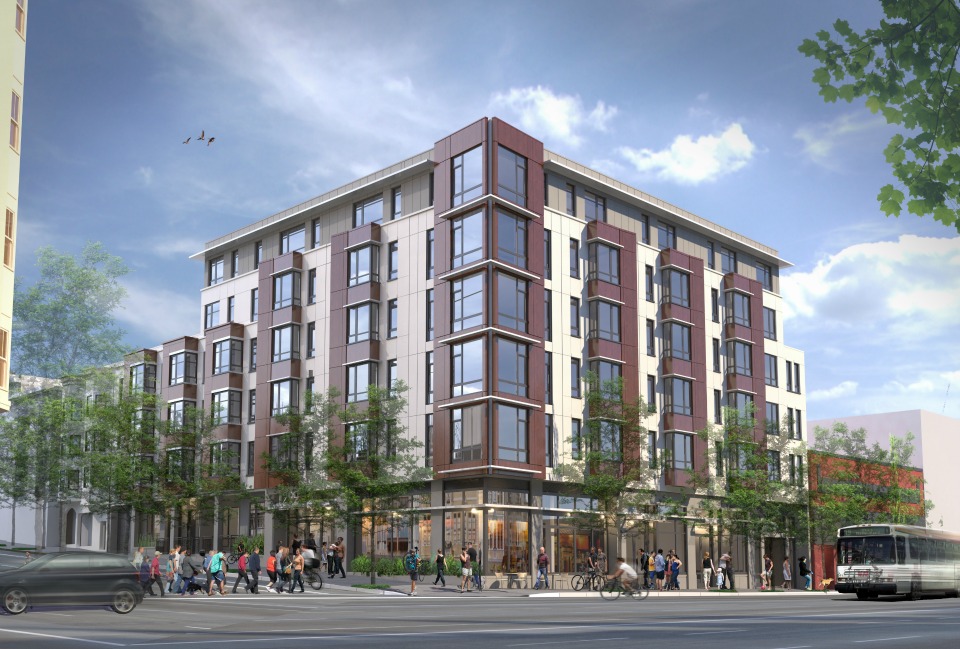 The building is also slightly more compact than its previous design, to allow for wider sidewalks around the exterior of the structure. Currently, sidewalks on Grove and Divisadero measure 10 feet wide, but around 650 Divisadero, they'll be expanded to 13 feet. This is partly to accommodate the long lines the neighboring Independent draws for sold-out shows, which often snake around the block. 
The new design also has a stark lack of windows on the side of the building that faces the Independent. Instead, "we'll be installing a double acoustical wall," Schmalz told Monday's group, "with living spaces on that side of the building, and not bedrooms." 
These decisions came after extensive meetings between the developers and the Independent, which was concerned that residents could make noise complaints that might pose a threat to the venue. "Those folks are a big part of this community, and we respect that," Schmalz said. 
The breakdown of bedrooms per unit has also been changed. We last reported that 48 percent of the units would be two-bedrooms, and 52 percent would be one-bedrooms. But the new plan has added both studios and three-bedroom units to the mix. 20 studios measuring 350-450 square feet will be available. One-bedroom units will measure 550-650 square feet, and two- and three-bedroom units will range from 680-850 square feet.
"We're making the units small, as we feel that being affordable by design is very important," Schmalz said. 
Along with the mix of apartments, a pair of two-story townhouses will have separate entrances on Grove Street, to the left of the main lobby entrance. 
On the basement level, 26 parking spots will be included, a 0.45 to 1 ratio. Mechanical lifts will maximize parking space, and one spot will be allocated for car share. 75 bike parking spaces will also be available for residents. 

Right now, the project is slated to include the city minimum of on-site affordable units: 12 percent. But that may rise to 14 percent if Proposition C passes in June's election. And District 5 Supervisor London Breed would like to push it even higher, having drafted new legislation calling for 23 percent of units to be made affordable. 
That's not a guarantee, of course. "It's a moving target, so it's hard to say where we'll land," Breed said at Monday's meeting. 
The last piece of the design puzzle is 3,400 square feet of ground-floor commercial space, which will most likely encompass one restaurant on the corner and one or two retail spaces. All will have 15-foot ceilings and huge windows.
As for who will lease the spaces, it's much too early to say, though Szeto said he plans to avoid any formula retail businesses. "We want something unique, that will be accessible for everyone in the community," he said.
An environmental review has been completed for the building, and it will go up for a public hearing in late July. We'll keep you updated as it wends its way through Planning.