It's not déjà vu, it's another Castro small-business burglary. Three, to be exact—all at the same location.
A week after Jeffrey's Natural Pet Foods was burglarized for the second time in five months, tipsters Patrick B. and Peter H. let us know that Smoke Plus (4059 18th St.) had also been burglarized—three times in the past month. 
"Same guy, three times, within a month," confirmed Gary, who works behind the counter at Smoke Plus and declined to give his last name. Surveillance cameras show that the burglar "comes in at 5am every time. He just grabs his stuff and then leaves." The most recent burglary occurred in the early hours of Tuesday morning. 
Unlike other recent neighborhood burglaries, the Smoke Plus perp isn't using a crowbar to enter the shop. The first time he broke in, "he smashed the window on the glass front door with a brick," said Gary. "The guy who cleans the streets first saw him up at the Bank of America building, kicking the glass door of the Sunglass Hut, trying to get into there. He screamed 'What are you doing?' so [the perp] took off and obviously, that's when he came down here."
The second time, "he didn't smash [the door], but he pushed the smaller window down by the fridge so hard that it came loose, and he came in through there," Gary said. The window was replaced, but when he returned for the most recent burglary, "he smashed it again." As a result, Smoke Plus currently has its door and the lower fourth of its window boarded up.
According to Gary, the perp doesn't seem to be interested in cash. "He's taking mainly cigarettes, but he's taking anything," Gary said. "He's tweaking, high as a kite. He grabs what he can."
Over the course of the three burglaries, the perp has stolen cartons of cigarettes, lighters, and rolls of coins. He even ripped off a donation bucket for the AIDS Emergency Fund, which was chained to the counter.
"The second time," said Gary, "he came in and took Marlboros, but then he specifically headed for the Newports and got all of them, about 10 cartons. And a couple of other things, one lighter."
When he returned for a third time yesterday, "he got nothing but the Newports and nothing else," said Gary. "That tells me that whoever is dealing him what he's on, that's what they want. They probably told him 'We'll buy Newports from you.'"
Smoke Plus is equipped with both an ADT alarm system and surveillance cameras. During the most recent burglary, however, the ADT alarm failed to go off when the perp entered the store; instead, it sounded when Gary arrived to the scene.
The surveillance cameras have captured all three burglaries on video; they range from just under a minute to about 90 seconds in duration.
Here's what the perp looks like. Gary said he's tall: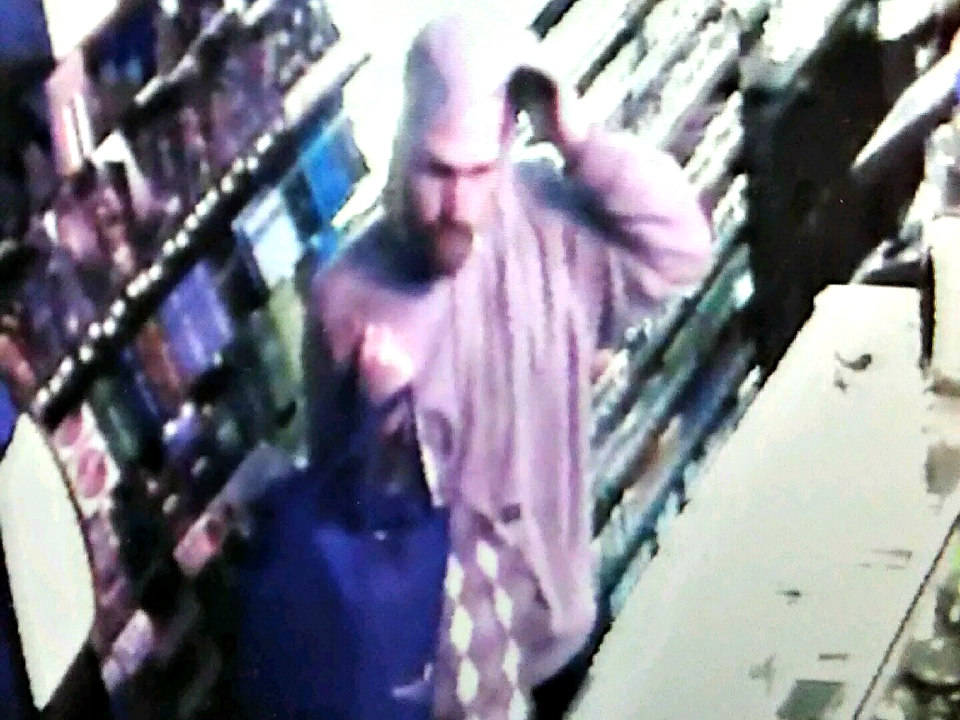 The burglar at Smoke Plus. (Image: Courtesy of Smoke Plus)

According to Gary, Smoke Plus has filed three police reports with the SFPD, and the department has promised to step up patrols. "They apologized, and I said 'Look, I understand.' They were taking a lot of calls," Gary said. "I'm really not mad at the police. They're just really overwhelmed at the moment, and they're trying to do the best they can." (We contacted SFPD about the string of Castro burglaries, but they have yet to comment.) 

"The neighborhood is becoming a mess," Gary continued. "Tourists cannot walk around without being hassled, and obviously, nothing is being done about it. Every morning, I come in around 6:30am, and I'm walking over bodies all about the street, which isn't so bad. Once business is open, it's fine, they move on."
"But then you've got the bad people who do hang around and fight and argue and scream up and down the street and harass tourists, harass businesses, harass anybody that's around," he said. "We've always had a few homeless around here that have always been no problem at all, but now there's a really bad problem."
Unfortunately, Smoke Plus won't be able to get a new door—or a gate, similar to the one next door at Chaps—until the first of June. According to Gary, the companies that supply the materials can't keep up with the demand from local businesses that are either fearful of break-ins or have already been burglarized.
"Of course there's more good than bad [in the neighborhood], but the bad is starting to overshadow," Gary said. "It's a little more noticeable."
If you have any information on these or other burglaries in the Castro, contact SFPD Mission Station at (415) 553-0123. And if you know of a local business that has been burglarized, send us a tip and let us know.