For youth participating in summer programs in the Tenderloin, the coming months will mean lively field trips to places like the San Francisco Zoo and Great America. But according to Silena Layne, executive director of the Tenderloin's Up on Top summer and afterschool program, they'll also be infused with learning. 
"I believe that giving [youth] a buffet of experiences will set off a trigger that will ignite something. It will create a lifelong spark for them, that will keep them engaged in education further," says Layne. "Students need that as young learners. It's a big way to lessen the achievement gap: exposure, exposure, exposure."
When she joined Up on Top in 2011, Layne was the first full-time employee in the agency's history, with the goal of expanding its after-school and summer programming. With the fiscal support of the Department of Children, Youth and Families (DCYF), Up on Top's Unitarian founding community, and some individual donors, she's been able to do just that—despite not having a permanent location. 
"In this neighborhood, there is just no real estate," says Layne. "There is really no place for us to exist, so that's an immediate challenge for us." Through networking, the program was able to secure a residency at the Tenderloin Recreation Center, but has nothing permanent coming in the foreseeable future. Nonetheless, Up on Top has been able to serve upwards of 150 youth from the Tenderloin and Western Addition every summer.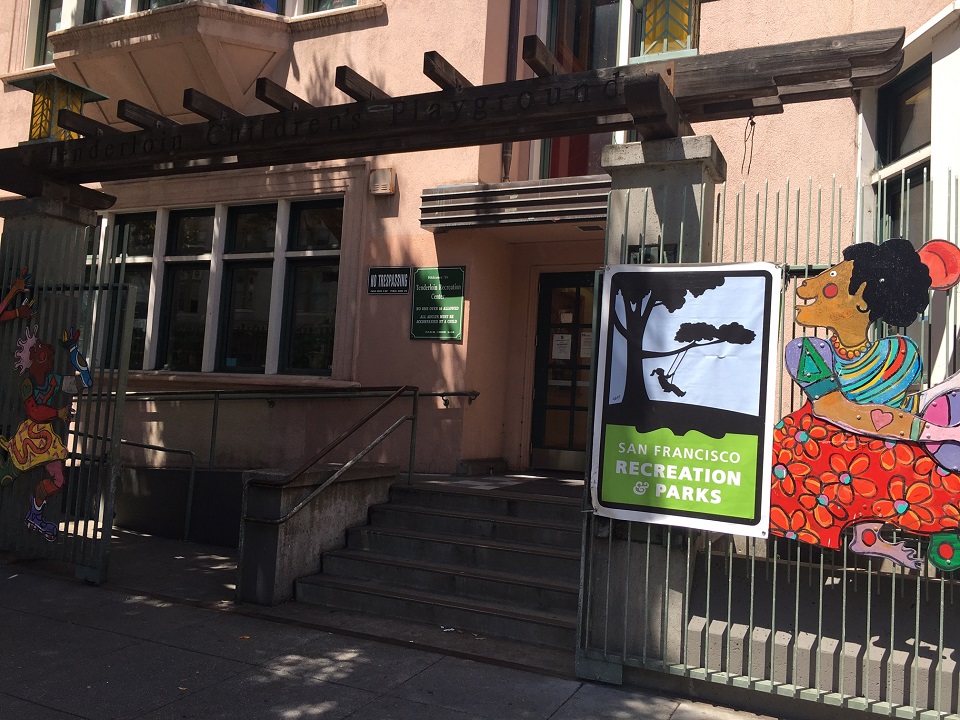 Up on Top program space at Tenderloin Children's Playground. (Photo: Blair Czarecki/Hoodline)

Up on Top has made its name working with students who have been identified as underperforming in school. Many participating families have exhausted all other possibilities, or have been unsuccessfully matched with programs that can't accommodate them. 
"When we meet those students where they are, I feel like that's a really wonderful opportunity to serve the community," says Layne.
32 percent of Up on Top's families live in public housing in the Western Addition. The organization also has a large percentage of students from the Tenderloin, many of whom live with their families in SROs. 
"Sometimes the students have learned some negativity and grown numb to certain things and what we would like to do is unlearn some of that negativity," Layne says. That includes "demystifying what people perceive the Tenderloin to be, and what the Western Addition is."
Layne aims to take youth outside of their comfort zones and into different neighborhoods, experiencing San Francisco at large. "We want to make sure they understand that the entire community is their local neighborhood and it's not just the people that they know," she says. "When we talk about community, it's about celebrating our differences and being prideful of being a TL or Western Addition resident, but still being able to say, 'Oh yeah, I've been to Bernal Heights, I've been to Twin Peaks, I've totally been to Nob Hill.'"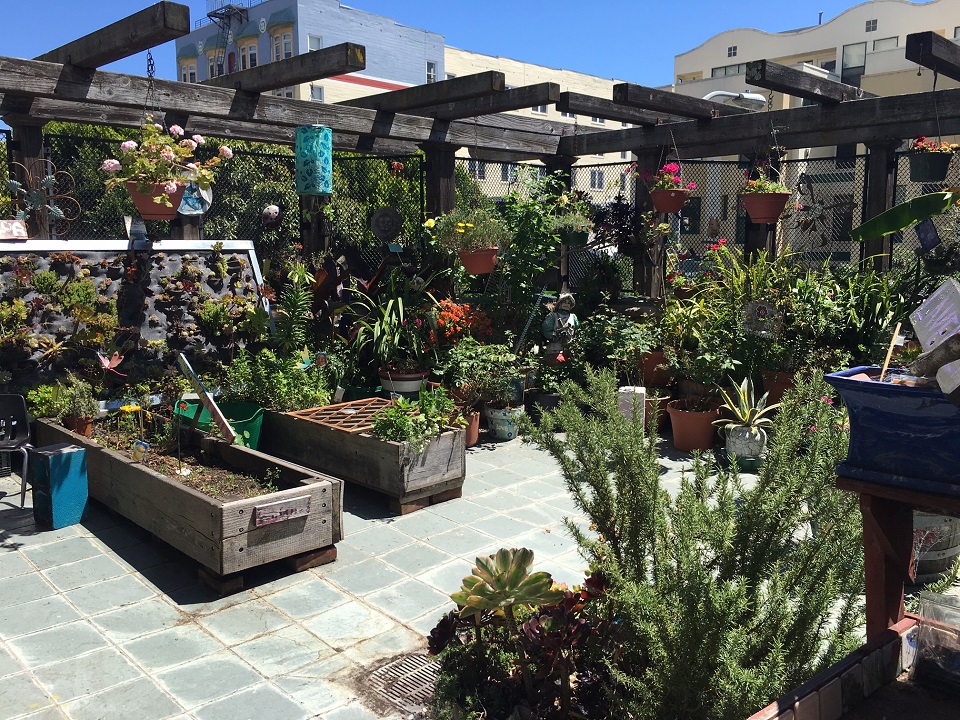 On-site roof garden. (Photo: Blair Czarecki/Hoodline)
While the funding Up on Top receives from DCYF mandates the inclusion of 15 minutes of active reading a day in its curriculum, Layne doesn't believe in compartmentalizing that to just one part of the day. 
"We define literacy as opportunities for [youth] to read, write, listen and speak," she says. Up on Top intentionally weaves those opportunities into each day: morning academics, afternoon field trips and late-afternoon enrichment activities.
Layne says Up on Top has an excellent retention rate and adds students each year thanks to word-of-mouth. She attributes that to its tight-knit sense of community. "We've really taken the voice of the students and their families, and implemented the areas of improvement that the families tell us they want to see for their students." One example is offering a 10-hour summer program that can cater to parents and caregivers working multiple jobs. 

"Up on Top's mission is to support students in school and in life. So it isn't just a free program, it's going above and beyond," Layne said. "It's just a really holistic approach to community support."
Up on Top's summer program is currently full, but to inquire about future opportunities, families are encouraged to email Layne at [email protected]
---
For families on the hunt for summer program opportunities in the Tenderloin, here's some information on possible options from the Bay Area Women's & Children's Center:

Boys & Girls Club of SF, Tenderloin Clubhouse
Location: 115 Jones St.
Membership fee: $10/yr for high school students and $50/yr for all other ages—scholarships available.
Summer hours: M-F 10-6pm for K-5th grade and 10-7pm for middle and high school. 
Activities: Indoor/outdoor games, music, art classes, computer, tutoring, college prep, dance, and trips for club members. Leadership club. College application and SAT help, and much more. Free lunch and snacks. Camp Mendocino (overnight camp) offers four 10-day sessions to choose from. Sliding scale scholarships available. Free programs for middle and high school students at Boeddeker Park.
Contact: 415-351-3125
Glide – Janice Mirikitani Family, Youth & Childcare Center
Location: 434 Ellis St.
Membership fee: Free youth program for kindergarten through fifth graders
Summer hours: 8:30am-5:30pm
Activities: Field trips, creative arts, swimming and sailing lessons and other activities. Children's choir on Sundays from 12:30-1:30pm for ages 6-11; teen choir (12 & up) from 1-2:30pm.
Contact: 415-674-6200
Salvation Army Kroc Community Center
Location: 240 Turk St.
Summer hours: Offers day camp sessions for ages 6-13 from 9am – 5pm or extended hours of 8:30-5:30 from June 8 – Aug. 7.
Activities and membership fees: Adventure and education-based programs are $80-100 per weekly session; scholarships available. Summer literacy program for elementary age students behind in reading runs 9am-4:30pm or extended hours of 8:30-5pm for $75/wk; scholarships available. Also offers an Overnight Community Camp in the Santa Cruz mountains. Discovery Camp for ages 8–12, and Outdoor Adventure for 13-16. $25/child. Applications due mid-June.
Contact: 415-345-3400; call Alex at ext. 3408 for more information.
Indochinese Housing Development Corporation — Tenderloin Achievement Group (TAG)
Location: 375 Eddy St.
Summer hours: 10am-6pm for ages 5 and up from June 1st-August 14th.
Activities: Provides project-based learning in the areas of urban gardening, cooking, and baking. Youth soccer programs in collaboration with America SCORES-Bay Area will occur for six weeks, as well as kids' literature reading projects in collaboration with the Public Library. Many family events and recreational activities are infused throughout the summer, and kids who are middle school age and older are involved in inter-age mentoring. Includes the summer lunch program.
Contact: 415-238-0528
Tenderloin Children's Playground
Location: 570 Ellis St.
Playground Hours: 10am-7pm Monday through Friday and 9am-5pm Saturday. Drop-in activities are offered Tues.- Friday from 12-1pm and 4-6pm.
Contact: 415-292-2162
YMCA (Shi Yu-Lang Central YMCA)
Location: Boeddeker Park
Summer Hours: Free summer program offering services to youth ages 7-12 from 8:30am-6pm, and a teen program for ages 13-18 from 2pm-8pm, Mondays through Fridays.
Activities: Provides some academics, art classes, field trips, a computer lab, culinary arts, music programs, sports programs and variety of other activities. Serves a healthy snack.
Contact: Jen, 415-885-0460