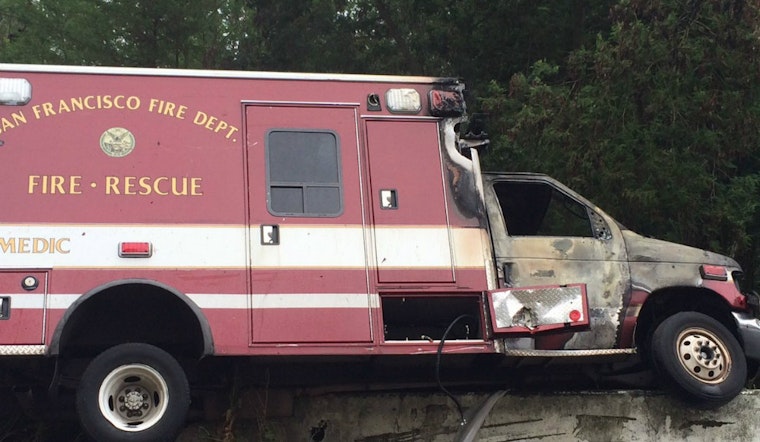 Published on June 07, 2016
SFPD reported this morning that a Fire Department ambulance was stolen just after 8am today from the Ambassador Hotel at 55 Mason St. during a medical non-emergency call. After a police chase, the vehicle crashed on the Treasure Island exit off of the Bay Bridge.
SFFD MEDIC 65 was stolen during a medical emergency at 55 Mason Our law partners pursued and caught the suspect on treasure island 0809Hrs

— San Francisco Fire (@sffdpio) June 7, 2016
PIO on scene available on phone suspect in custody no injuries pic.twitter.com/JA76VnvUYW

— San Francisco Fire (@sffdpio) June 7, 2016
Crews currently working to clear I-80 eb TI exit. Expect delays on bridge. pic.twitter.com/hyn3fri7ax

— CHP San Francisco (@CHPSanFrancisco) June 7, 2016
SFPD Officer Grace Gatpandan said the suspect drove the ambulance eastbound on the Bay Bridge, and there was a vehicle pursuit. "California Highway Patrol helped us by shutting down the Bay Bridge off ramp to Treasure Island," she said. That's where the ambulance collided with the side of the exit, and oxygen tanks and other flammable equipment caught fire, she said. The ramp has reopened, Gatpandan said.
SFPD released no information yet about the suspect or his or her condition, but Jonathan Baxter, spokesperson for the SF Fire Department, said the suspect is an adult female.
Baxter said first responders were with a patient for a medical evaluation during the initial call. "They were taking the patient outside for transport to the hospital and that's when they noticed the ambulance was gone," he said. They called for another ambulance as well as calling SFPD. "They remained on scene with the original patient the entire time, so the patient never stopped receiving treatment," he said.
We asked why someone would steal an ambulance, and Baxter said, "Our ambulances have a lot of lifesaving equipment; a lot of expensive equipment." As for accessing drugs, he said, "We do have drugs; our drugs are triple locked and the final lock is a safe box that requires two keys." So it's not that easy to get to them.
Also, Baxter noted, ambulances are left running with the key in the ignition and doors locked so that electrical equipment inside won't drain the battery and is on and will be ready to use as soon as a patient enters the ambulance, if needed. The window of the stolen ambulance was broken, but he said it wasn't clear whether it was broken during the theft or the crash. He added that SFFD responds to an average of 320–350 medical calls per day.