We often report on crime in the northeast neighborhoods, but rarely do we see video footage of street crimes going down, especially in broad daylight. 
A tipster sent Hoodline a dramatic video over the weekend that showed a robbery in progress on Russian Hill, and a team of police officers apprehending the suspects. The person asked if we had any more information, so we reached out to SFPD Central Station Capt. David Lazar, and he gave us the details.
(The action begins around the 0:45 mark in the video.)
At 1:10pm June 25th, Capt. Lazar said in an email, "Central Station's Plainclothes Team was conducting surveillance on Russian Hill in an attempt to capture auto burglars and robbery suspects. They observed three suspects in the area who they believed could possibly be casing vehicles to break into one of them. They continued their surveillance when they witnessed three tourists from Argentina being robbed."
As seen on the video, the officers immediately took all three suspects into custody, one of whom was armed with a handgun. None are residents of San Francisco, he added, but he didn't provide further information about the suspects. He did add, "This was an incredible arrest and great win for our community."
Tourists are frequent targets of criminals near the famous crooked part of Lombard Street. Auto break-ins are rampant, and in one particularly heinous incident, in August of 2015, a man from Thailand was shot during a robbery there.
Update, 6/27: SFPD released mug shots of the suspects and further information this afternoon. The three men are Kordell Jamal Carter, 20, of Santa Rosa, Kevin Lal, 20, of Marin City, and Lamar Akeli Fontenot, 19, of Antioch.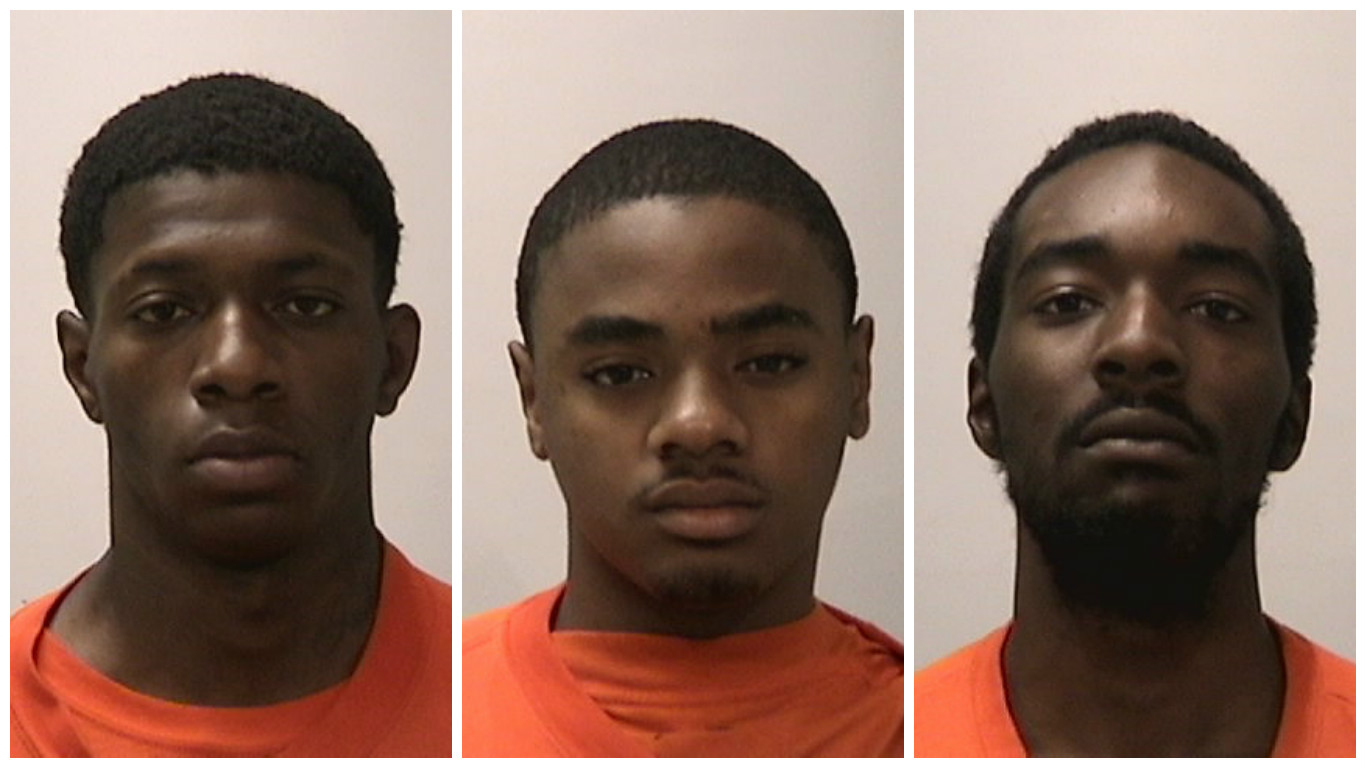 Carter was charged with robbery, conspiracy, possession of stolen property and firearms charges, and also was booked on a felony burglary warrant from Marin County. Lal was charged with robbery, conspiracy, possession of stolen property and firearms charges. Fontenot was charged with robbery, conspiracy, possession of stolen property, possession of a burglary tool and firearms charges.
SFPD also released more details about the incident: The suspects parked their Chrysler on the 1000 block of Filbert Street, and one remained with the vehicle while the other two walked towards the "crooked" portion of Lombard Street. A plain clothes officer was on foot and observed them. One suspect approached the three female victims, who had been visiting the "crooked street." He drew a gun on them and demanded their property.
The release continues, "One victim fled on foot screaming for help. The two remaining victims fought to maintain possession of a backpack and camera." The plain clothes officer saw this and radioed in a robbery-in-progress and requested backup. Meanwhile, the second suspect "stepped in to help the first suspect," the release states, and together, they overpowered the victims and took their backpack and camera. The suspects ran to the car and were taken into custody.
Police officers recovered the backpack, camera and a loaded handgun that had been reported stolen in Louisiana. The victims were shaken up, but sustained only minor injuries. The suspects were later booked at San Francisco County Jail.