A proposed semi-permanent concession kiosk at Coit Tower has rankled some neighbors for years now, and today, the Board of Supervisors Land Use and Economic Development Committee is voting on whether to recommend that it be built.
The San Francisco Recreation and Park Commission approved the move in November of 2015, and regardless of today's vote, the issue will go to a vote of the full board next week unless a continuance is requested.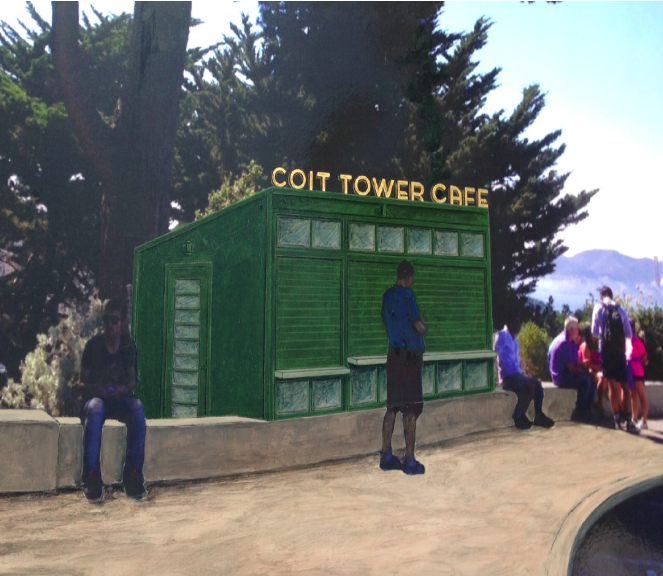 Rec and Park and Coit Tower LLC, the concessionaire for the tower, want to build a refreshment kiosk for selling water, soft drinks and snacks. The 9-by-12-foot structure would be located at the west side of the parking lot, the preferred location settled upon after a process of community input. However, Jon Golinger, founder of Protect Coit Tower, along with other neighbors and seven descendants relatives of Lillie Hitchcock Coit, who left money to the city to build the tower, are opposed to it altogether.
Golinger has said the kiosk is intended to make up an $84,000 annual revenue shortfall for Coit Tower LLC, operated by Terry Grimm. The kiosk doesn't honor a ballot measure voters approved in 2012 that strictly limits commercial activity at the tower, he has told us. (As a previous article mentioned, however, the Board of Supervisors hasn't yet implemented the measure.) Instead, he'd like Rec & Park to amend the lease so Grimm earns more without having to sell drinks and snacks.
Rec & Park has repeatedly said the kiosk isn't about money or earnings, but about the visitor experience. No other food or drink is sold at Coit Tower, but there are drinking fountains for thirsty tourists who've made the climb. 
But under an amended lease agreement, as we previously reported, Grimm is getting $7,000 a month rent credit until the kiosk is built. Golinger questioned why Rec & Park can't make the credit permanent. We'll update the story with the outcome of today's vote.
If you're interested in operations at Coit Tower, a working group was formed earlier this year to give regular updates. For announcements about upcoming meetings, email Supervisor Aaron Peskin's legislative aide Connie Chan at [email protected]. 
Update, 6/27: The committee voted to recommend the issue to the full Board of Supervisors, which will vote on it next week. However, Peskin made an amendment allowing for the "street vacation" to revert to a street use under the Public Works code if the kiosk is ever removed, underscoring the idea that the kiosk is meant to be temporary.