If you've recently taken a stroll down Clarion Alley in the Mission, you'll notice a new portrait of music legend Prince, who passed away in April. The artwork comes from street artist Mel Waters, who uses spray cans to pay homage to significant figures around the city.
Originally from the Fillmore area, Waters is a San Francisco native. He and his wife recently moved to Pacifica because they're expecting a son and they needed more living space. "I lived here all my life, went to high school here, and now my son will be born here in the Bay Area," he told us. 
Waters is now a full-time tattoo artist and muralist, but he didn't start pursuing a career as an artist until his late twenties, after spending eight years working at the California Pacific Medical Center.
There, he worked as a transporter, moving patients around. At some point, he realized that he wanted to take a chance on himself while he was still young. "Working at a hospital you see people on their deathbed," he said. "You get a reminder every day to make sure you are happy doing what you do and not sitting around in a deathbed wishing you gave it a shot. People at work thought I was crazy when I left to pursue a career as an artist. They were like, 'What are you thinking!' They had no idea what my passion was outside of work."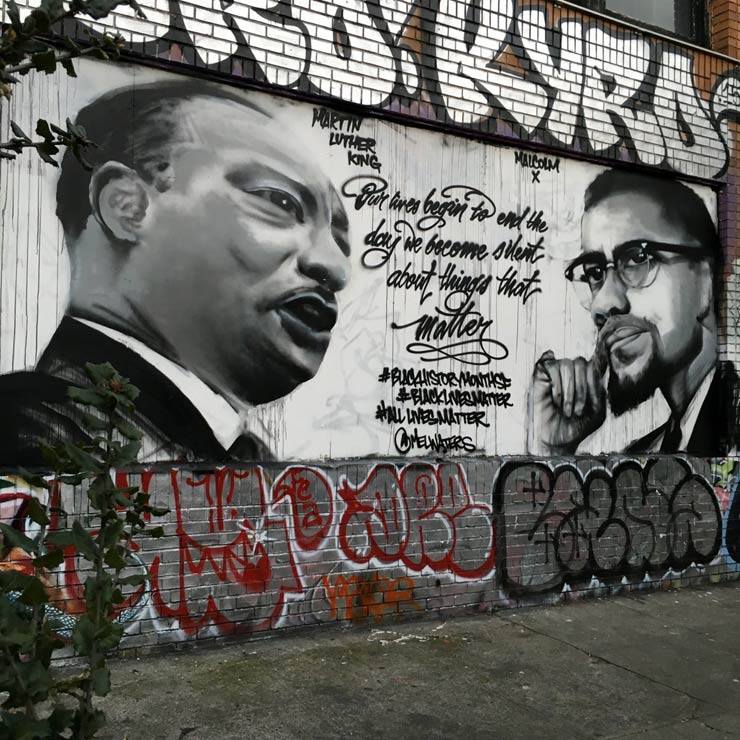 Waters started out painting murals in 2007, and that evolved when he found a love for portraiture.  A portrait of JFK was his first public attempt. In 2010, he started tattooing at Dean's Tattoo Headquarters in Ingleside while painting on the side and growing his clientele. 
Waters doesn't like to spend too much time painting a portrait. "Coming from a graffiti artist background, you have to work fast," he said. "You know, tattoos, too, I don't want to be spending forever on someone hurting them. Also, tattoo artists work by the hour, and I don't want to take more time to just make more money. If I know how to do something, I am going to attack it and get it done. I make it count."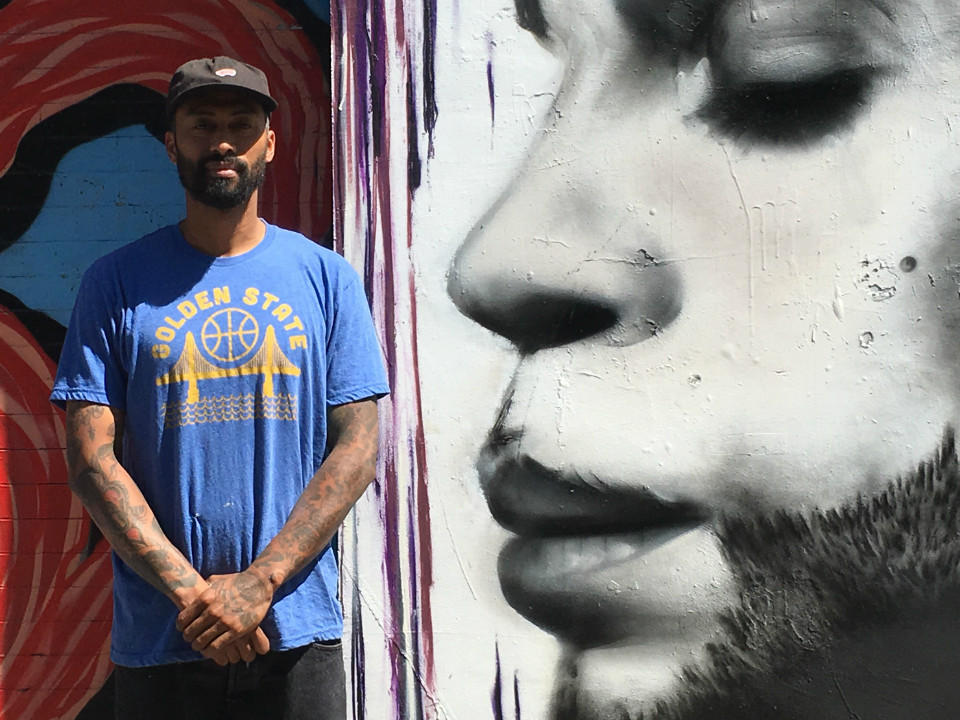 Waters has been painting in Clarion Alley since 2008, and adding five different murals to the art space since then. He said that it usually changes when he has the urge to paint something special or significant. "It's a good spot that I can rely on, "he said. "It's special and it's beautiful, and I like working with such great people on that project." 

As far as the inspiration for the Prince piece, Waters said that his family listened to soul and R&B when when he was a kid, and Prince was in that mix. "He was part of my background growing up. When I listen to him as a adult, I turn it up because it reminds me of my childhood."
When Prince died, Waters immediately started looking for images of him, and when he found the one he wanted: a photograph by Herb Ritts that was being used in a few different places, such a commemorative issue of People magazine. "There's something about that photograph that's pretty amazing," he said. "I like to share photographers' artwork—it's just spreading their beauty. I try not to let them down by attempting it right. It's kind of tough painting a portrait with spray cans. It's not going to be exactly the same. But that's not my goal."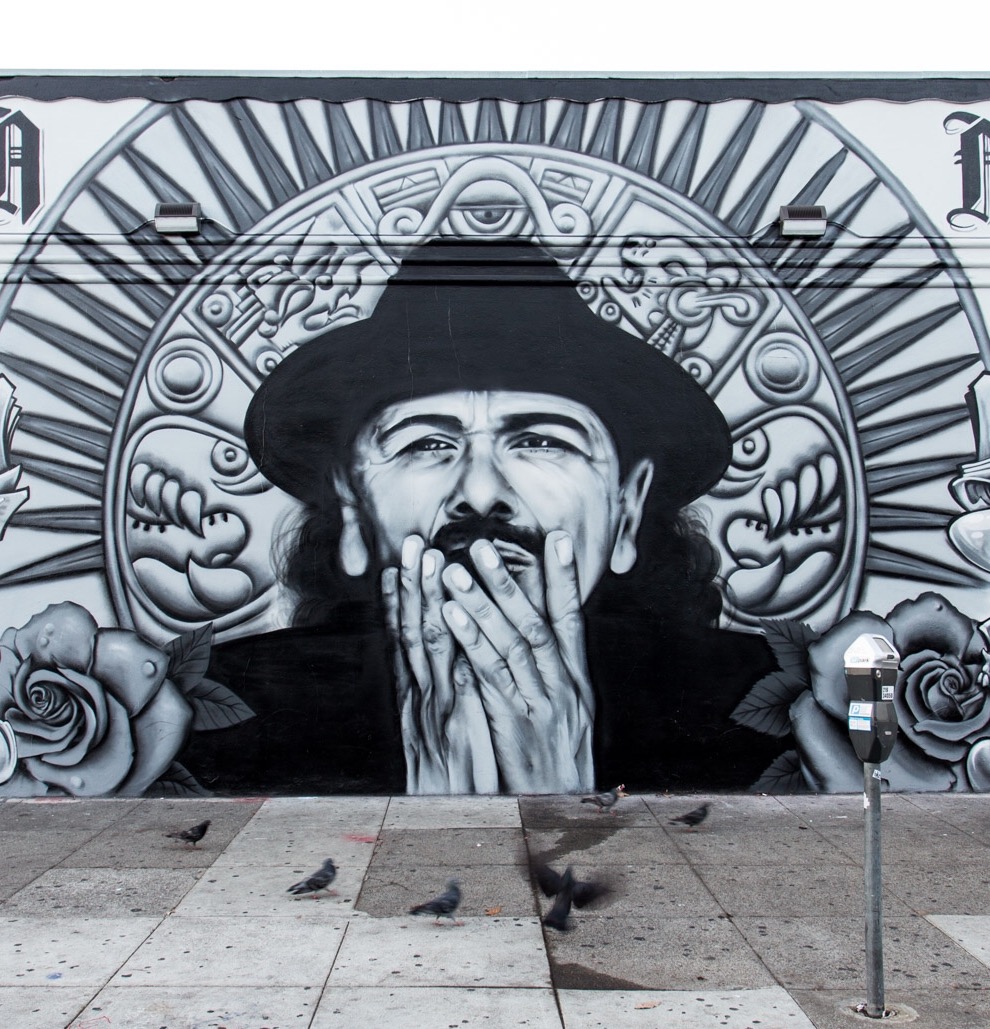 When you see some of his other murals around the city, there's no doubt that the musical theme is pretty constant in Waters' artwork. His mural of Carlos Santana is just down the street on 19th and Mission. It was a bigger project funded by the San Francisco Arts Commission, so he was allotted more time for the background.
There's also Harlem of the West, funded by the San Francisco Arts Commission on Divisadero Street between Eddy and Ellis, which was completed in 2014.
"Music motives me," he said. "It's a particular kind of energy that keeps me in tune with my work. But I am not limited to that. I like to paint portraits of iconic people, such as Gandhi and JFK. I like to get somebody up that symbolizes the times."
In February of 2016, Waters funded his own project for Black History Month, painting one portrait a day of iconic African Americans throughout the Mission and some other parts of the city, including figures such as Rosa Parks, Josephine Baker, Martin Luther King Jr., and Malcolm X.  Waters, who received a warm response from the community and social media, told the Huffington Post that he loves celebrating his culture, which is African American and Filipino, through his art.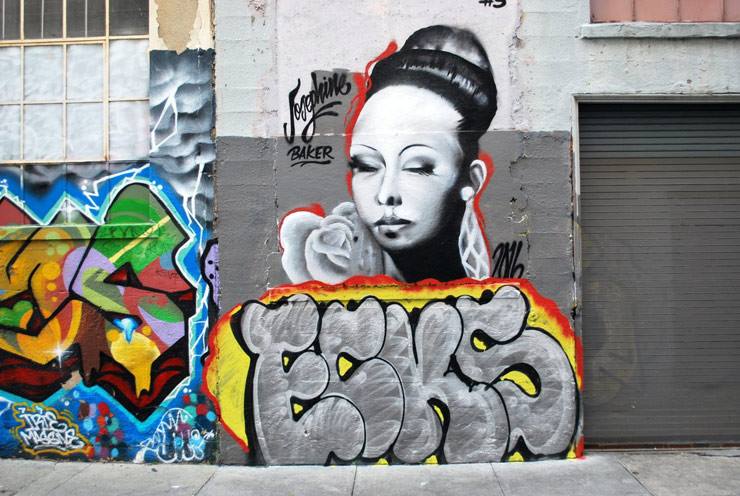 As for the street art craft, he said, "I love to do it. It's becoming more and more popular. A lot more people are doing graffiti art with spray cans these days. Everyone's approach and style is going to be different. Portraits [from different artists] might even be off the same picture, but there might be something different about them."
Waters has worked to bring his own signature style to the mix. "I've been trying to shy away from accent colors and just use blacks, whites, and grays, but some will have color, like the Prince, which has some purple accents ... It's a mood," he said. "I don't want to distract the viewer with the background: I want them to view the person that I am painting."