This is part of an ongoing series of history posts from local historian, author and professor Art Peterson, who's given Hoodline permission to reprint some of his writing about North Beach and nearby neighborhoods. They appear in his local history book Why Is That Bridge Orange?: San Francisco for the Curious and other previously published works. This article originally appeared in The Semaphore #200, Fall 2012, under the title "The Onion That Was." 
They say you've made it big time when you become a clue in the New York Times crossword puzzle. If so, the Purple Onion Comedy Club, which closed its doors on September 28, 2012 after nearly 60 years in business, has received appropriate recognition.
A clue from the August 23rd, 2011 puzzle read, "Legendary S.F. music/comedy club where Woody Allen and Lenny Bruce performed." Answer: Purple Onion. But the puzzle maker was a little off. The Onion, located at 140 Columbus Ave. between Jackson Street and Pacific Avenue, is indeed a legend, but Allen performed mostly at the hungry i across the street, where, according to San Francisco Chronicle entertainment critic Joel Selvin, "nobody knew [him]."
Bruce, according to Selvin, played Basin Street West as well as Off Broadway and Ann's 440 club, "but any appearance at the Onion must have been pretty shadowy."
The blogosphere also makes mention of Onion performances by Richard Pryor, Jonathan Winters, Barbra Streisand and others who were said to have descended the 16 steps to the 80-seat intimate cave of a club. But none of these performers are mentioned in a 1978 Examiner interview with Bud and Virginia Steinoff, who, along with Keith Rockwell, founded the club in 1953. Instead, as Selvin says, the Onion was "mostly a place where up-and-coming and unknown talent played."
One of these unknowns was a 37-year-old Alameda housewife and mother of five, Phyllis Diller, whose husband talked her into trying out at one of the Onion's regular Saturday-afternoon auditions. Almost against their better judgment, Rockwell and the Steinoffs hired Diller. "None of us thought she was very funny," said Virginia Steinoff. The managers soon fired her.
Yet Diller won another chance, because of her positive attitude. "She would never blame the audience, the way many other comedians do. It was always, 'What did I do wrong?'" said Virginia. Developing an onstage persona that Tonight Show host Jack Paar later described as "that person you try to avoid in the supermarket," Diller went on to perform for a record-breaking 87 weeks in 1957.
When Diller needed an opening act, the managers hired—after four auditions—the group known as the Kingston Trio. As local boys from Palo Alto, the trio had a long mailing list of local fans and acquaintances who soon began filling the club. Their métier was to draw on old folk songs such as "Tom Dooley."
"We started paying them $300 a week," said Bud. When Tom Dooley, promoted by a Salt Lake City disc jockey, sold three million copies, the trio was in a position to command a much higher salary. For their second album, they abandoned ship and went across the street to record "The Kingston Trio from the Hungry I," a venue that was becoming nationally famous. But loyalty brought them back to the Onion for one more gig.
A few years later, another group was propelled to fame by an album recorded at the Onion. On "The Smothers Brothers at the Purple Onion," the comedic duo combined a folk-song repertoire with humor that depended often on a mock sibling rivalry. "Oh yeah, well, mom always liked you best," was a line guaranteed to somehow make a 1950s audience crack up.
One day, a television scout from the Tonight Show approached the duo. "We'd like to use you," he said. The brothers went on to perform almost 50 times on that program, which, of course, led to their own edgy variety show. As the fame of the brothers increased, the Onion offered them $2,000 a week in 1965. "'Sorry, we make that in a night,'" they told Bud. "That was the last we saw of them."
The Onion has hosted many other memorable moments. In 1954, a 25-year-old Maya Angelou got a gig there as a folk singer. The Chronicle raved about her "deep, untrained, vibrant singing voice"—and her beauty. Another future poet of sorts, Rod McKuen, was hired at the Onion. "He didn't sing very well, but all the women wanted to take him home," said Virginia.
Bud said that he'd sometimes get too busy bartending to fulfill his role in Jim Nabors' act. "Jim would hit a very high note, and I was supposed to break a glass behind the bar. Sometimes I'd get distracted and miss my cue," which, in a way, might have been funnier.
By the 1970s, North Beach's reputation as a center of live music and comedy had given way to the topless craze. "We and Finocchio's were the only ones left, and we depended on the tour-bus crowd to fill the club," Virginia explained. She did not see these visitors as ideal clientele. "They hold on to their drinks the whole show and will break your arm if you try to take it." The plucky club managed to survive for a few years, boasting a marquee that read simply "No Topless."
By the 1980s, the Onion had transformed into a garage-band rock club, featuring such bands as the Groovy Ghoolies and the Trashwomen. The club was not helped by a 1990 gang shooting outside its doors, which killed one and wounded 11.
Mario Ascone, who ran Café Macaroni upstairs, took over the Onion in 2004, and it returned to its comedy roots. Mort Sahl did a couple of shows there in 2005, and Robin Williams would sometimes drop by. After that, the Onion was primarily a venue for aspiring young comics, who managed social media to attract weekend crowds. The fledgling performers seemed to appreciate working at this venerable location. Said one: "I'm walking in the bowels of comedic history, entering a time where nightclubs had tablecloths, patrons sipped highballs and comedians wore suits." But the club did still attract notables such as Zach Galifianakis and Judah Friedlander, perhaps for the same reasons.
In 2012, Ascone confirmed that the building housing the Onion, Café Marconi and the 48-year-old Salio's barber shop had been sold, and he was moving out on October 1st. Rumors swirled that the buyer was Roger Forbes, owner of the strip club conglomerate Déjà Vu. 
In the end, Christopher Burnett, who also owns Darwin Cafe in SoMa, took over and gave the place a total overhaul. He created the stylish restaurant Doc Ricketts upstairs, and a nightly entertainment showcase called Doc's Lab downstairs in the former Onion space. The California-centric restaurant opened on September 3rd, 2014, and the spiffed-up lower level followed on September 13th, hosting comedy, burlesque, live music, variety shows and more.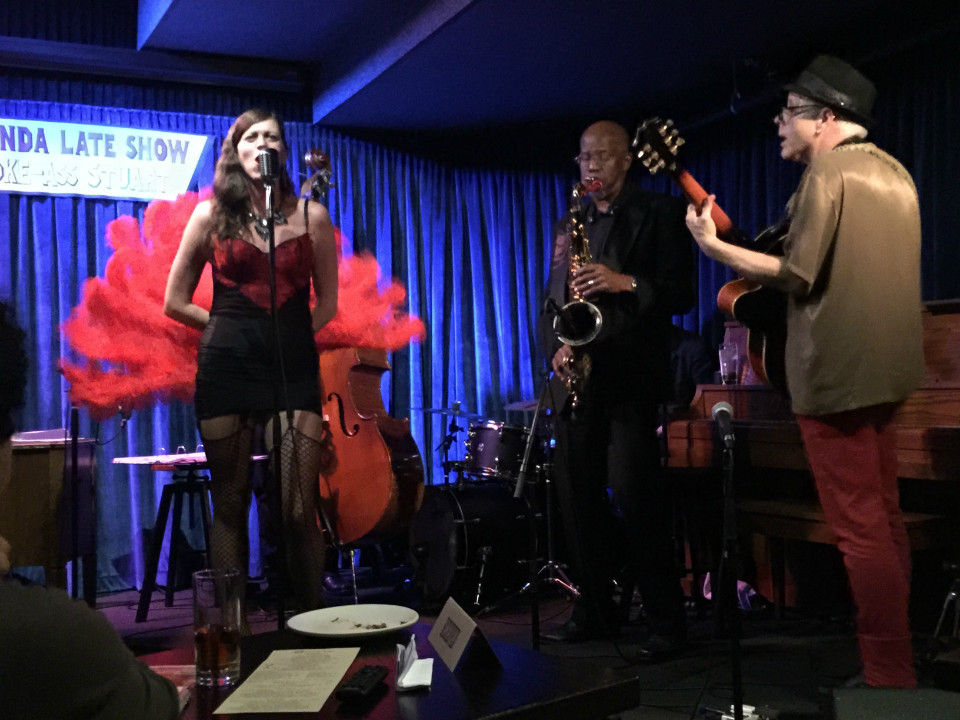 Meanwhile, The Purple Onion at Kells lives on around the corner, at 530 Jackson St. Local stand-ups both new and experienced regularly showcase their material in the basement of the Irish restaurant and pub, keeping a piece of the legend alive.
Art Peterson is the author of Why Is That Bridge Orange?: San Francisco for the Curious.