Mike Shawa, the popular owner of much-loved North Beach burger joint Sam's, passed away earlier this week at the age of 70. There are no reports yet of his cause of death.
Opened by Shawa's uncle Sam in 1966, Sam's was the first fast-food burger joint to open in the neighborhood, and after almost 50 years, a crowd still pours down the sidewalk for its late-night grub. It was even featured on a 2011 episode of Anthony Bourdain's travel series The Layover. 
Longtime patrons we spoke to called Sam's "a neighborhood fixture" and a "home away from home," whose allure went way beyond the burgers—largely thanks to Shawa. 
"This is a blow to North Beach, San Francisco, and the many people from all over the world [that Mike] hosted," said Robert Celli, a regular since the '80s who worked at nearby Crowbar and Broadway Joe's in the late '90s. "He was one of those guys that always made people feel welcome."
Sam's was known for a rowdy crowd of late-night restaurant and bar workers and "random drunks," Celli said, but Shawa always kept his cool. "It gets pretty unruly, but even when the place would be full, Mike would just run that tiny grill, and he'd deal with it, all while smiling and having a kind of grace and elegance about him. He was one in a million and will be sorely missed."

Alfredo Arena, a San Francisco native who lived in North Beach for over 10 years, has known Shawa for 11 years. He told us that he just saw Shawa working the grill last month at Sam's, so he was surprised when he received a phone call about his passing.
Arena said going to Sam's felt like being around family. "Mike would talk to you," he said. "He had wisdom and loved to get to know people. He also had an incredible work ethic. He must have made thousands and thousands of burgers. That grill can tell stories. Mike worked his ass off to become that guy on Broadway, and now that place is like a staple. It's a tough loss for that neighborhood."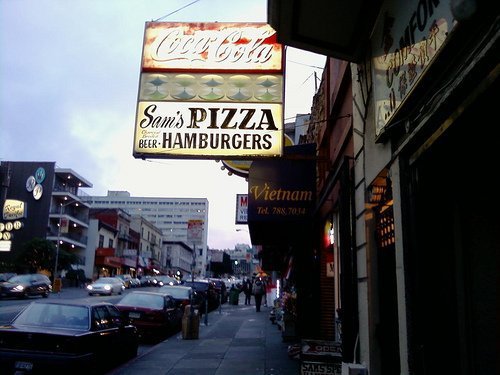 Sam's serves "the last honest burger in San Francisco," said Tim Luym, co-owner of Neighbor's Corner and a partner of food truck Frozen Khusterd.
"Mike was the ambassador of Broadway," said Luym. "Everyone knew, respected, and loved him. One look in his eyes, and you could see the soul of a kind and great gentleman. Not to mention hardworking, as I'd frequently catch him picking up supplies at the local Cash & Carry, even after all these years and the Bourdain stardom."  
"For some reason, I felt drawn to confide in him and often chatted with him late afternoons or on slow nights ... about work, life, history, and even relationships, and he always dropped his words of wisdom. He had this sense of awareness, clarity, and confidence that could only come with experience. He always talked about family and one day returning back to Palestine to be 'home.' That's one thing I learned from him as well: home is where the heart is."
Hoodline hasn't confirmed whether Mike Shawa's son, Fadi, and the rest of the Shawa family will continue to keep Sam's open. For now, share your memories of Mike in the comments section.