Nestled atop Russian Hill, among the small stretch of restaurants and shops on Hyde between Union and Vallejo, is a tiny wine bar with a big presence. Named for the Roman god of wine, Bacchus has been a neighborhood fixture since 2000. There are no farm-to-table snacks, craft cocktails or gimmicky decor—instead, what brings back its loyal set of regulars is a feeling of community.

"It's a wine bar, by virtue of having a license to serve wine, and by virtue of me starting with a love of wine," says owner Bodhi Freedom. "But first and foremost, it's like Cheers. It's a neighborhood bar—it just happens to be a neighborhood bar in an exceptionally cool neighborhood, at the top of a hill in a beautiful city."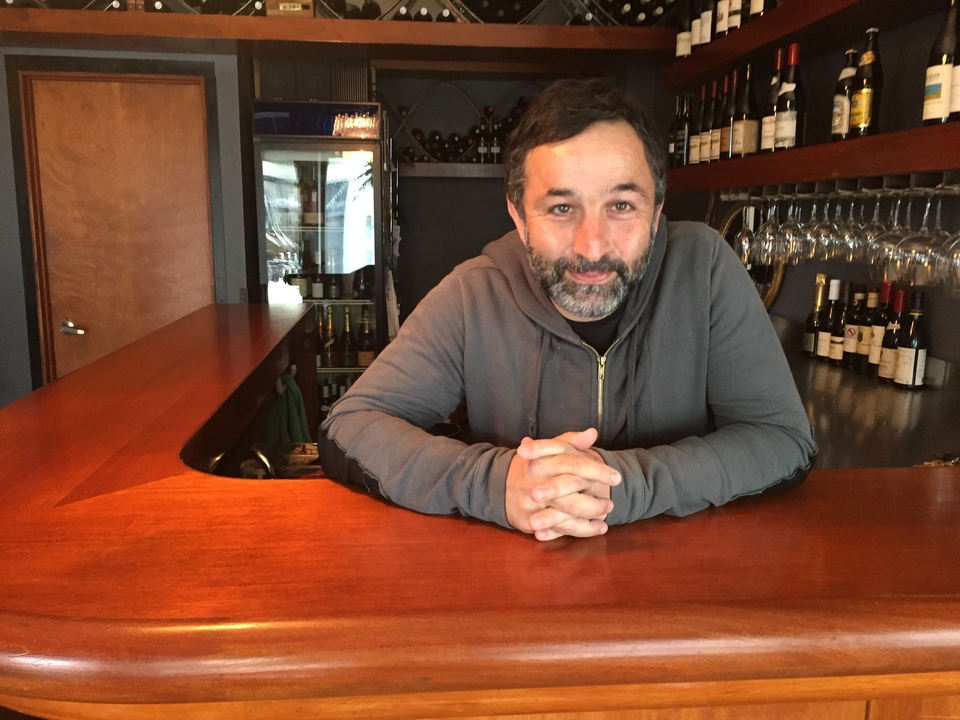 Bacchus' small space features a dark wood bar studded with votive candles; a chandelier dangling from the ceiling; antique candelabras, dripped with wax, dotting the walls; and a four-foot-tall vase filled with an impressive bouquet. A pair of weathered loveseats next to the window offer a view of bustling Hyde Street, where locals wait in line for ice cream at Swenson's and tourists wander off the cable cars, selfie sticks in hand.
The bar's patrons include people awaiting a table at one of several nearby restaurants; tourists who drift in after the walk up Lombard Street; 20-somethings on first Tinder dates; and regulars who live within a few blocks and stop in a couple times a week.
"People come in here because they know they're gonna get a nice place to hang out and have real, meaningful interaction," says Tristan Jones, who's been a bartender at Bacchus since 2013.  "As opposed to, like, sitting at a bar with a bunch of strangers and not talking to anyone."
Jones, a tall Bay Area native with an infectious grin, comprises one half of Bacchus' entire staff. Regulars know him well, and he looks up often from our conversation to wave at passers-by who call his name from the street.
"If the bar's full, I usually recognize 60 to 70 percent [of customers]," he estimates. "On average, I probably know 40 percent by name on any given night. And I know what they like to drink, too."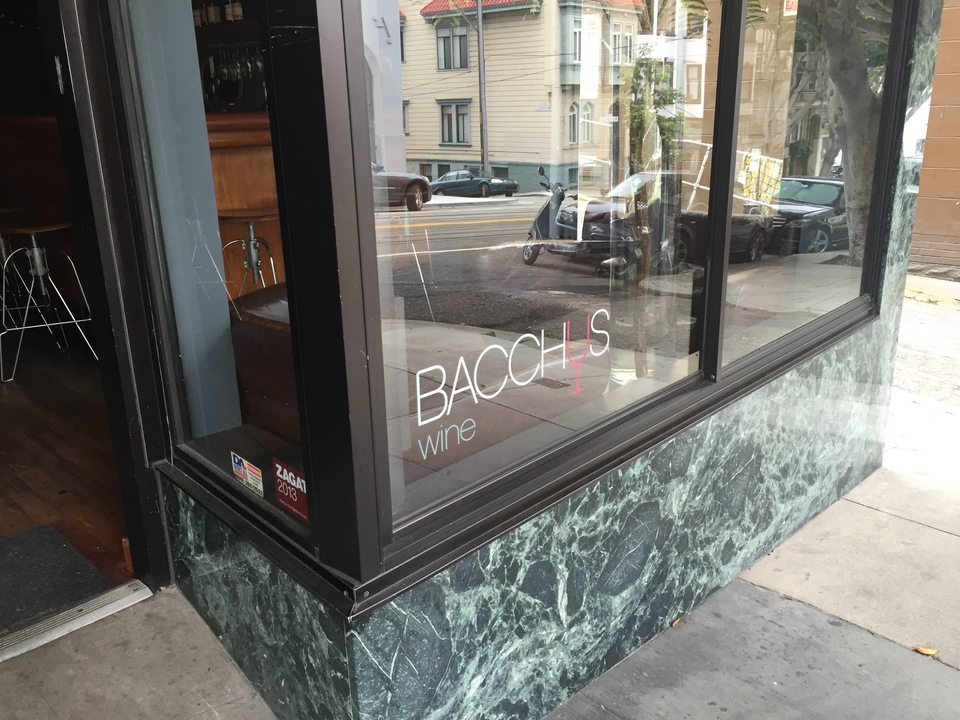 When it opened in 2000, Bacchus was a spinoff of Sushi Groove, the sushi restaurant located a couple doors down. (It's now Elephant Sushi.) The space had previously been a coffee shop and a poster shop; Sushi Groove's owners decided to convert it into a wine and sake bar to handle the spillover crowds from their restaurant. 
Freedom was Bacchus's first employee, and he eventually bought the business in 2006. These days, the Bay Area native spends most of his time at 20 Spot, the wine bar he opened in the Mission in 2013. He credits the staff with cultivating and maintaining the bar's friendly atmosphere, though he says its petite square footage is also a contributing factor. "Its diminutive size leads it to be something groovier than it might be on Polk Street."
With its 12 bar stools and two loveseats, Bacchus can only seat 16, and its entire capacity maxes out at 25 people. "Since it's so small, it kind of forces conversation, which is a good thing," Jones says. "I think in general, we're lacking that at bars in the city."
Jones himself has become friends with several of his patrons—he'll soon attend the wedding of someone he met while tending bar at Bacchus. "This place has a tendency to make friends," he says. "It's not just me [talking] with the regulars, it's the regulars themselves. I'll have people sitting around the bar, and everyone's chatting with each other, and it's like, 'How do you guys all know each other?' 'Oh, from Bacchus.'"
Freedom agrees that the bar has a special ability to bring people together. "When I used to work at Bacchus, people would come in and look kind of familiar," he says. "They'd be like, 'Yeah, we had our first date here ten years ago, and now we have kids and we live in Danville—this is our anniversary, and we just wanted to come back and have a glass of champagne.'"
Open seven days a week, Bacchus offers 14-17 rotating red, white and sparkling wines by the glass, plus a few bottled beers and couple pages of wines by the bottle. Jones mentioned the possibility of adding snacks to the menu in the future.

As far as Freedom is concerned, his plan for Bacchus' future is simple. "I hope to sign another lease next year, and keep it intact for as long as it can stay intact," he says. "Hopefully it stays the way it is. I don't want to fuck with it—it's great."