A whole lot of decorative lights are on their way to Larkin Street, and local residents are being tapped to help shape the final design.
Earlier this year, the Tenderloin Community Benefit District announced the Larkin Street Lighting project, which aims to install a unique light installation that will help beautify the street, drawing more residents and visitors to the Little Saigon corridor.
To help make the concept selection and refinement period a community effort, the CBD is working with Our City, an Oakland-based nonprofit that produces events, installations and workshops that use that use public design to improve cities.
Through an open call for proposals, the team received 10 submissions. While that may not seem like much, Jake Levitas, cofounder of Our City, said all of the proposals were "genuinely worthy" of moving forward, and the selection committee had a tough time choosing the three finalists: Future Reflections, Monlithicity and Synesthia.
Future Reflections proposes stringing traditional Vietnamese lanterns, activated by wind, across the street.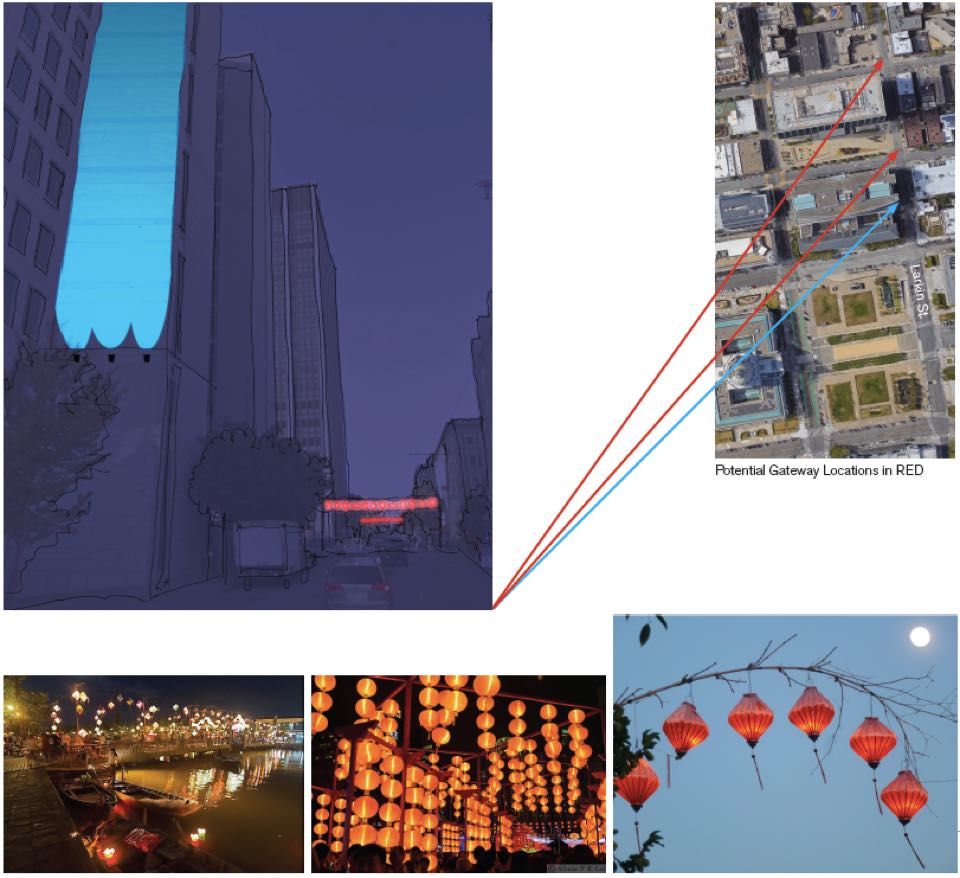 Monlithicity seeks to build monolithic light structures that serve as "viewing portals through the streetscape," and dramatically illuminate the area at night.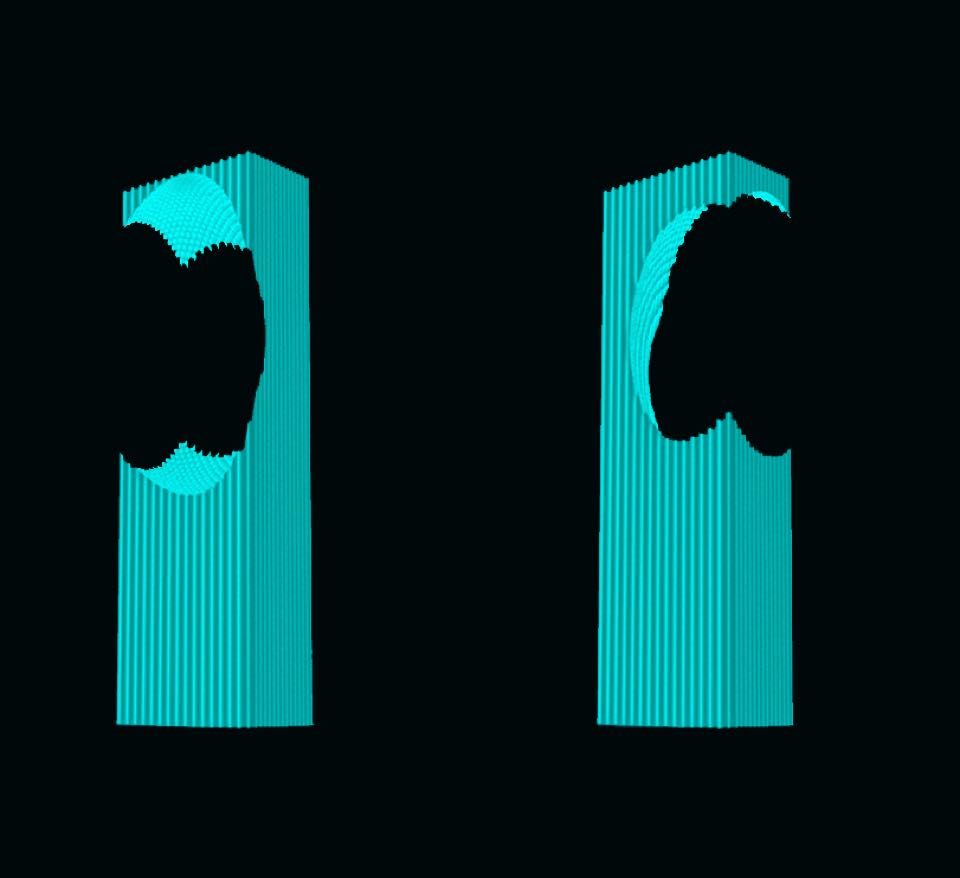 And Synesthia would install a network of lights that reflect the moods of surrounding sounds, "capturing the natural ebb and flow of activity through the streets."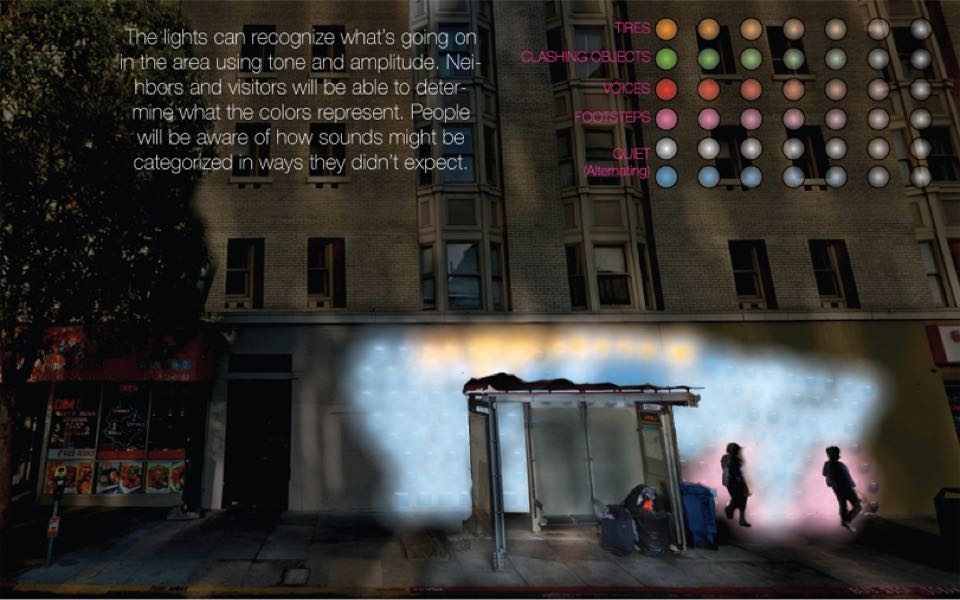 All three teams are made up of seasoned Bay Area locals, with varying degrees of first-hand experience with the Tenderloin, Levitas said. Over the past three weeks, they've all worked closely with another Our City co-founder, Ray Boyle, to survey an array of business owners, employees, pedestrians and tourists in the area—and shift their concepts accordingly.
To gather even more community feedback, all three groups will be exhibiting their ideas publicly tomorrow. From 11am-2pm and 6pm-9pm, the teams will be stationed at Larkin and Eddy streets to share their concepts with passersby.
In addition to allowing people to briefly read their original ideas and see how they've evolved with community input, the teams will offer immersive experiences. One team plans to show a series of videos, one is bringing prototypes people can examine, and another has created a demo that can be experienced through virtual-reality headsets, Boyle said.
While the focus of these public art installations is lighting, Levitas noted that the timing of the community engagement sessions—morning and early evening, just after the summer solstice—will impact their ability to demonstrate the full impact of these projects after dark. But the goal is to collect as much feedback as possible, so they're hoping to catch crowds during the area's weekday lunch and happy hour rushes.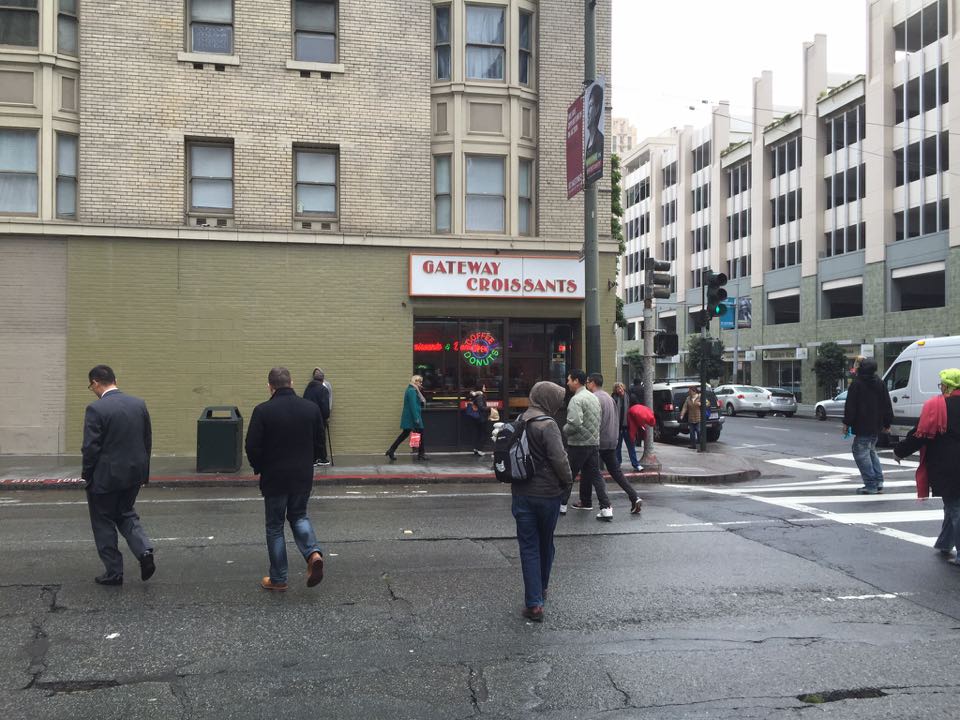 From there, the teams will have the next three weeks to incorporate the additional community feedback into their concepts and submit their final proposals. The jury will select a winner in mid-July; after that, the Tenderloin Community Benefit District will take over and embark on fundraising (with a goal of raising $100,000) and implementation.
As for the reasoning behind selecting a concept before seeking funds to support it, Levitas explained that Our City is already working with the TLCBD to apply for grants. But they believe they'll have "stronger legs to stand on" if they apply with a fleshed-out, community-supported proposal, rather than a theoretical sketch that hasn't been vetted by the community. 
If all goes well, Levitas estimates that the winning light installation should debut on Larkin Street within the second half of 2017.