"We've known gun violence before," shouted Pastor Megan Rohrer to the thousands of people who gathered last night in the Castro to mourn the 50 people killed at an Orlando nightclub over the weekend. "Angry people of faith are not the majority. We are queer. We are transgender. We are fabulous, we are faithful. We must stand up. We must vote ... until everyone is safe in bathrooms, in churches, and in the fucking streets."
The crowds at the vigil were so large that community members spilled out into the streets surrounding Harvey Milk Plaza, amassing along Castro Street just south of Market. An SFPD officer at the event estimated that 10,000 people were in attendance, though that number has not yet been confirmed by authorities.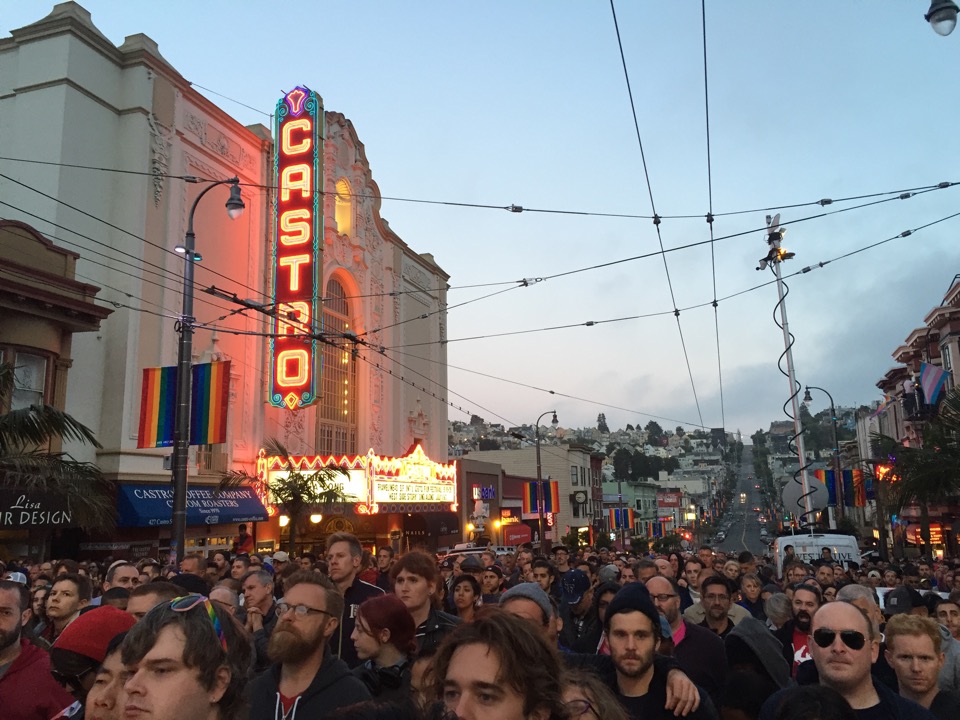 A diverse group of community organizers and politicians spoke to the crowd, many of whom were still reeling with grief, shock, and anger from a tragedy that had occurred just 21 hours earlier.
Sister Roma and Sister Mary Peter from the Sisters of Perpetual Indulgence accompanied Pastor Rohrer on stage for a religious perspective on the shooting. The Sisters called upon spiritual leaders across the country to "speak with compassion and love for all," before wishing that current and future leaders have the "courage to end this cycle of mass violence and reject the politics of hate."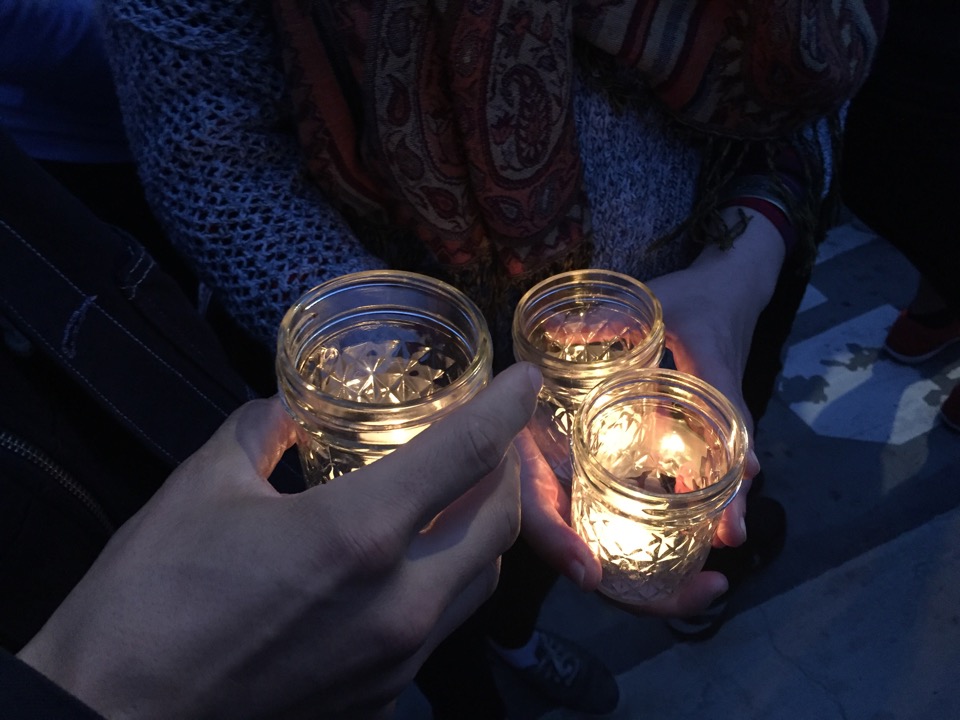 Local politicians who spoke at the event included Mayor Ed Lee, Senator Mark Leno, Supervisor Scott Wiener, and Supervisor David Campos. Campos, who is gay and Latino, spoke passionately on the struggles of queer people of color. "As a gay Latino man, it is not shocking to me that the biggest mass shooting would target the queer community, and also the Latino community," he stated.
"The thing about [the LGBT Latino] community is we are resilient," Campos said. "We have been through tough times, we are sticking together, and we are gonna keep fighting to make sure that this community is not forgotten."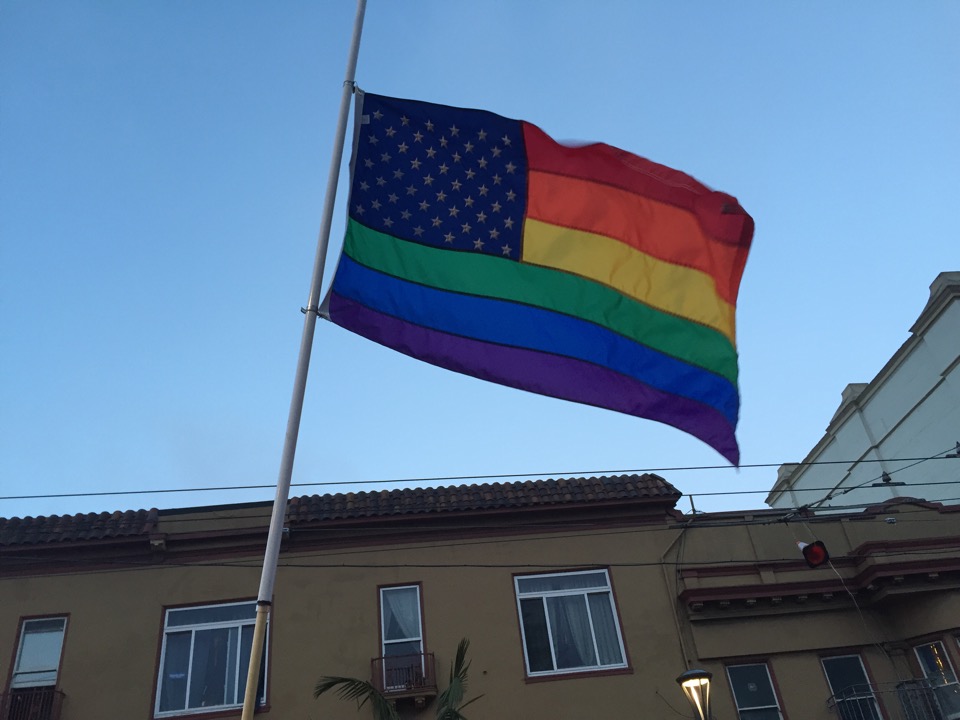 Campos railed against a sense of complacency in the queer community, in light of the recent legalization of gay marriage across the country. "We all have to recommit ourselves to the work that remains," he said. "We want our leaders to think of queer people of color not just when there's a massacre, but every single day."
Like many of the other speakers, Campos expressed opposition to Islamophobia and xenophobia. "We are all in this together. I know that targeting the Muslim community is simply wrong, and we're going to speak out against it."
"We need to be together. We need to carry on with the love our family and friends, our allies, lovers, whatever. We need to carry on. We need to battle," said Latino Democratic Club president Lito Sandoval, who also stated that he and members of his community had to ask to attend and speak at the vigil, because they had not initially been invited. "Latino leaders were not contacted; we had to reach out."
While, as Sandoval said, "the attack was on queer and Latino communities," the crowd at the vigil was diverse.
"Look around you, this is your community," Sandoval said. "We need to choose inclusiveness, choose love, choose each other, choose integrity, choose solidarity, and not allow us to erase each other. None of us are free until all of us are free."
So proud of our City... #SanFrancisco #OrlandoUnited pic.twitter.com/CxUcKEBK1g

— David Cruise (@DavidCruiseSF) June 13, 2016
Huge, diverse #SF crowd at City Hall to rally for #Orlando #SFPD pic.twitter.com/Yh0IRsDbtc

— SFPDCares (@SFPDCares) June 13, 2016
Mayor Ed Lee also spoke at the vigil, amidst both boos and applause from the crowd. "Hatred will not drive out hatred, and darkness will not drive out the dark," he said. "I join you all to make sure that we lead the way, and keep our LGBTQ community safe."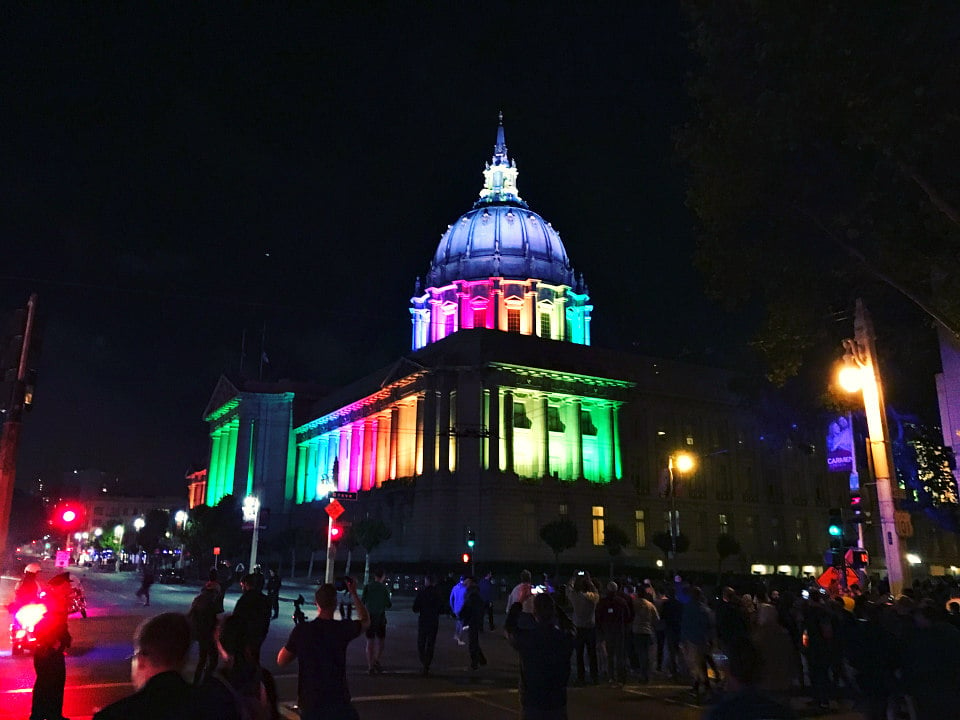 In addition to politicians, interim Police Chief Toney Chaplin, who was recently appointed after Chief Greg Suhr resigned, spoke briefly to attendees. "The NRA is a powerful group, but I am staring at a more powerful group," he said, drawing cheers from the crowd.
Chaplin encouraged those in attendance to get out and vote for politicians who support gun control laws. "Get out there and go show your support for folks. We need to get this legislation in place to change the gun laws in this country," he said.
But the largest applause from the crowd was reserved for Assemblyman Tom Ammiano, who opened his speech with the simple phrase "Fuck the NRA." Joking that the organization's moniker stands for "national real assholes," Ammiano's speech was filled with humor, but also powerful messages. "Is that a gun in your pocket?" he asked the crowd. "Because I'm not happy to see you."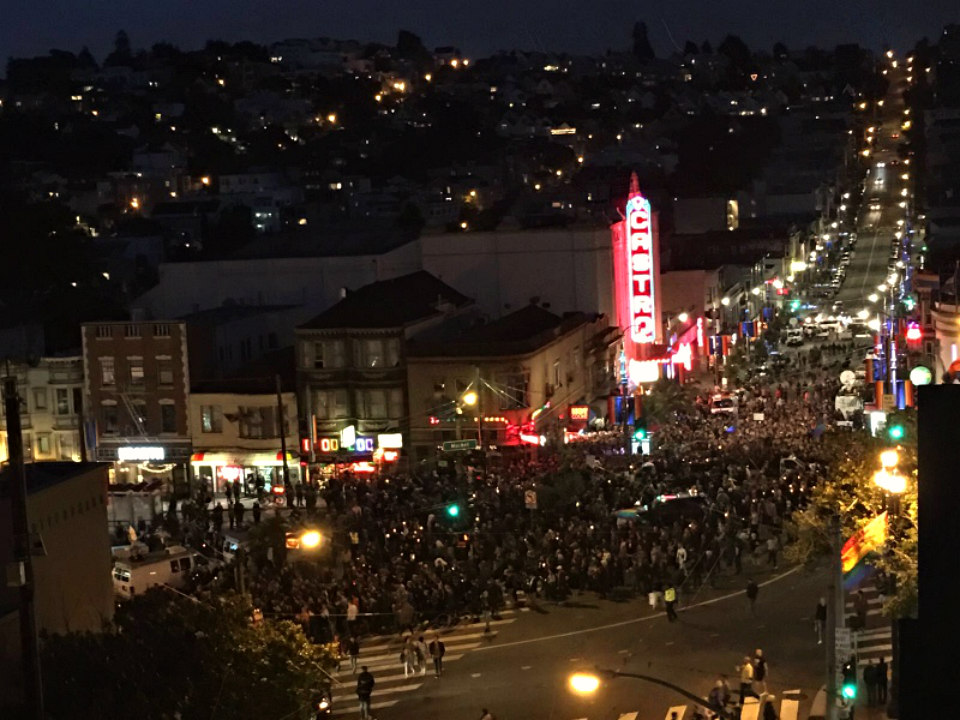 Shortly before 9pm, the SF Gay Men's Chorus led the crowd in song. As the speeches ended, hundreds of peaceful marchers slowly began to flow down Market Street towards City Hall. Although traffic was halted, drivers encouraged marchers with honks of solidarity.
Upon reaching City Hall, the mood remained somber as the names of victims were read aloud. "We must remember Orlando," said one organizer. Before heading home, many left their candles, still lit, beneath the backdrop of City Hall's rainbow lights.
SF Gay Men's Chorus at vigil for Orlando mass shooting victims. https://t.co/6ideuN97zz

— Alex Emslie (@SFNewsReporter) June 13, 2016
"We must remain strong and vigilant in the face of such hatred," said San Francisco Pride in a statement. "We must be good to one another, we must speak up for one another, and most importantly we must look out for one another."
"As members of the LGBTQ community, as Americans, and as those who believe in freedom and the rule of law, we must continue undeterred in our quest for full and equal rights for everyone. We are unbowed and unbroken by this attack, and will continue on in the memory of those who lost their lives for simply expressing their true selves."