Biking her daughter to and from school was nothing new for Rachel Masters. She did it about three days a week on a heavy electric bike—until this April, when the pair took a nasty spill on 17th Street during one of their commutes.

"My daughter and I were biking to the Earth Day celebration at her school on Dolores when our bike hit the Muni tracks on the southwest corner of Church and 17th," Masters said. "We came crashing down."
Masters' left shoulder was broken in the fall. Fortunately, a pair of bystanders stepped in to call her husband, and helped her get her daughter out of her car seat. While she's thankful for the bike seat and helmet that allowed her daughter to walk away from the accident unscathed, "I didn't want our daughter to go through the trauma of being in an ambulance and seeing me hurt," she said.
Masters' husband drove her to the emergency room after the crash, which caused her to miss a week of work. She had to wear a shoulder immobilizer for seven weeks, and now has a frozen shoulder. "I will be in physical therapy for at least a year," she said.
Masters had no idea that other people had also been hurt on the 17th Street Muni tracks, until she saw a recent post on Nextdoor. "I thought it was just something that happened to me and was bad luck," said Masters. "Now I see that this is a larger trend."
John Entwistle, Jr. has also spotted this "larger trend." Literally.
On May 19th, Entwistle witnessed a cyclist falling on the 17th Street tracks—with two children on the back of her bike. "It was a tragedy," Entwistle said. "Fifteen minutes later, they carried her away in an ambulance. She couldn't get up to help her own children—it just brought tears to my eyes."
Entwistle, who lives on the block, caught the whole crash on tape—and many others. For months, his home security camera has captured bicyclists and motorcyclists being brought down to the asphalt by the tracks. He's also posted about the tracks on Nextdoor, where numerous people have shared similar experiences to those mentioned here.
In all, Entwistle estimates that more than 200 people are seriously injured each year on 17th Street between Church and Noe—and that the vast majority of those injuries go unreported.
"Maybe this video will motivate people to change this problem," Entwistle said, "because we've never had a video of a tragedy happening out there. It's always been invisible. No one's ever seen it."
Neighbors Mobilize For Action
Entwistle decided to research the origin of the tracks, and on his blog, he writes that they were installed as a temporary detour in 1972, for the construction of the Church and Castro Muni stations.
"The City always knew that 17th Street was too narrow for these tracks," he wrote, "so the original plan called for their removal when the project was finished. That would have been [in] 1980."
He says the city has known since 2011 that the Muni tracks can't safely coexist with residential parking and the bike lane. "Their engineers have done the analysis, and it's an unresolved issue," said Entwistle. 
With video footage as evidence, Entwistle reached out to the SFMTA and the Board of Supervisors. He says he went directly into District 8 Supervisor Scott Wiener's office and showed him the video of the mother crashing with her two children. "I thought if I sent these [emails] out to the MTA and the supervisors, maybe they'd be motivated to want to change this," Entwistle said.
Thanks to the advocacy of Entwistle and others, Muni will be installing a new street sign at Church and 17th in the next few days, warning southbound bikers of the approaching dangerous intersection.
But while Entwistle is glad the SFMTA recognizes the intersection is dangerous, he believes a sign is not enough. He'd like to see the tracks, or at least a portion of them, removed. 
"Who's in favor of women and children being sent to the hospital by city infrastructure?" he asked. "Ultimately, removing the hazard itself is the solution required."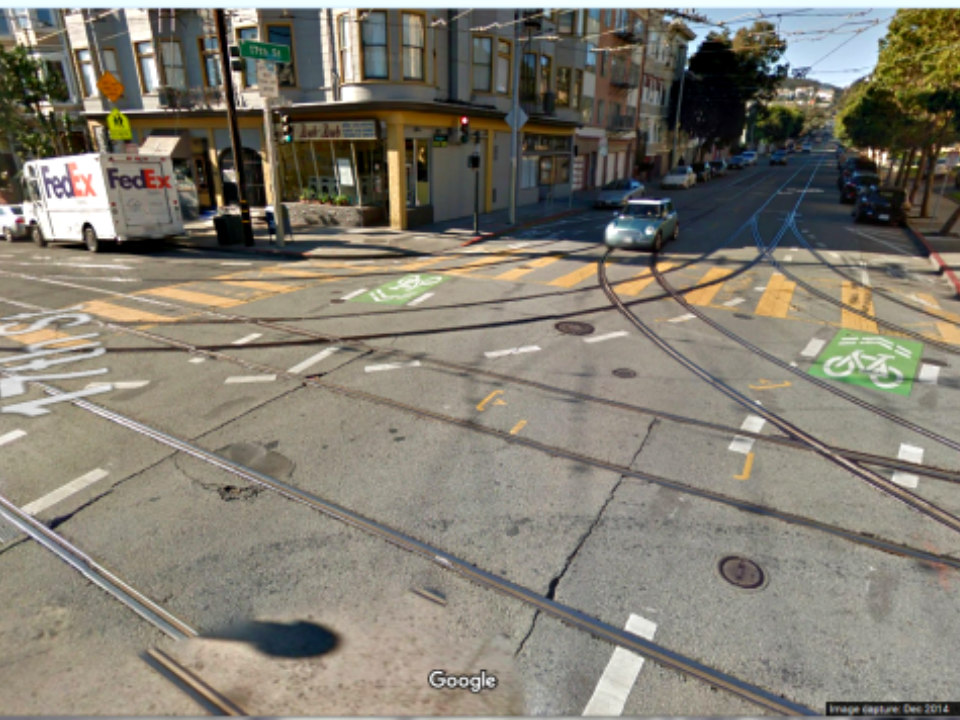 According to Entwistle, Muni can't run a train full of people on the 17th Street tracks. When streetcars do run along that stretch of 17th, they empty them before they can run on the tracks. "It's not like the N-Judah, running down a six-lane street with a race pad in the middle," said Entwistle. "These are temporary tracks that should have been torn up in 1980."

He believes removing some or all of the tracks is the solution. "It has to be a physical thing," argues Entwistle. "The question is, do we take all the tracks off 17th Street, or half the tracks off 17th Street? It's possible to remove only the tracks on the school side of the street, and this would really erase most of the bike wrecks."
Entwistle believes that removing the school-side tracks would result in a one-third decrease in all the steel running across the Church and 17th Street intersection. "You would actually remove a lot of steel from a very dangerous intersection," he said. He's also floated the idea of rerouting streetcars onto Duboce.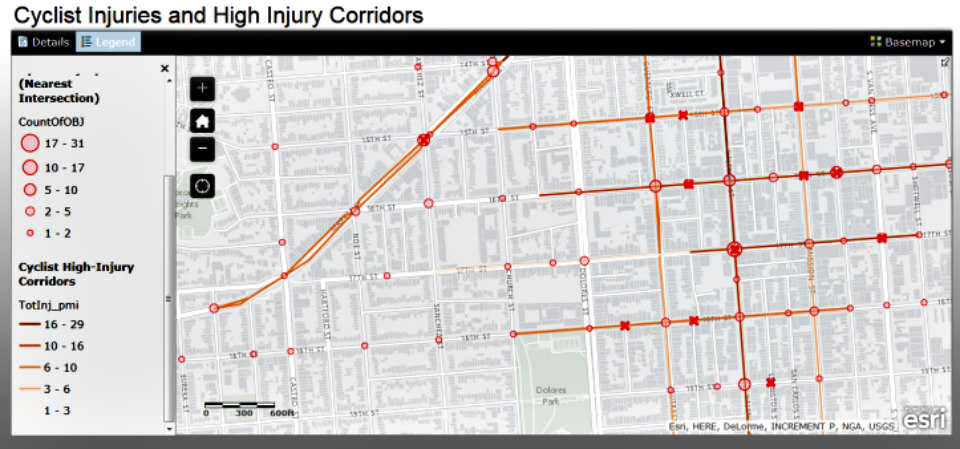 SFMTA spokesperson Paul Rose had this to say in response:
"After receiving feedback from Mr. Entwistle, we immediately inspected the track to ensure that the track and pavement was in good condition. We did find one pothole which we are repairing. Otherwise, we determined that the trackway is in good condition. To clarify, these tracks were designed and installed to provide regular streetcar service to the Castro and ensure reliable service along the entire length of the F line for those 20,000 plus daily customers.

About a year ago, the streetcars were moved temporarily from Cameron Beach Maintenance Facility located near Balboa Park to Muni Metro East (MME) located on Third Street. With the move to MME, the tracks are not used daily for trains pulling in and out of service. This move, however, is temporary, due to a construction project to replace the rail within both the Cameron Beach and Green Maintenance facilities. The streetcars are planned to move back to Cameron Beach in 2017.

Alternatives using Market at Church Street are not possible. There is no track infrastructure in place to travel from northbound Church Street to westbound Market Street or eastbound Market Street to southbound Church Street. The current usage is lower than it was a year ago but it is still used on a regular basis. These tracks are used to minimize delays to the F Streetcar line and maintain service reliability when streetcars experience a mechanical issue. In these cases, the streetcar is moved onto tracks on 17th Street into a safe location, where it does not block service for our customers and residents along the F line. As a service-critical component of the streetcar service, removal of these permanent tracks is not possible."
What's Being Done
In response to Entwistle's efforts, Supervisor Wiener will be hosting a street safety meeting next week with the San Francisco Bike Coalition and SFMTA's bike team. The meeting, which will take place on Tuesday at City Hall, will focus on possible safety improvements for cyclists.

"Removing the tracks is not an option at this point," said Ann Fryman, one of Supervisor Wiener's legislative aides and a cyclist who's also wrecked on the 17th Street Muni tracks. "[But] we want to aggressively pursue adequate signage and possible paint and lighting improvements to ensure safety to cyclists on 17th or Church in that area." The first working group meeting will be invitation only.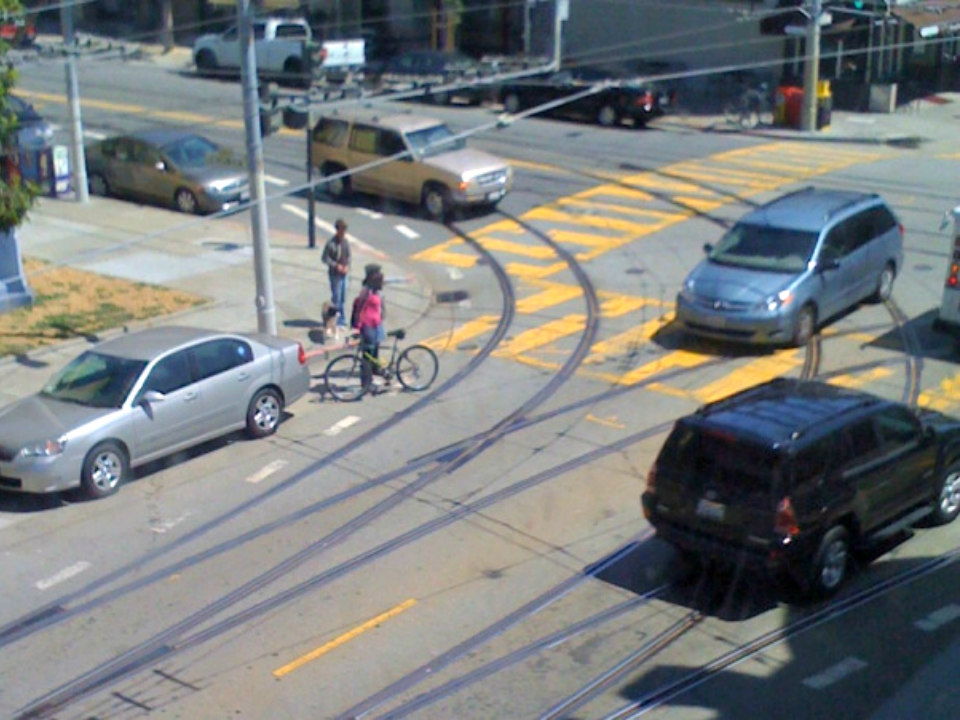 Brian Wiedenmeier, executive director of the San Francisco Bicycle Coalition, will be in attendance at next week's meeting. He says he's very familiar with the hazards of the 17th Street tracks, and praised the new signage, noting that anything that the city can do to draw attention to the potential dangers is a good thing.
Though the Bicycle Coalition won't have any specific recommendations to share with other stakeholders at next week's meeting, Wiedenmeier did say that a wide variety of options exist.
"There are other places, particularly in Europe, where streetcar tracks are also prevalent and there are a lot of people biking," said Wiedenmeier. "There are treatments like rubber flanges that can help reduce the likelihood of a person biking getting caught in the tracks. There are a variety of options that may or may not be applicable in this [17th Street] situation."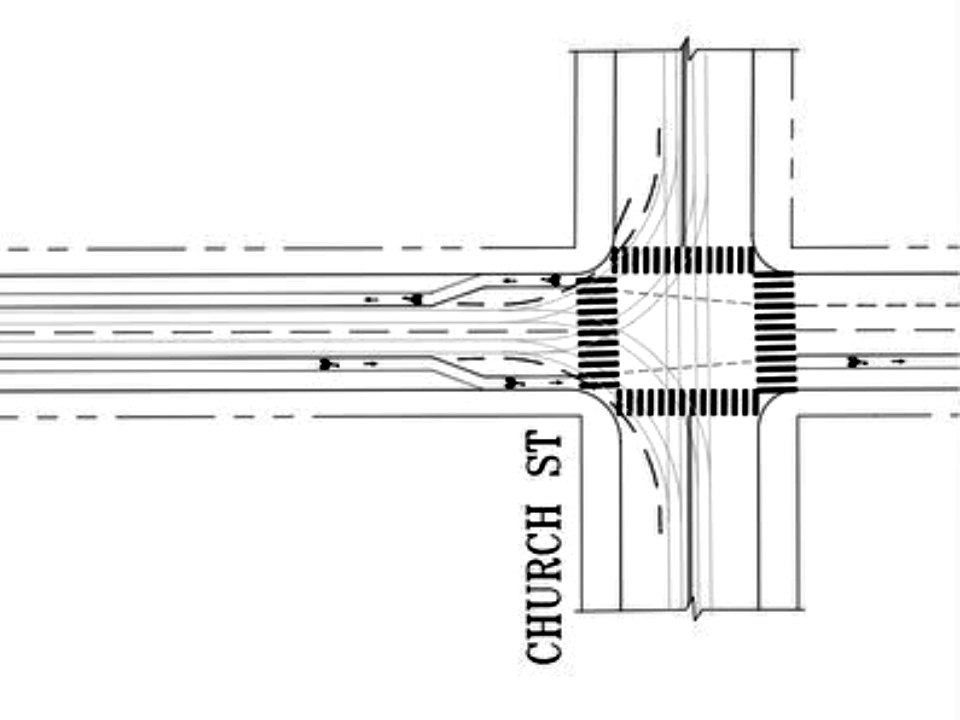 Until a solution, or solutions, can be identified, Wiedenmeier urges riders to be especially cautious around streetcar tracks. He says cyclists should cross the  tracks at a slower speed and at a 90-degree angle, especially if the tracks are wet. 

More Cyclists, More Threats
Rachel Masters was recently cleared to get back on her bike, but she admits to being frightened of once again biking over Muni tracks. "I love biking as a way to get around our beautiful city, [and] I'm thinking about investing in a lesson in biking over Muni tracks," she said. "But after the many conversations I've had with other bikers, it seems like no matter how much of an experienced biker you are, hitting the Muni tracks the wrong way happens."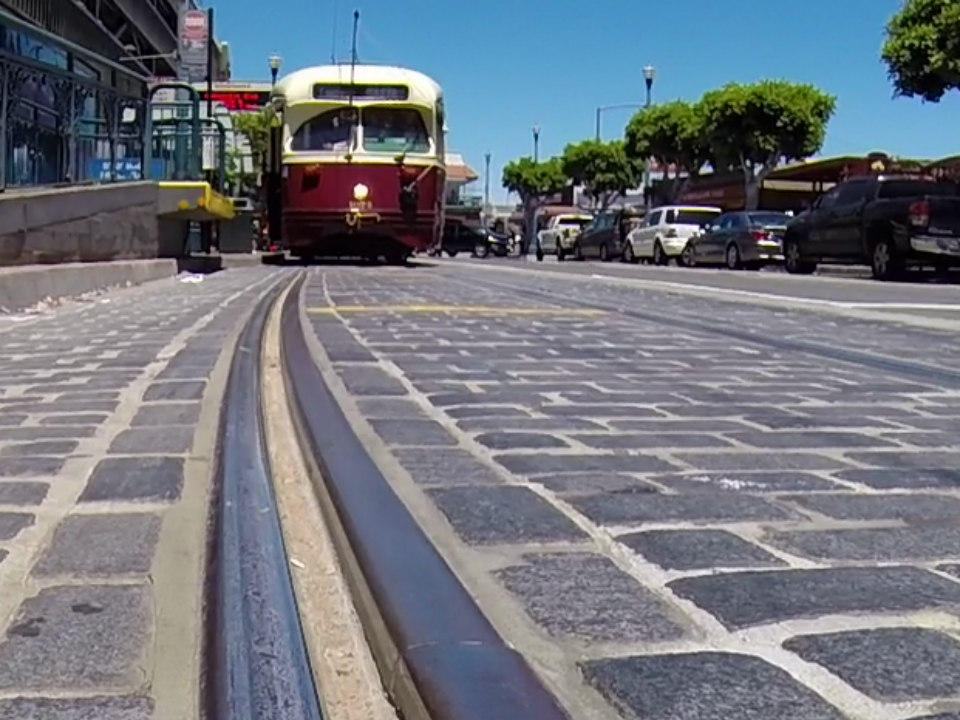 It happened to David Gouldin during his commute home from the Caltrain station. His front wheel got wedged into the track as he prepared to turn left from 17th onto Sanchez. "The bike stopped, and I went over the handlebars and onto the pavement," he said. Fortunately for Gouldin, no cars were on the street at the time, and he was able to walk his undamaged bike home.
It's taken Gouldin some time to get back on his bike. For months, he had to keep a gel adhesive bandage over the bottom portion of both palms as they healed. He says he'd never seen anybody caught in the streetcar tracks before he fell himself. "They weren't on my radar as a thing to watch out for."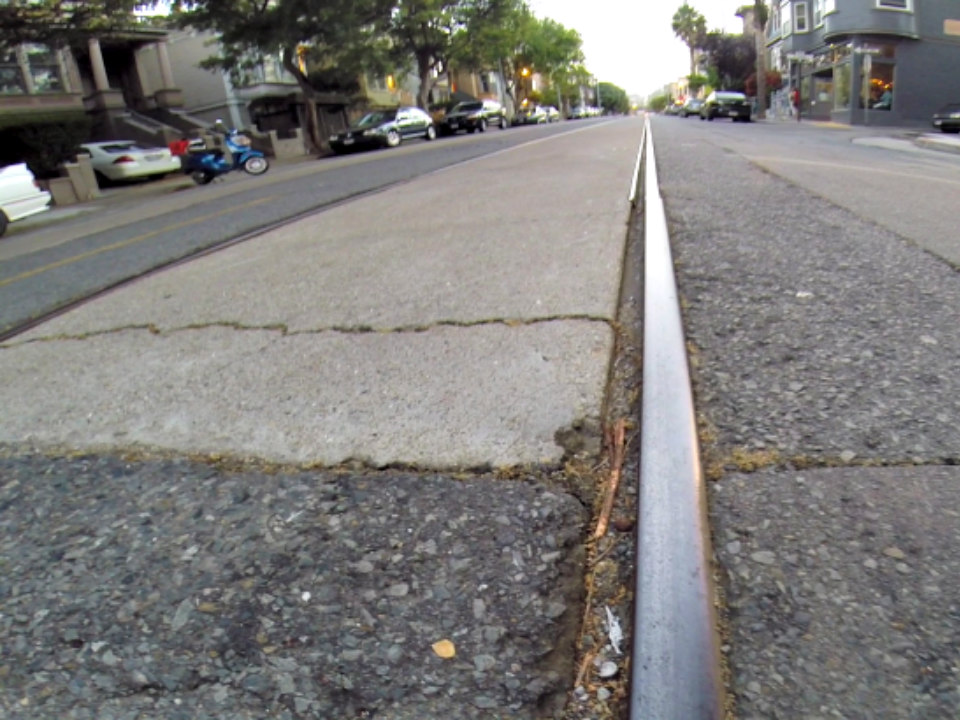 This fall, Bay Area Bike Share is expected to expand into the Castro, with plans for a station right in front of Sanchez Elementary School. The potential influx of new cyclists to the 17th Street corridor has Gouldin worried.
"I expect to see a lot more bike traffic on that stretch of 17th soon," he said. "These are likely to be inexperienced riders and unlikely to be wearing a helmet, since they'd have to carry their own to the bike share station."
"I love that the bike share is coming here. I just hate to think about the number of unsuspecting patrons injured by the streetcar tracks ... My big concern is how much worse this problem is going to get."
Have you and your bike fallen victim to 17th Street's Muni tracks? Tell us about it below.