Last month, a devastating fire destroyed Cole Hardware's Mission store, but the spirit of the longtime local business is still intact. We sat down with owner Rick Karp to talk about how the family business is rebounding from the loss of the Mission store, future plans, and his experiences growing up in the Haight Ashbury area in the '60s—what he deems the "nucleus of rock 'n' roll" and "political hub of the city" at the time. 
On June 18th, the night of the fire, Karp gathered with his Mission store employees in the Safeway parking lot to discuss finding them new jobs. "We wanted to make sure that everyone continued to work, and we emailed them that night to tell them where they would be working the next day." Sure enough, the next day, all employees had jobs. With help from his son, Dave, and daughter, Adrianna, who both help run the business, Karp was able to quickly divvy the staff up to the other four other locations. "Everyone is now working and they seem to be very appreciative with their new digs," he said. "They're all disappointed that they are not working together anymore. That's a tough thing for the staff to be broken up. They were a cohesive group, but everyone from the other stores has welcomed them with open arms."
"We are lucky that nobody got hurt [in the Mission fire]," said Karp. "We try to look at the good side." Karp is actively looking for another site to relocate the Mission Street store. He told us that he really wants to stay connected to the neighborhood and get back in as soon as possible, because the loss of the hardware store impacts people's lives daily.
"We want to continue to keep serving our customers there and stay connected. In fact, the burnt-out building is coming down this week. This is San Francisco, so we will be lucky if it's built in a year. It could be a couple years [to get the building back up to speed]."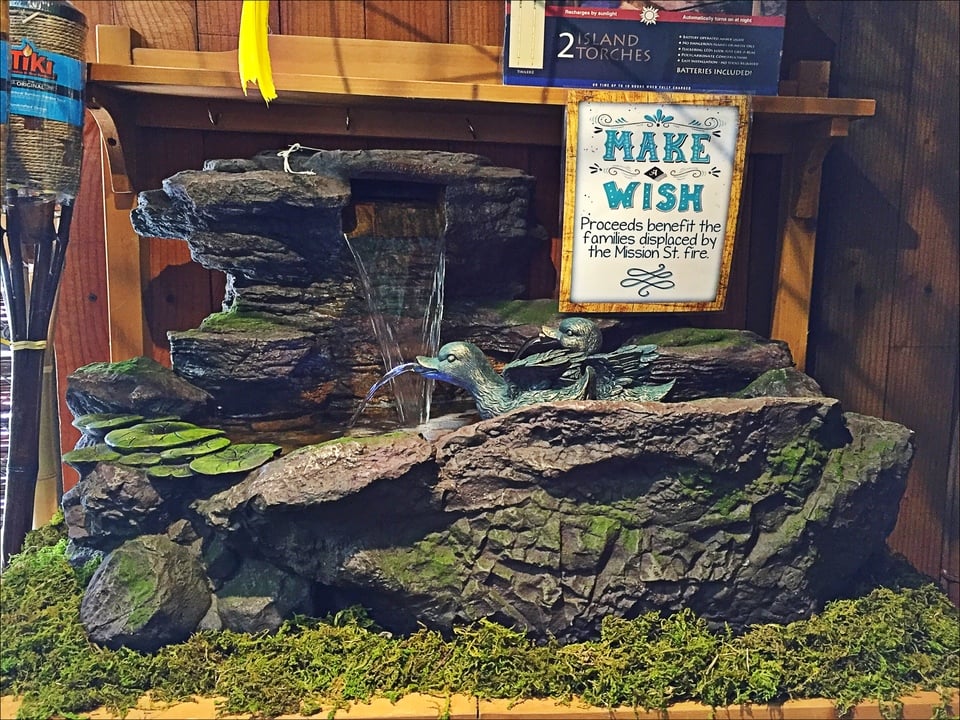 Karp is seeking a new location in Mission/Bernal/Noe Valley area, but hasn't yet found a suitable space. He is also looking citywide to open another store, and is currently considering a spot in North Beach and another in SoMa. "We are open to any opportunity, as well. When the Mission building is ultimately rebuilt, whether that is two years or three years from now, whatever it is, we would like to move back into our Mission Street location. We don't want to abandon that neighborhood, by any means. In fact, we are working with some Bernal folks to do a pop-up store here and there." 

Cole Hardware has been around since 1961. It all began when founder David Karp purchased the business on Cole. In 1984, he and his son, Rick, expanded the business to the Mission. They also acquired three other locations in the Bay Area, including an expansion to Oakland's Rockridge neighborhood.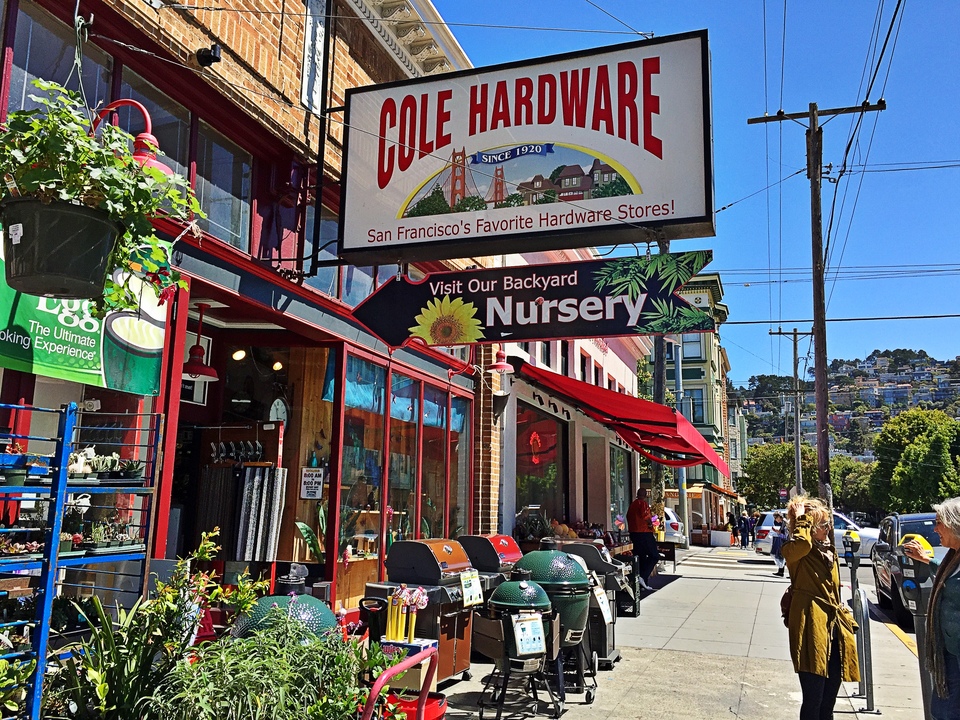 During our interview at the Cole Valley store, Karp recalled his history with the business, all starting with the location on Cole. He began working there at 12 years old, before the neighborhood was called "Cole Valley." Back then the neighborhood was considered "Haight Ashbury." Karp said that the name change to "Cole Valley" in the '60s was probably due to realtors, in order to delineate Cole Valley from Haight Ashbury in terms of property values.
Karp both worked and grew up in Cole Valley, and has countless stories about being a teenager during the rock 'n' roll and hippie movements in the '60s. 
"This has always been a wonderful neighborhood. It has always been diverse as far as the walks of life and perspectives, political and otherwise. When I was young, it was the flower children, hippies, and Black Panthers. It was the nucleus of rock music. Janis Joplin and the Grateful Dead were neighbors and customers of our little hardware store. Where the Burgermeister on the corner used to be, for many years, was the church of Hari Krishna, and those folks were singing on the corners and coming in here."
Karp also talked about The Other Café, which is now Crepes on Cole. It was the first comedy club in San Francisco, where Robin Williams and Dana Carvey and several other comedians got their start there before moving on to Saturday Night Live or films.  
Across the street from Cole Hardware was the first lesbian bar in the city, Maud's, and Bradley's, the first gay bar in the city, was located around the corner. "Both businesses were thriving in the neighborhood before the gay movement," he said.
"My father would run tabs at the store and then send me around to collect on Fridays. At the time, I was a 14-year-old kid walking into Maud's and Bradley's, not even realizing that one was just dedicated to lesbians or even women for that matter, and the other dedicated just to men. I became friends with everyone in the neighborhood and enjoyed my interactions with them. I didn't even realize for about five years that there was anything was unique about those places. It was just sort of the way things were."
"It was the political center of the city," he said. "I always kid people and say, 'Depending on whether you like me or not, you either attribute my personality to being raised in Cole Valley or you blame my personality on being raised in Cole Valley.' I like the 'attribute' part better."
Karp admits that the big changes that have occurred with the technology boom have influenced the demographic of people who live in the area. "But, throughout Cole Street," he said, "our main shopping district has maintained a vibrant community neighborhood feel and has stayed with the neighborhood-serving businesses. It's a great place to live. I feel blessed to have been raised in this neighborhood."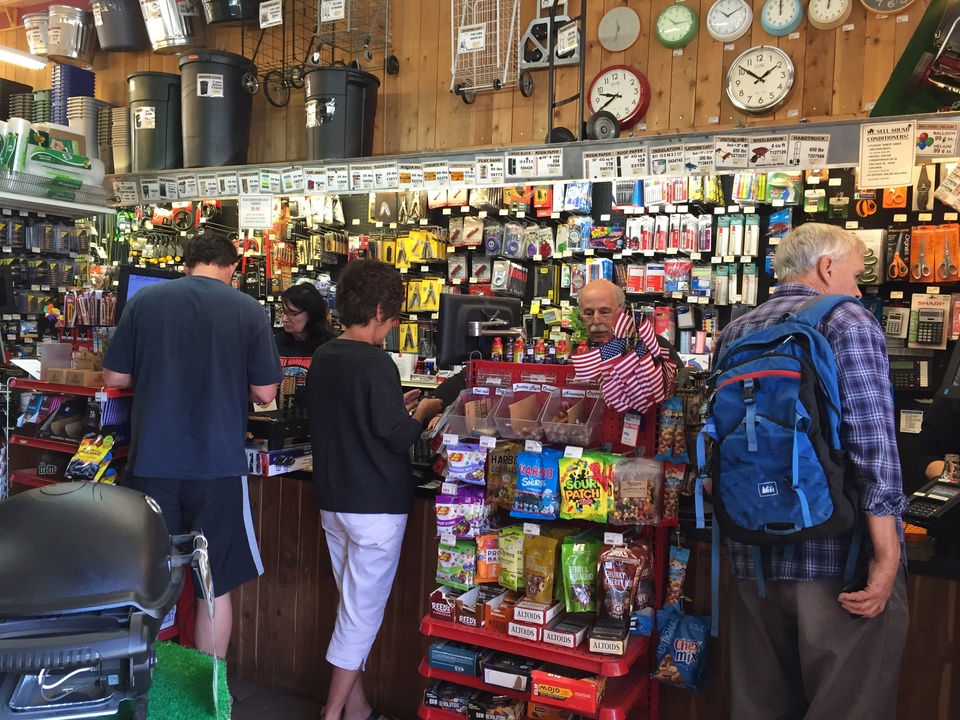 As far as the influence of Cole Hardware's four remaining locations in the city, Karp said, "We try to be a community-oriented organization and be very employee-centric and do whatever we could for the neighborhood. And we hope that [neighbors] buy nuts and bolts from us in the meantime."