A community meeting organized by the Lower Haight Merchants and Neighbors Association (LoHaMNA) drew crowds last night, and with it a fair amount of contentious debate. Over 50 people packed Black Sands to discuss two main issues: plans for the Homeless Youth Alliance (HYA) to move its offices into the neighborhood, and SPARC (which stands for San Francisco Patient And Resource Center), a medical marijuana dispensary which hopes to open on Haight Street later this summer.
Robert Patterson, owner of Black Sands and local boutique Revolver, opened up the meeting with news that LoHaMNA will be supporting Legacy Business applications in the neighborhood. The first to approach the group has been Groove Merchants, which has been in the neighborhood for over 20 years. This brought a strong reaction from Two Jack's Nick's Place owner Nikki Cooper, who pointed out that her business has been in the neighborhood for 40 years, and she hasn't yet been contacted by LoHaMNA.
Look out for a follow-up story about what this program could mean for the Lower Haight. 
Homeless Youth Alliance
The majority of the crowd in attendance was there to show support—or lack thereof—for Homeless Youth Alliance's plans to move offices into the neighborhood. As we've previously written, the homeless outreach organization has been homeless itself for over two years, operating out of a neighbor's dining room since it lost its lease in the Upper Haight.
HYA secured a spot at 607A Haight Street earlier this year, but has been met with opposition from multiple sides. Some neighbors are concerned that having a homeless outreach organization in the neighborhood will increase quality-of-life issues, and LoHaMNA is concerned about rezoning the space from commercial use to social services use, though the space is only intended to serve as administrative offices.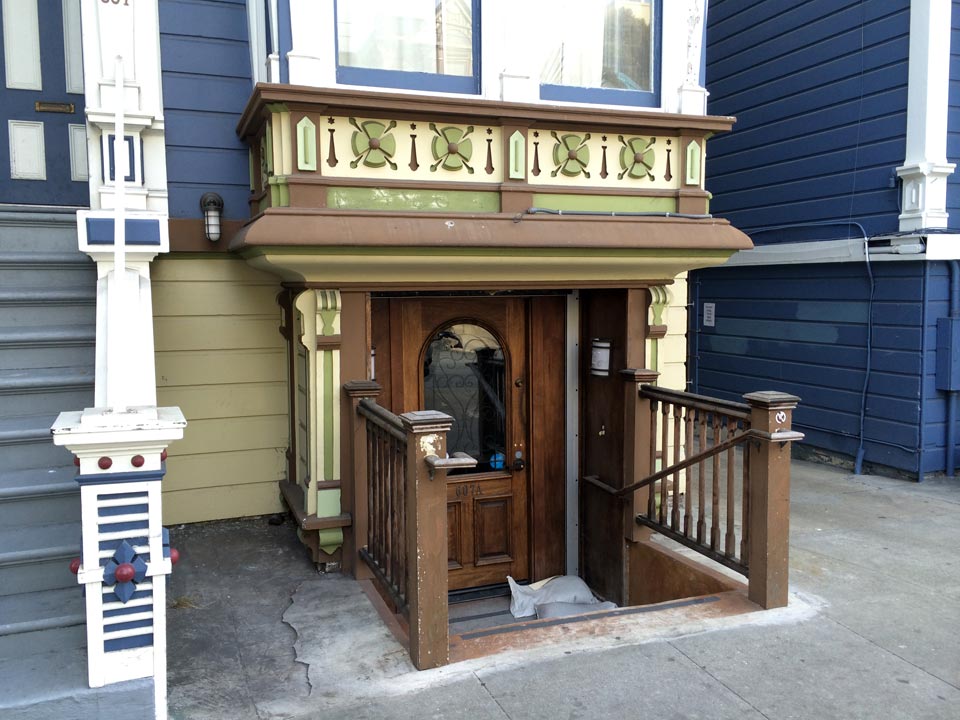 As we reported earlier this month, LoHaMNA filed a Discretionary Review (DR) with Planning regarding the zoning change, which has put the project on hold; in response, a separate community group formed to show support for the organization. Prior to last night's neighborhood meeting, the LoHaMNA Board voted to drop the DR under the condition that the building's landlord would submit a special restriction that no social services would be held in the space.

The crowd at the meeting last night was at times vehemently at odds over the issue. One attendee voiced concern that zoning the spot as an administrative space would take away valuable commercial space for the neighborhood. She also made the claim that HYA "supports the community in Upper Haight, not in Lower Haight," so therefore wouldn't benefit the neighborhood.
A two-year resident of the Lower Haight stated she was concerned about walking her dog past the location in the mornings once HYA moved in, and didn't want to step on needles in the neighborhood. 
Others said HYA "represents the best of San Francisco values," and the group was praised for its professionalism and the hard work it does to help youth get off the street. Kathleen Ryan, who owns the house HYA has been operating out of, says they take better care of her home than she does, and highlighted the fact that the office would be used for admin purposes only; she's "never had a homeless kid ring her doorbell." 
In the end, it seems more likely than not that HYA will be allowed to move into the space, though the non-profit has already incurred a financial loss due to the opposition and delays.
SPARC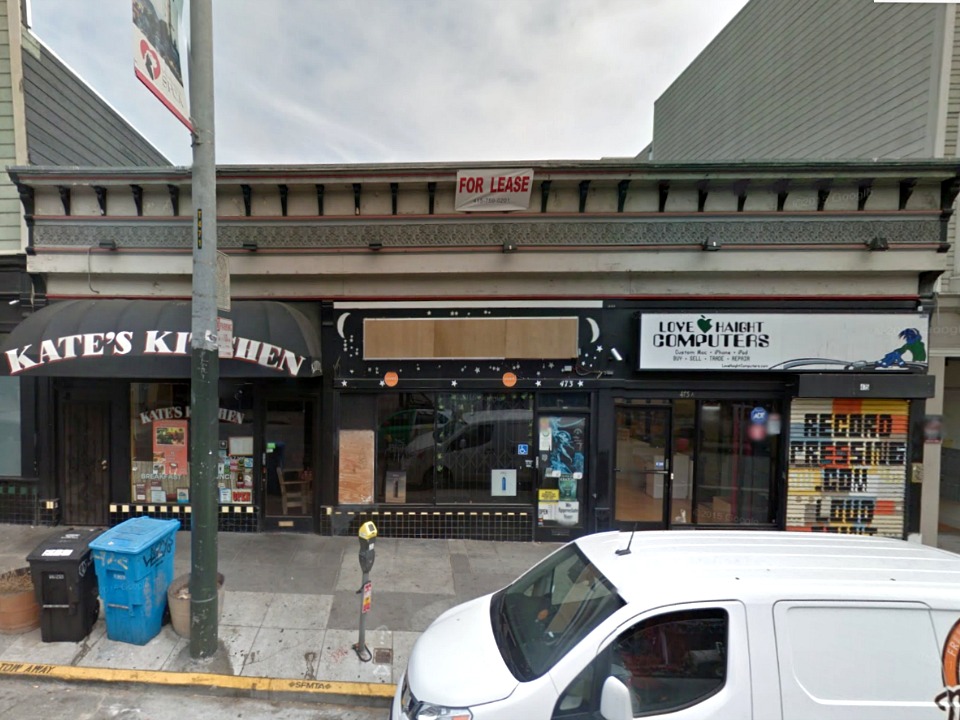 LoHaMNA opened the SPARC section of the evening with an announcement that another community meeting, focused entirely on SPARC, will be held on August 8th, with members of other agencies such as SFPD on hand to answer questions. (We'll let you know where and when as the date approaches.)
SPARC founder Erich Pearson introduced himself to the crowd, and his PR manager Joel Freston briefly showed renderings of what the newly renovated space will look like. 473 Haight St. is already zoned for medical marijuana sales, so the issue up for review at Planning next month will be the renovation of the facade. [Update: The application for discretionary review of the building permit, filed by Love Haight Computers owner Azam Khan, questions the grandfathering-in of the MCD permit (and its proximity to area schools) based on the claim that the previous tenant, Good Fellows, operated an MCD as "only an accessory to the smoke shop," whereas SPARC would be a full MCD. It also cites concern about drug usage and associated crime on the block. The discretionary review hearing is set for Aug. 4th.]
Tempers flared as the crowd in attendance voiced both fear of SPARC's presence leading to increased crime on the 400 block of Haight St., and support for the medical marijuana dispensary's plans to move in. 
One woman with fibromyalgia praised SPARC for its work, and explained how medical marijuana helps her do her job. Aside from the benefits of having access nearby, "the SPARC team is professional, courteous, and will bring an element of class to this neighborhood" she said. 
A longtime resident described how his partner, who is blind, had been able to walk a couple blocks to the former Vapor Room to get his medication, but that that access was lost when it closed. "We need a dispensary back again," he said. 
Others had concerns about crime, stating that SPARC's presence would bring a "turf war" back onto the block. "I can walk my kids on that block for the first time in a year," said one local father who was afraid of things going downhill. 
But as another resident pointed out, 24/7 security cameras and a security guard during business hours may make the street safer. "Things were safer when Vapor Room was around," said one resident. "The dealers left the block; now they're back again." 
Khan of Love Haight Computers (473A Haight St.) said his customers are scared of the block. "I'm tired of walking people to their car," he said, and expressed worries that SPARC's presence would make things worse. Glass Key owner Matt Osborne, who opposes SPARC, took issue with LoHaMNA's support of the dispensary's expansion into the neighborhood. "I've lost support for you as a neighborhood organization," he said.
Trevor Martin from FIFTY24SF (218 Fillmore St.) said SPARC would help bring much-needed foot traffic to the neighborhood, something his gallery is in dire need of, as its rent just tripled. "I'm looking at my career dream going down the drain," he said. "I need foot traffic, and if I don't get it we're going to have to close." 
Divergent opinions aside, one of the most heartfelt statements of the evening came from Dick Vivian of Rooky Ricardo's Records. "I'm against [SPARC] moving in," he said,"I wish this wasn't happening. It looks like it will, but there's so many people I like that I can't talk to right now. We have to get together again. I'm a stressed wreck." 
Stay tuned for more updates as both HYA and SPARC move forward with plans for the neighborhood.