Since its installation in March of 2014, the Little Free Library on Noe Street has been offering up free books (and charming chalkboard messages) to the Duboce Triangle neighborhood. But the library also saw a string of abuse, from being stolen to an arson that scorched the bottom of the free-standing miniature public library.
Now, according to reports from tipster Laura M., the library has been stolen once again, and won't be returning.
"The Little Free Library on Noe Street is gone, with a note explaining why it is not coming back," she writes. "I came back a half hour later to take a photo of the note and found it crumpled in a ball on the steps of the building. I took a photo of that, and a photo of the note pieced together (poorly, it was windy)."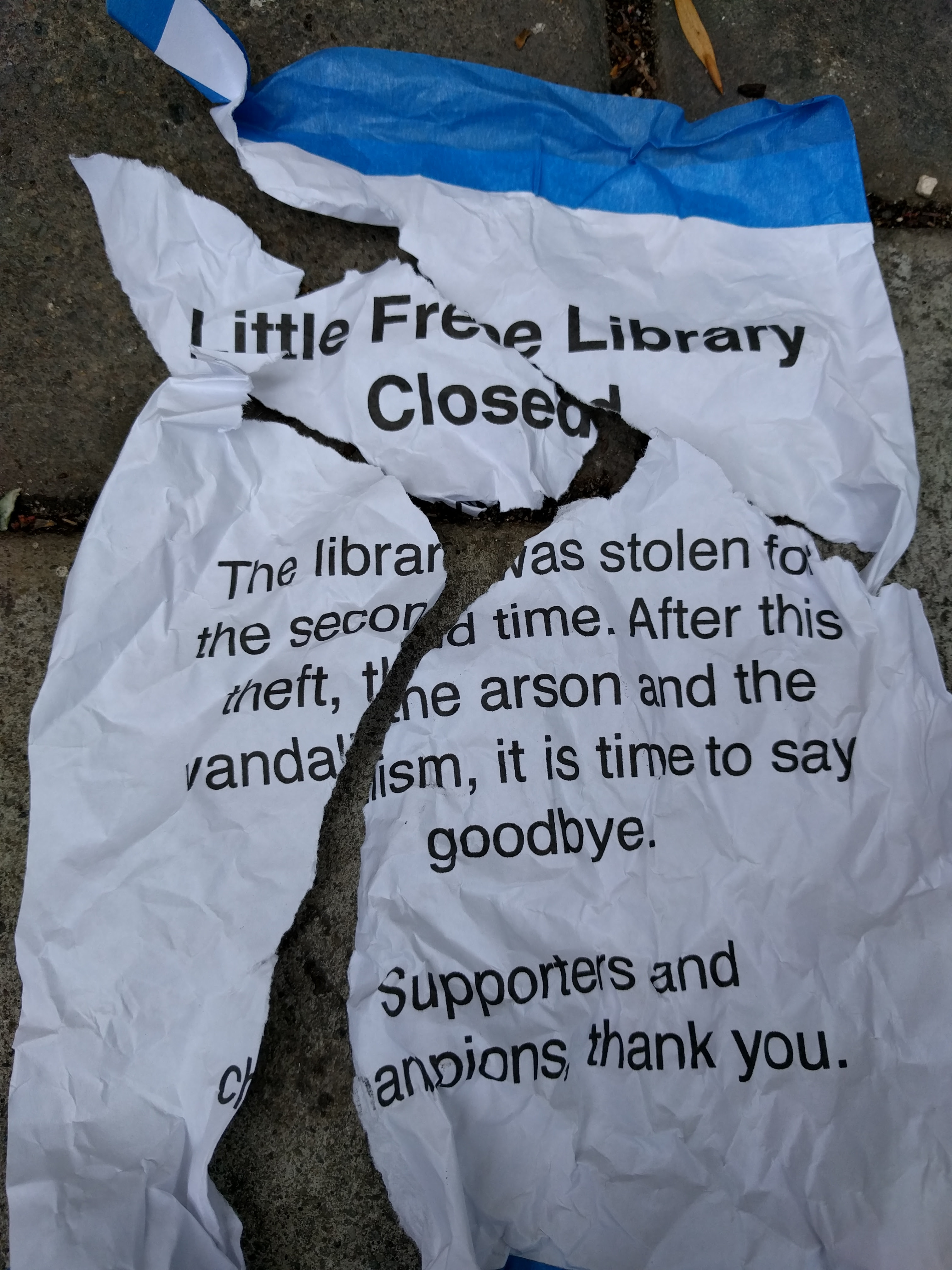 It reads:
LITTLE FREE LIBRARY CLOSED
The library was stolen for the second time. After this theft, the arson and the vandalism, it is time to say goodbye. Supporters and champions, thank you. 
Farewell to this bit of neighborhood whimsy, and thanks for the memories. To locate another Little Free Library, check out the worldwide map, here. 
Update: Stephanie, one of the neighbors who maintained the library, said that "the majority of this experience has been uplifting."
I know the vast majority of "patrons" have supported this project. I've gotten to know my community as they stopped to talk and share a story or a book. This includes some of the homeless population who have thanked us. 

The library was never about books. I think people loved the library because it provided a second of discovery and pause where people looked up from their screens and spent a moment being a part of something. Maybe chatting with a neighbor. Maybe dropping off a book. It reminded people that we are connected and part of something together.