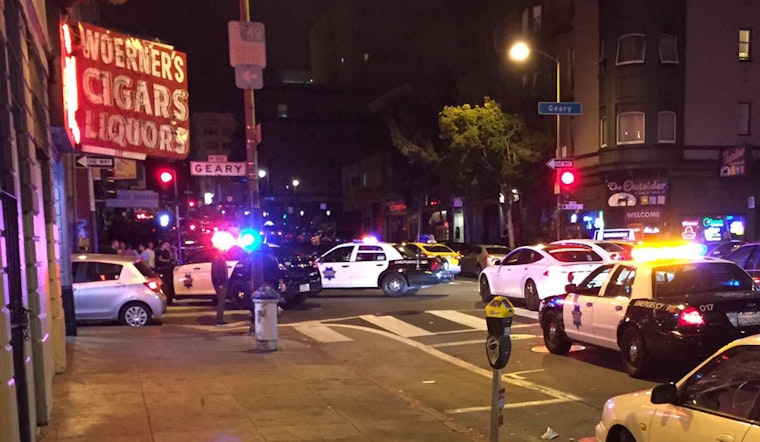 Published on July 17, 2016
A man is dead and another hospitalized with non-life-threatening injuries after a shooting early this morning on the 900 block of Geary.
According to SFPD, patrons were leaving a bar on the block around 2am this morning when a physical fight erupted. The dispute had subsided when a car pulled up, and a suspect stepped out of the vehicle and fired several shots, apparently hitting the two victims. No description of the suspect has been provided.
On Twitter, several users reported hearing the gunshots just before 2am:
Just heard what sounded like 6 gunshots... Hoping it was just fireworks and no one is hurt. #SF #SanFrancisco

— Mish Matheus (@MishMatheus) July 17, 2016
#gunshots @ Geary & Larkin/Post in #SanFrancisco. Group running from scene heard saying "hide the hammer". #shooting pic.twitter.com/nYaDKAAthl

— Rob Blomberg (@JetSettingNurse) July 17, 2016
@JetSettingNurse @Sach7x I live on the block and one person taken away strapped to a gurney. There was a crowd arguing leading up to it.

— ¯\_(ツ)_/¯ LIFE (@schwalove) July 17, 2016
This is the same block of Geary where an altercation claimed the life of a victim on New Year's Day this year.
Police are encouraging anyone with information about this morning's shooting to call SFPD's anonymous tip line at (415) 575-444, or text a tip to TIP411.