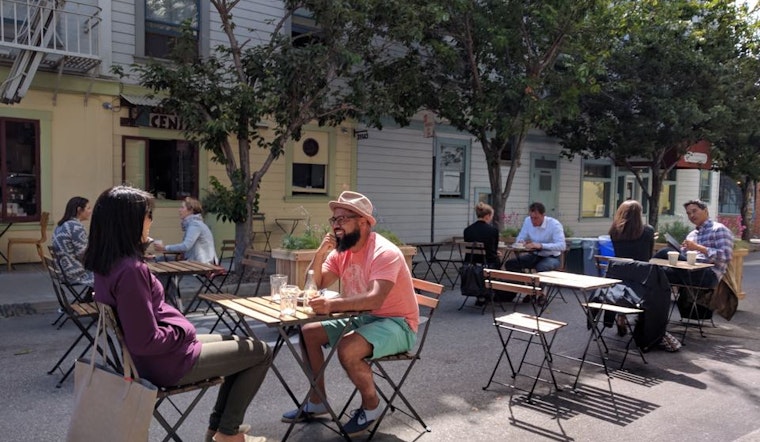 Published on July 08, 2016
SoMa's South Park has been closed since last November, as its $2.8 million renovation project continues to take shape. But anyone looking for a respite in the area now has a reason to return. A public plaza has popped up this week on Jack London Alley—located just off of South Park Street, adjacent to Caffe Centro.
The temporary plaza is sponsored by the South Park Improvement Association, which worked with the Planning Department's Pavement to Parks program to gain approval for closing a portion of Jack London Alley to vehicles from 7am-7pm on weekdays. While the plaza's maintenance is being handled by the staff at Caffe Centro, all the seating is open to the public—no purchase necessary.
More than 200 people, including cafe patrons, nearby residents and park users, signed a petition earlier this year in support of the plaza, said Alice Rogers, an active member of the South Park Improvement Association.
While the city encouraged the South Park Improvement Association to extend the plaza to cover the entire block, they decided to use just two parking lengths, to appease concerned neighbors. However, the city will soon be supplying larger tables and more seating for the space, to replace the current pieces that Caffe Centro has loaned to the project.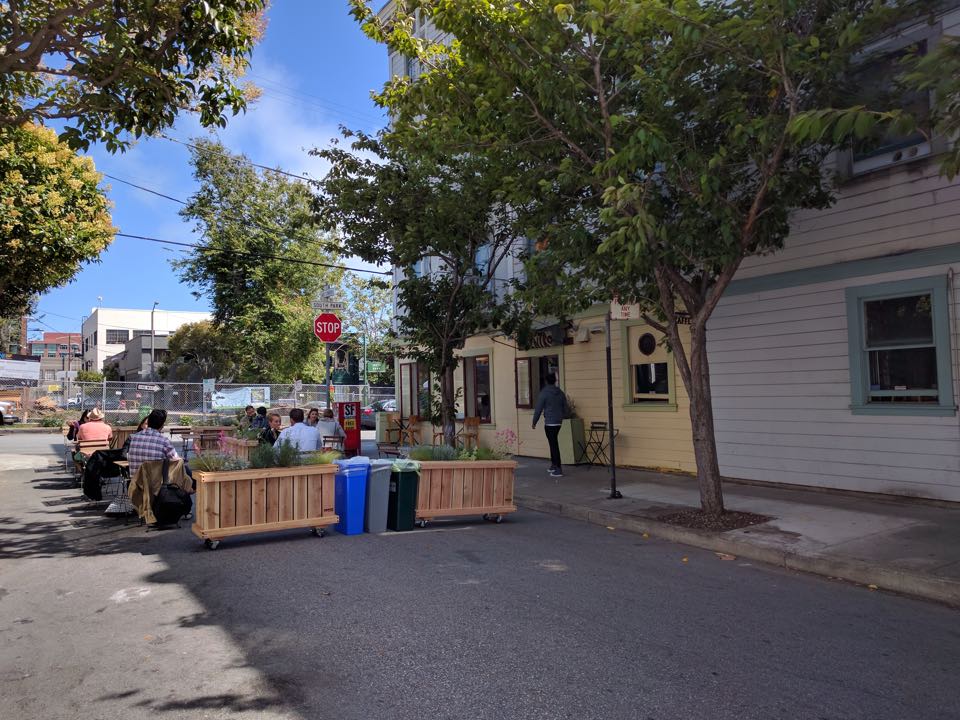 With two single-room occupancy hotels overlooking South Park (Hotel Madrid and the Park View), Sam Moss, the executive director of Mission Housing Development Corporation, said it's great to have additional public space in the area for residents—and the entire community—to enjoy.
But even more importantly, said Moss, the plaza is a much-needed safety measure. In light of the continuous congestion on surrounding streets, drivers have been using the alley as a thoroughfare to the freeway, and closing it to vehicles will reduce traffic around the park and improve pedestrian safety in the area. It's a "win-win" for the entire neighborhood now, and could help increase usage of South Park once it reopens, he said.
However, the plaza is only scheduled to be temporary. Rogers explained that it was designed to "fill the gap" during the park's renovation, and will be removed once South Park reopens. While there has been strong support for the plaza pop-up, she said the South Park Improvement Association has not garnered the neighborhood's consensus regarding making the plaza permanent.