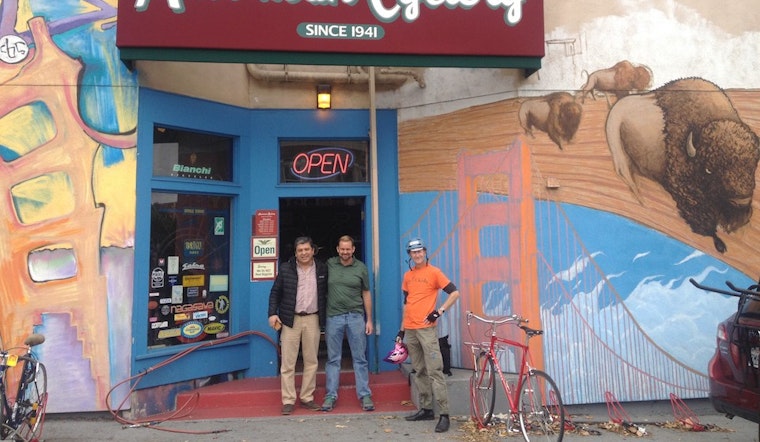 Published on August 23, 2016
The intersection of Frederick and Stanyan streets can be a scary place. Northbound cars routinely dart through at speeds exceeding 40 miles per hour, extra-wide crosswalks take time to traverse, and two Muni stops that also serve commuter shuttles can create congestion, impatience and uncertainty.
"It's a dangerous intersection," said American Cyclery owner Bradley Woehl, whose shop sits on the northwest corner of Frederick and Stanyan. One of his customers nods in agreement, mentioning several recent near-misses involving pedestrians, vehicles and bicycles.
Now, after four years of planning, Woehl said he hopes "the most complicated parklet the city's ever approved" will soon give everyone a reason to slow down—provided he can raise the money needed to build it. 
The parklet is "actually a two-phase process," said Woehl. "The first part of it will be a parklet that's out in the street, where they take away a couple of parking spaces and replace it with a structure we've built that looks like a bicycle velodrome." 

Once that's in place, a concrete patio in front of his shop that's now used for parking will become a small plaza "where people can come and sit, and the city's going to donate some trees," he said. 
If Woehl had accepted a sponsorship offer from ride-sharing company Lyft, the parklet might already be reshaping traffic patterns. But he turned down the offer. 

"Lyft approached me to underwrite the whole thing if I would turn it into a hotspot zone where people could pick up their ride, and have Lyft logos all over it," he told us.
"I appreciate that someone would write a big check, but I would much more appreciate that every member of the community gave me five or ten dollars and we pulled it off as a community thing, instead of a corporate thing." So far, he's already raised about one-sixth of the $50,000 required, and he'll be launching a crowdfunding campaign "within the month."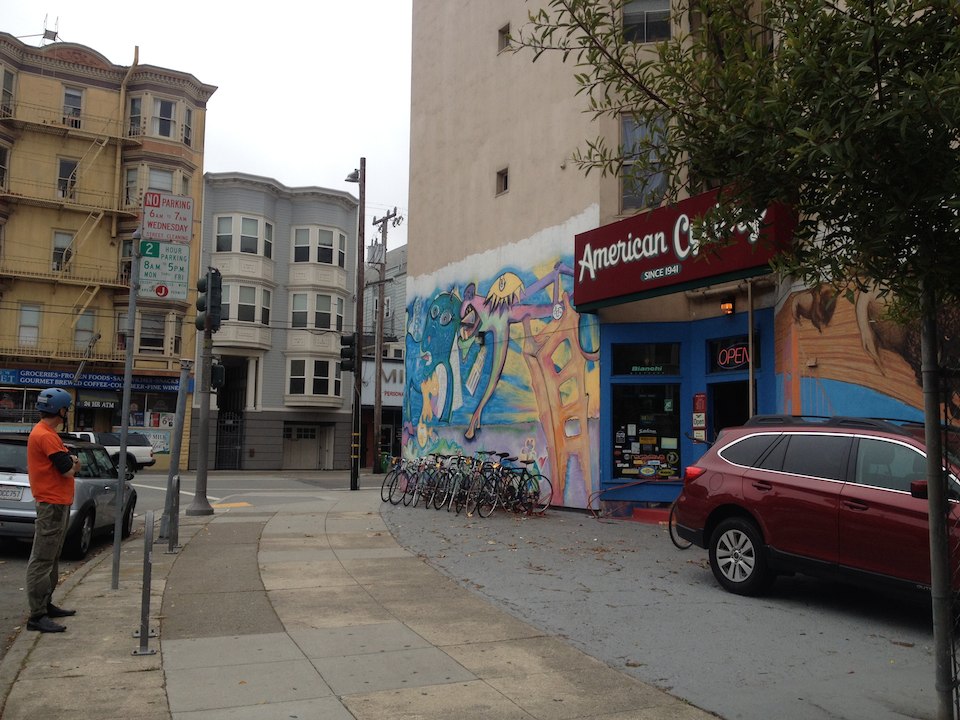 To clear a path for the parklet, Woehl needed approvals from the Department of Public Works, Parks & Rec, SFMTA and the Department of Real Estate. (The small piece of land in front of his store was in legal limbo for more than 80 years.) He also worked to address concerns from neighbors and local merchants.

"But you know what? From having worked on it for four years and given plenty of opportunity for public input, that phase is done," said Woehl. "If people wanted to weigh in on it, they've already done so, and we overcame enough of their objections to get the city to approve it."
Woehl said he wants the parklet and plaza, which will be designed by Gast Architects, to become a locus for tourists, neighbors, and most of all, bicyclists. Funds will be collected by the Cole Valley Improvement Association, a registered nonprofit, which will then administer the construction project.
Tax-deductible donations can be made in person at American Cyclery, or sent to CVIA at P.O. Box 170611, San Francisco, CA 94117. Woehl is also accepting donations via Paypal at [email protected] (use the label "parklet").

"We've got the permits in place and almost everything we need," he said, "Except the $50,000 it costs to build it."