Six months into its tenure at the corner of Laguna & Fell, Hayes Valley Art Works (HVAW) is abuzz with activity. To find out what's happening in the "community creation space" through the fall, we caught up with Emma Spertus, a sculptor and curator for HVAW. 
Following the success of its inaugural exhibit, "New Quarters," in June, HVAW has launched a second open call for artists for a new show, to be called "Present Ground." The show, set to debut Oct. 1st, seeks to explore the city's "largest and mainly outdoor undeveloped art space" as it is today. Artists across all mediums—including 2-D art, large and small installations, performance pieces and participatory works—are encouraged to visit the site and apply to participate.
"Present Ground" is just one of many programs happening in the space. HVAW's current curator-in-residence, Elliot Cost, recently presented a series of talks called Island of Stars, which attracted many in the community, Spertus said. Currently, Cost is presenting one-day pop-up shows with local artists.
HVAW also has two artists-in-residence at the moment: a duo called Stairwell's. They're currently developing an event for the public, which will help guests explore Hayes Valley Art Works and the surrounding area through a "circuit training" of the non-athletic variety—complete with the opportunity to win prizes. The event, to be held from 1-4pm on August 28th, "is very imaginative," Spertus said.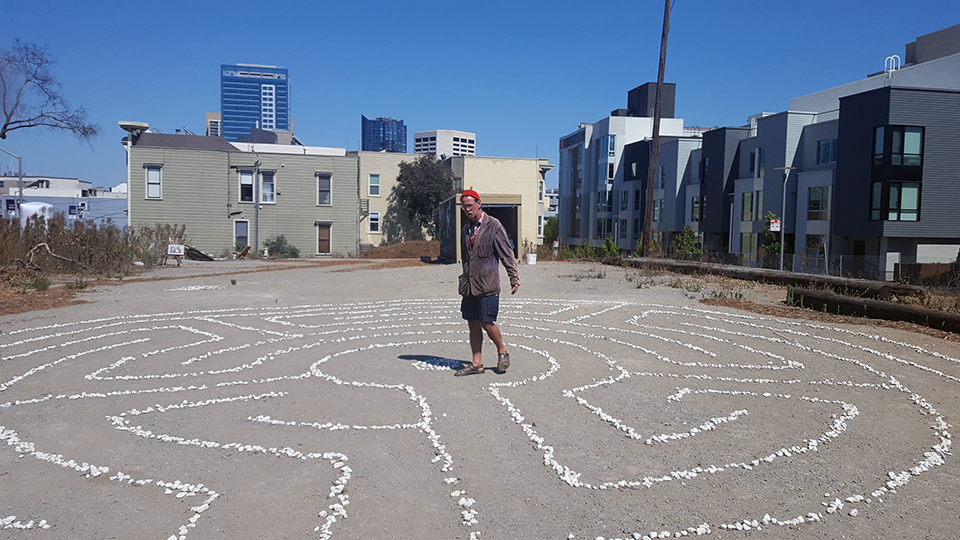 After a successful run at Red Poppy Art House, the San Francisco Youth Theatre will be performing a second staging of its modern-day interpretation of Hamlet at HVAW from August 26th-28th. The event is open to the public, and tickets are still available. ("No one will be turned away for lack of funds," Spertus said.)
But the site doesn't just do small-scale installations and performances. "In September, we're going to have a whole site installation by architect and artist Jay Atherton," Spertus said. "The piece is [about] the microunit, and how SF zoning considers it, so we're hoping to have a panel discussion with the artist to discuss the piece and the idea of zoning."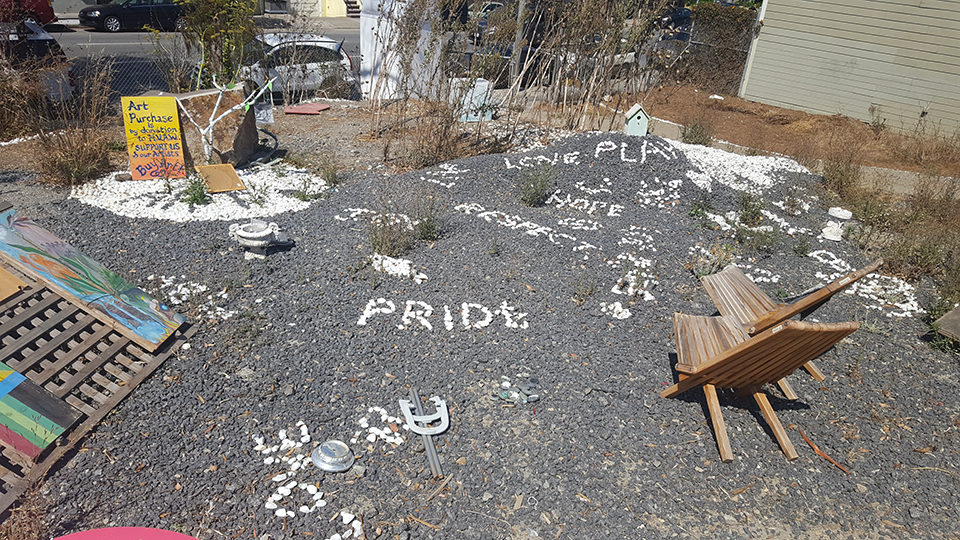 What makes HVAW unique as a public art space is the fact that there are very few hoops to jump through. "Part of that is because it's temporary," says Gail Baugh, president of the Hayes Valley Neighborhood Association, which is the current leaseholder for the space. That allows HVAW to turn around projects in weeks, instead of years. Additionally, community members can use the donated on-site art supplies to create art.
The intense level of engagement seems to be catching on. "One of the things that's really great is that a number of people [in the Avalon apartment complex next door] have been watching us and telling us that this is their favorite thing in the neighborhood," said HVAW head Jay Rosenberg, former organizer of the Hayes Valley Farm.
That's exactly what Baugh likes to hear. "One of the the hopes that we have for this whole project is that we learn from it as a neighborhood. So that could be further discussions, or that the artwork here moves into the neighborhood somehow. What do we learn here? How do we want to live together?"