On June 2nd, Samuel C.H. Ching, owner of Reliable Rexall Sunset Pharmacy at 9th & Irving, voluntarily surrendered his pharmacist license and permit after a state investigation uncovered serious code violations. The investigation found incidents in which medications were improperly stored, incorrectly labeled, and, in some cases, dispensed to the wrong patients.
As a result of the disciplinary action, Ching, a compounding pharmacist, was compelled to sell the pharmacy. The new pharmacists, Sean Weekes and William Steel, plan to remodel the store and remove the vintage Rexall branding. (CORRECTION: The signs will remain; more on that next week.)

Unlike other druggists, compound pharmacists prepare personalized prescriptions that are tailored to a patient's needs by varying the strength and dosage. The pharmacist works with a doctor to fine-tune medications for optimal results and mix them to order, including capsules, ointments, or flavored elixirs.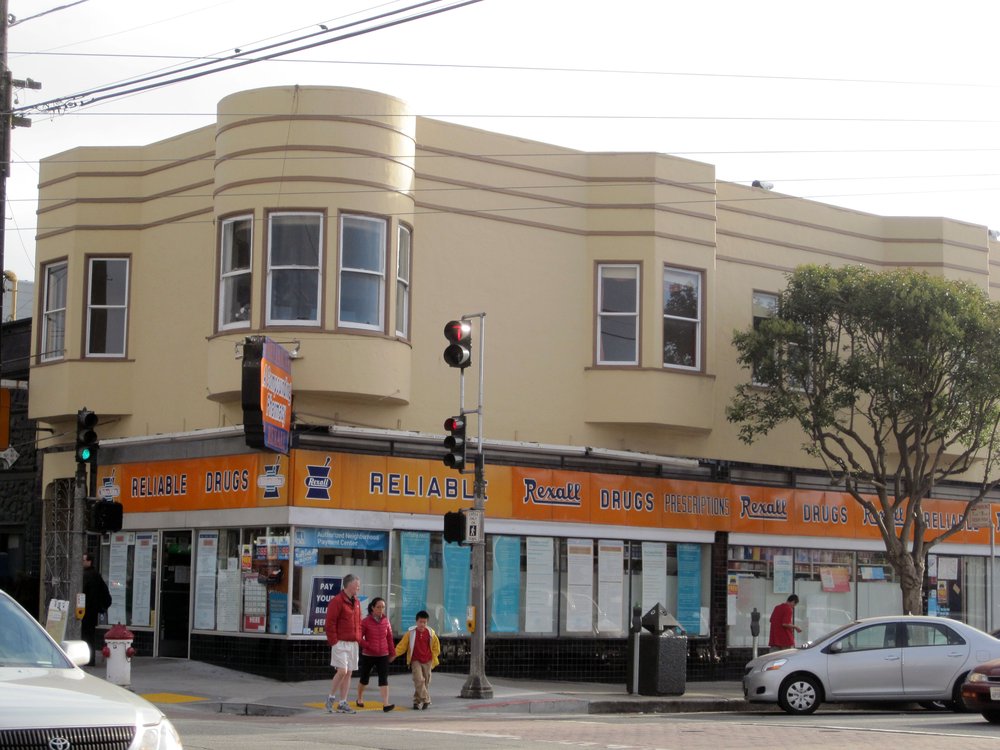 A March 2014 Pharmacy Board inspection of Reliable Rexall found that the "pharmacy and compounding area were messy and cluttered," medications past their expiration date were still in inventory, and a compounded drug used for hormone replacement therapy was mislabeled. According to the report, "Ching stated that he had been unable to obtain androstenedione, so was using testosterone instead."
These mislabeled drugs were given to "multiple patients," according to the Pharmacy Board.
A January 2015 visit found that Reliable Rexall had given out 53 prescriptions for an unapproved drug without FDA authorization. Domperidone, which promotes lactation and is used by some Parkinson's patients, is not legally marketed for use by humans in the U.S. In 2004, the FDA issued a public warning letter and Import Alert, noting that the drug can cause "cardiac arrhythmias, cardiac arrest, and sudden death."
Even after an inspector advised Ching that dispensing domperidone was illegal, the report says he gave it out on at least two more occasions.
Ching, who was issued his pharmacy license in 1957, told inspectors that he "threw away" highly controlled substances like cocaine and morphine, instead of following DEA protocols for their disposal. The Board also charged Ching with failure to keep adequate patient records, which showed discrepancies between compounding records and the actual prescriptions received by patients. Ching also allegedly dispensed prescriptions containing ketamine without following proper reporting procedures.
Before surrendering his license this year, Ching had already received prior citations from the Pharmacy Board. In 2011, he allegedly prescribed Lovastatin, a cholesterol medication, to the wrong patient. A 2010 inspection found multiple expired drugs in inventory, misbranded drugs, and a lack of "written policies and procedures for addressing chemical, mental, or physical impairment, as well as theft, diversion or self-use of dangerous drugs." 
In March of this year, the FDA inspected Reliable Rexall and determined that "no appropriate investigation was conducted" after the pharmacy had returned a batch of drugs to the manufacturer that caused an "adverse reaction which involved hospitalization."
The FDA inspector found that Ching failed to determine the drug's quality and potency before compounding, and arbitrarily "manipulated expiration dates of ingredients to extend the expiration date of the drug products."
While the pharmacy's "antique bottles of raw materials" were marked "display-only," when inspectors asked to see an ingredient used for compounding, Ching "brought us the bottle of Thymol that was located in the display-only area," wrote an FDA inspector.

Although Ching surrendered his license in June, the Pharmacy Board stayed its action until July 1st, to give him time to sell the pharmacy.
We've contacted the office for the attorney listed as Ching's representative, but she was not available for comment. Currently, it doesn't appear that Ching is facing any additional disciplinary action.
Next week, we'll have a story about the new pharmacists, and their plans for one of the Inner Sunset's best-known storefronts.