When people think of puppies, they often picture cute videos and adorable GIFs, but anyone who's ever owned or tried to train one knows that it's not always feel as easy and fun as it looks. That's where Fawn Pierre and her training team at SmartyPup! come in. The Outer Sunset's new puppy training and day school (3119 Vicente St.) is focused on helping owners to socialize and train their dogs.
Pierre founded SmartyPup in 2008, but only opened her permanent headquarters in the Outer Sunset in January. As a third-generation San Franciscan, "I knew that I wanted my permanent location to be out here. It's been great, and I love this block." (For dog owners on the eastern side of the city, SmartyPup continues to hold training classes in both North Beach and SoMa.)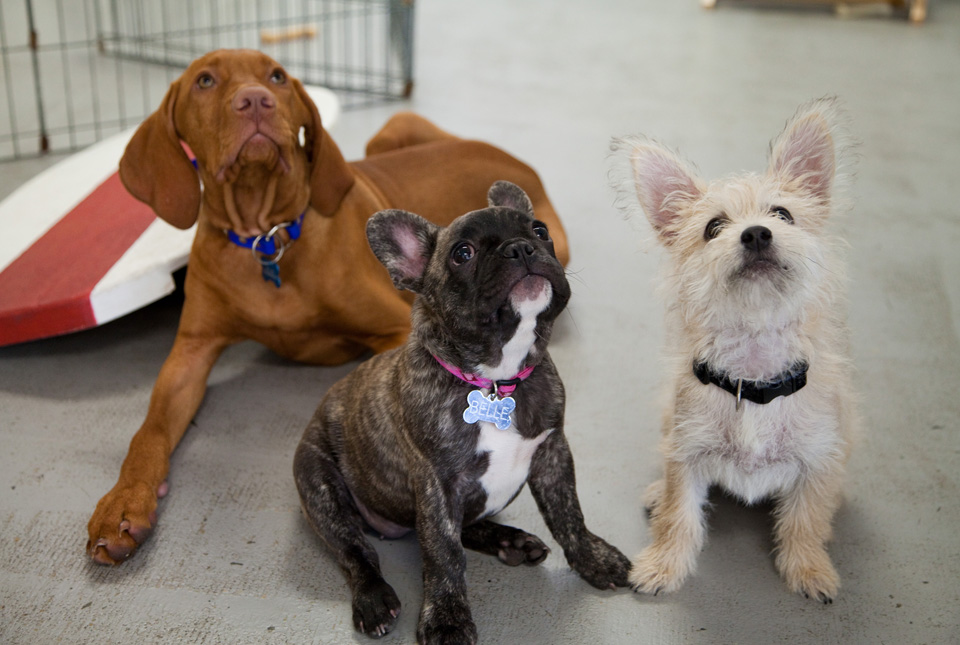 Before starting SmartyPup, Pierre spent 15 years as a trainer with Sirius Puppy Training, known for its positive-reinforcement foundation, as well as several years with the San Francisco SPCA, where she helped develop puppy and behavior programs.

Pierre says that not all dogs are well-trained, and that can have an effect on how people view dogs in general. "I just want [the puppies] to be as well-behaved and fun as they can be, like little ambassadors," she told us. "I really want to create relationships, for people to understand that dogs are definitely a part of our lives."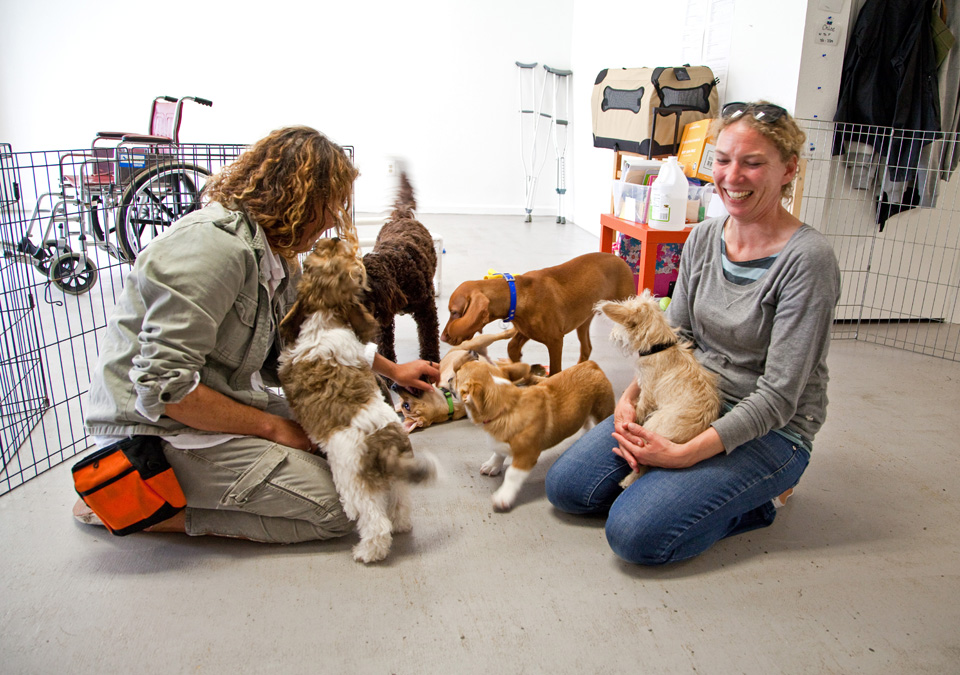 Right now, SmartyPup's training classes and day school are focused around young dogs. Puppies in day school must start by the time they're 12 weeks, while puppy training classes accept dogs up to 16 weeks old. There's also a special training class for dogs over four and a half months old.
Dogs don't naturally develop social skills, so they must be learned—and training gives young dogs a big advantage in negotiating their new world, Pierre said. "You expose them to as much as you can in that first 12-16 weeks, [and] it makes them confident when they're older and in any kind of new and novel situation."
Pierre and her team try to expose puppies to as many different situations and objects as they can, in order to help build acceptance of whatever they might encounter in the world. Physical therapy equipment and skateboards are incorporated into the training, as well as recordings of different noises.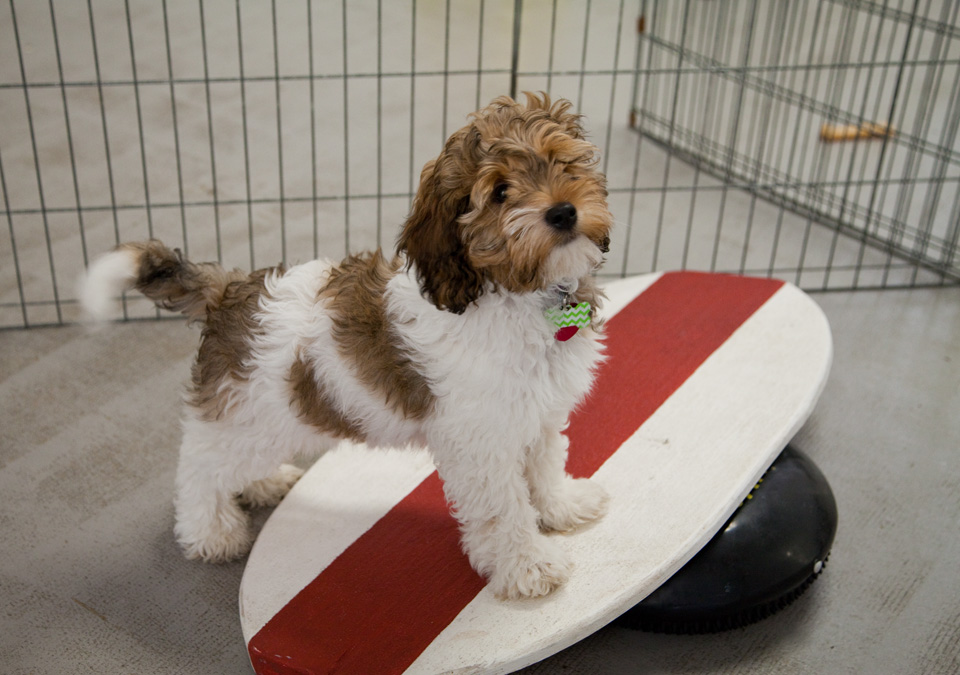 "Our biggest thing is prevention," Pierre explained. "There's a lot of trainers that will fix behavior problems— aggression and fear and stuff— and I've done that, but our focus here is prevention."
They aim to use training and exposure to different experiences to help puppies develop adaptability, allowing them to acclimate to new environments and situations, and making them better family dogs.
"Our focus is temperament," Pierre explained. "If someone grabs them, they're okay with it. If someone takes something away, [they're okay with it]. The 'sits' and the 'downs' are the easy part. What we really want is if they're chewing on something, you can take it away easily, so they're a really solid family pet."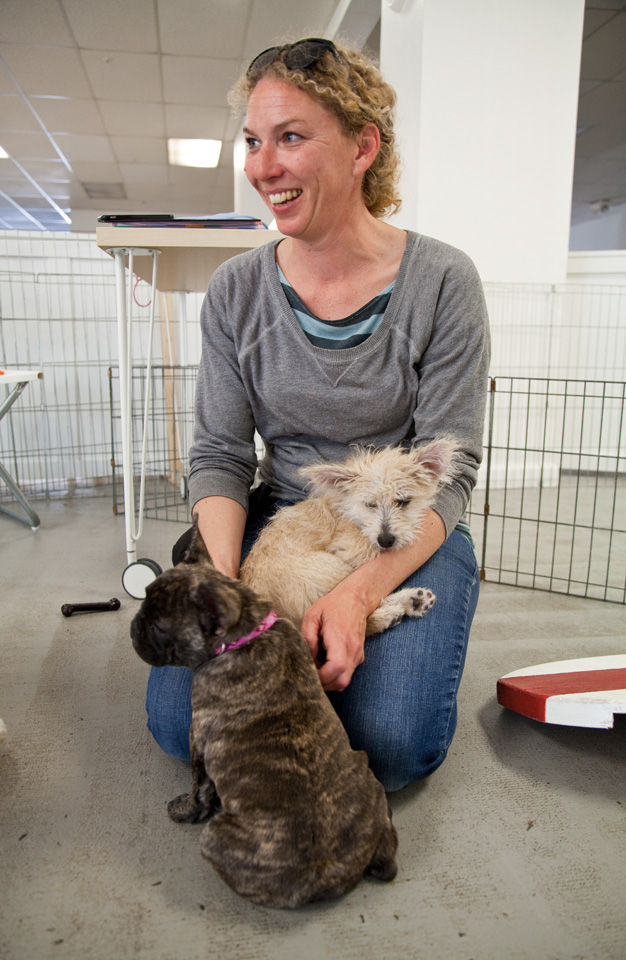 Pierre and her team use positive reinforcement techniques, "based on relationships and science-based training," she said. As Sylvie Borghardt, one of SmartyPup's trainers, puts it: "We're really falling back to science, and we're using the approach and method that's the best we know of right now."
"I think what Fawn taught me the most," Borghardt said, "[is] you can train almost every dog … but you should never forget that they all have personalities," from different temperaments to breed-specific behaviors. "Fawn, I think, is the one that goes far and beyond to show people that and teach people to accept that, embrace that."
Training "is not a control thing," Pierre said. "it's a relationship. And the better relationship you have, the better life you guys have together."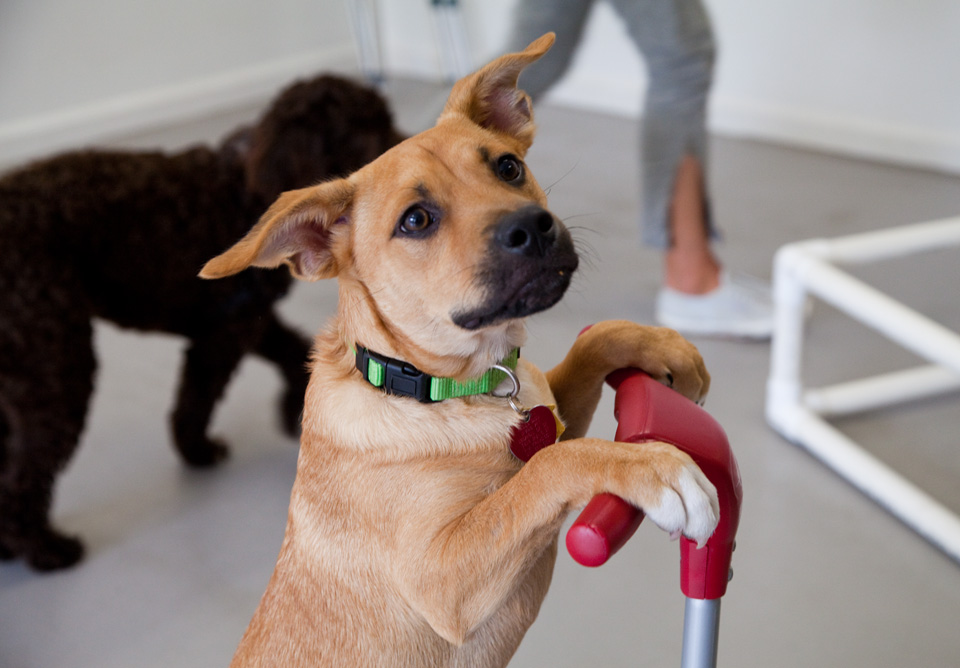 SmartyPup encourages entire families to participate in the training process, including attending the classes and puppy socials they host each week. "We encourage everyone to come … it's a family experience," said Pierre.

Pierre also knows that some children haven't been around dogs, so they don't know how to interact with them or are afraid of them. So she started Pup Time, a kid's program on Friday nights that's specifically designed for families that don't yet have a dog. It's targeted towards kids age 7-12, though there's a "peanut gallery" for younger kids or those still working on overcoming a fear of dogs. All the participating puppies are SmartyPup graduates, to provide a safe and comfortable environment for interaction. 
"There are going to be parents who are thinking of getting a puppy and want to have a sense of how that's going to work and how their kids feel about puppies before just bringing it in," explained Larry Bain, a SmartyPup employee. "A lot of kids like the concept, but not necessarily the reality." 
"It's like a car-share service," he joked. "Four paws when you want them."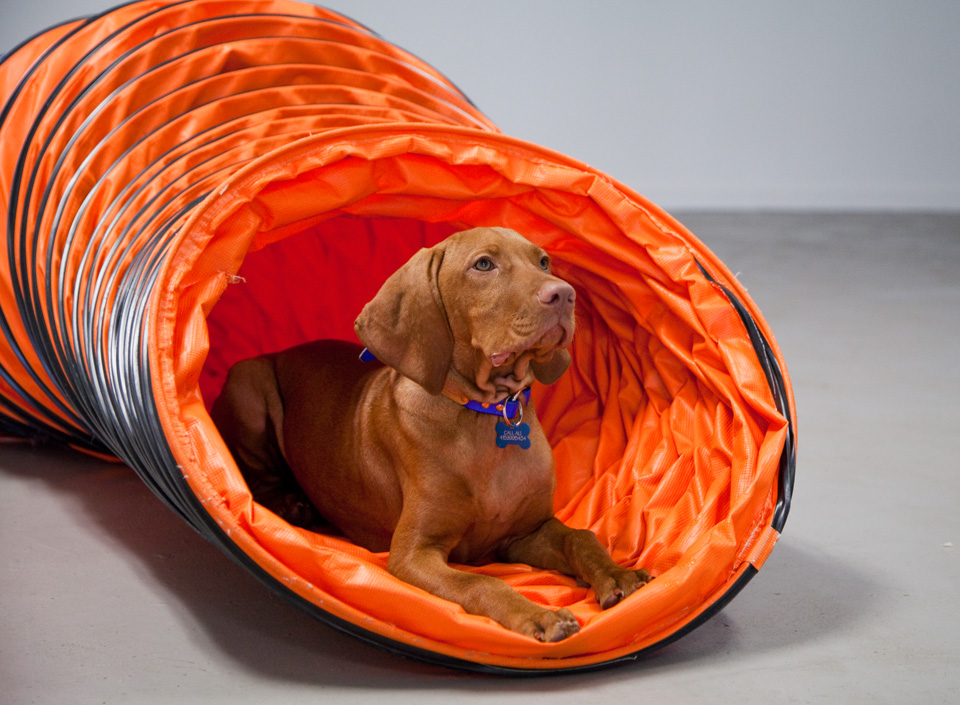 Pierre is hoping to build community through Pup Time, puppy socials and other events held at SmartyPup. "One of the reasons that we wanted a [permanent space]," she told us, "is so that we can have a place for parties and community events, invite our clients from all over the city, but also establish something out here for people."
Pierre and her team also give back to the community by cleaning up waste from less-responsible dog owners on the sidewalk areas and even around the school a block away. She also made sure to write her neighbors a letter before SmartyPup moved in, introducing herself and asking residents to come to her if they ever had any concerns or questions.
"[What] we want to do is create community," Pierre said. "We're just trying to grow slowly. It's been very exciting."