By
Brian Ray
- Published on September 26, 2016.
Neighborhood crime news from the Castro has been relatively quiet over the past two weeks, an ongoing trend from our last roundup. And there's even better news: Castro Community on Patrol is hitting a big milestone. 
Read on for the latest; all reports are in chronological order and come via the SFPD, unless otherwise noted.
Noe & 19th Hot Prowl
Tipster Katherine L. sent us news of a hot prowl that took place in her home on September 11th.
"On Saturday morning around 4am, we had an in-home burglary near 19th and Noe. Cards, passport, laptop, clothing, etc. were stolen. A nearby store got footage of the thief with the laptop in his hand. As one of us actually saw him in the house, we were able to identify him. It was reported to SFPD."
Man Loses Consciousness During Robbery Near Twin Peaks
On September 19th, a 27-year-old man woke up in the hospital with facial injuries and loss of consciousness. He later remembered an incident that took place that morning at 1am, when he was dropped off by transportation at Twin Peaks and Clarendon. The victim recalled being approached by a group of unknown suspects. He was pushed to the ground and somehow lost consciousness. The victim's phone, credit cards, license, and money were stolen. No arrest has been made.
Woman Climbs Street Pole, Taken In For Mental Health Detention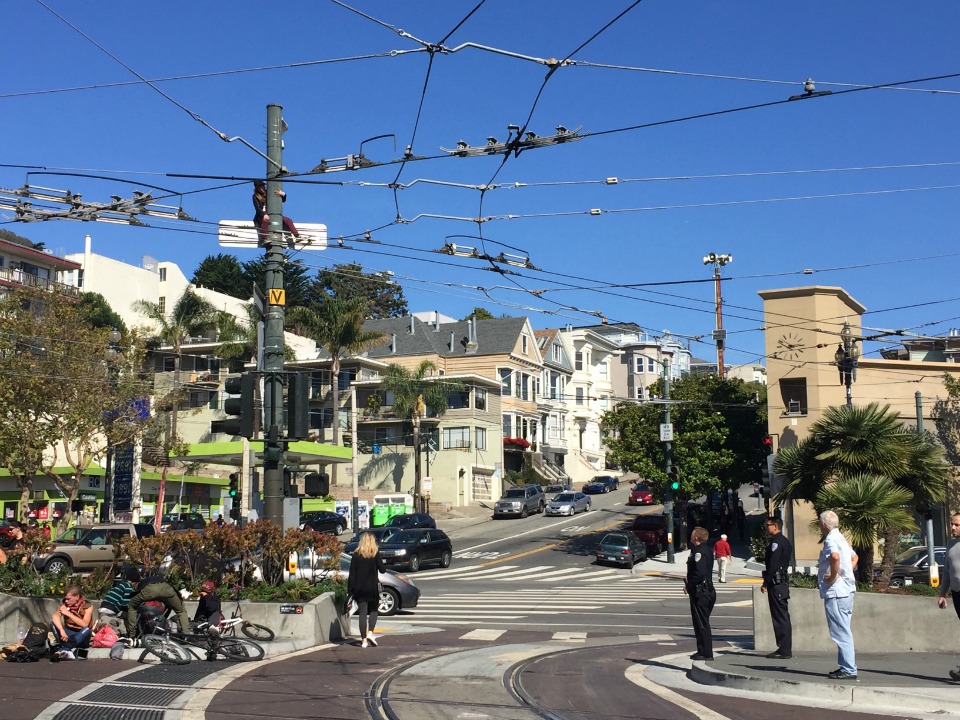 Also on the 19th, we broke the news of an incident at Jane Warner Plaza in which a woman climbed a street pole around 10:30am and refused to get down. SFPD officers were eventually able to talk her down, and she was transported to mental health detention.
Attempted Armed Robbery In Duboce Triangle
A Nextdoor user posted about an incident that occurred this morning (September 26th) at 9:15am on Noe between Beaver and 15th:
"A shot was fired. Police were called and took witness statements. Assailant got away by car, and victim appeared unhurt."
Tipster T.G. also saw the incident: "There was a armed robbery/shooting on the 200 block of Noe this morning. No one was injured in the incident and there were several witnesses."
[Update: 9/27 - 8:38am: According to a police report, the victim, a 61-year-old male, was walking to work, holding his briefcase. A man in his 20s approached and attempted to take the briefcase. When the victim refused to let go, the suspect produced a weapon and fired one shot into the air. The suspect then fled to a vehicle, without the briefcase. No arrest has been made.]
[Update: 9/30 - 9:35am: SFPD Public Information Officer Giselle Talkoff has confirmed that an arrest has been made, and is currently checking with investigators to see if there are any pending issues before any further information is provided. We will update as we learn anything new.]

Castro Community On Patrol Celebrating 10 Years Of Service
You've probably noticed members of Castro Community On Patrol (CCOP) walking on patrols around the neighborhood. This month, the organization will celebrate its 10th anniversary with an event on Tuesday, October 4th, from 7-10pm at Illy Cafe.
Here's what Chief of Patrol Greg Carey had to say about CCOP's accomplishments:
"We have remained relevant, and even vital to the community, as we very quickly switched our primary focus from reacting to the violent assaults that were the impetus to create CCOP, to a long term safety and security enhancement and collaboration focus by working with many community and government organizations at all levels."
Interested in helping CCOP make the neighborhood safer? They're on the hunt for volunteers. 
Did we miss any recent crimes around the neighborhood? If you've got info on a crime or neighborhood safety issue to share, send us a tip here or add a comment below.