A dramatic collision at the intersection of 18th and Eureka streets this morning, which witnesses say resulted from a driver speeding on the wrong side of the road,  has left two people with injuries and the window of The Rainbow smashed after an Infiniti G35 collided with a Prius and crashed into the corner store.
The driver of the Infiniti and a passenger fled the scene of the collision, according to witnesses.
Ed Senatore, who had parked his car outside Cliff's Variety before heading over to The Cove for breakfast, says he saw the driver of an Infiniti G35 speeding west up 18th Street at approximately 7:55am, on the wrong side of the road. He estimated the driver of the Infinity was going approximately 50mph; other witnesses at the scene estimated the driver was going between 75-80mph.
Senatore also tells us that SFPD had initially spotted the Infiniti at 18th and Valencia but had to stop pursuit due to department guidelines on high speed chases.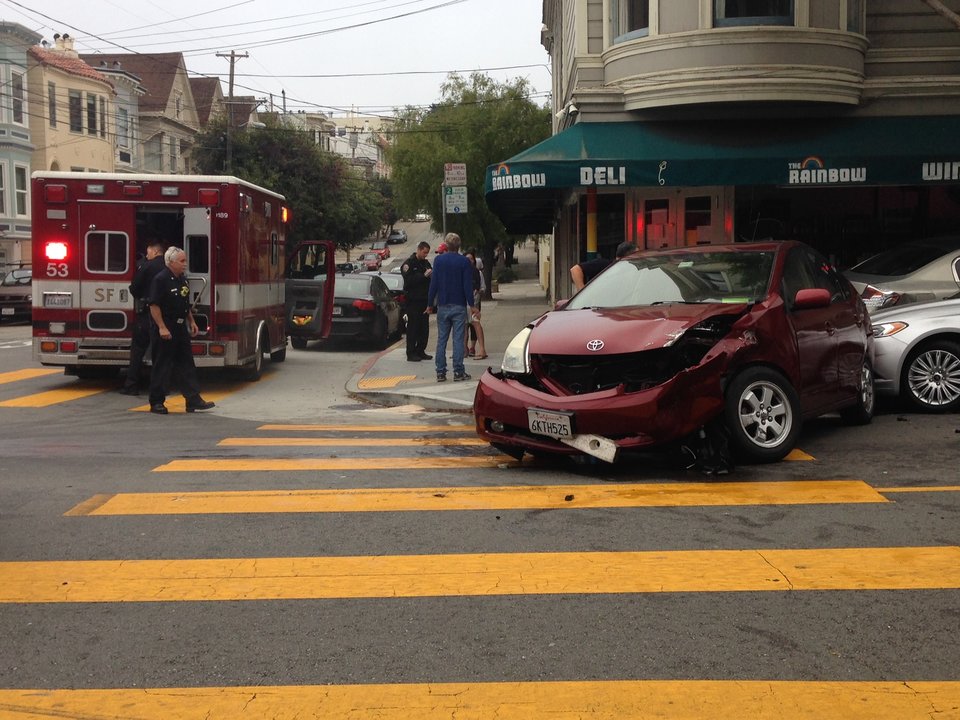 Tipster Steve P. reports that the driver "blew through the light at Castro and all the following stop signs before colliding into this red Prius that was parked at 18th and Eureka. The driver and a passenger fled on foot going southbound on Eureka."
The Toyota Prius, which was carrying two Lyft passengers at the time, was facing east on 18th Street at the time of the collision. The driver and the front seat passenger were both sent to the hospital, but their status is unknown at this time.

A Ford Fusion which was parked on 18th Street was also damaged in the crash.
Later that morning, when Senatore was driving back home he saw the crash and recognized the car. Senatore remained on the scene to tell SFPD what he had witnessed.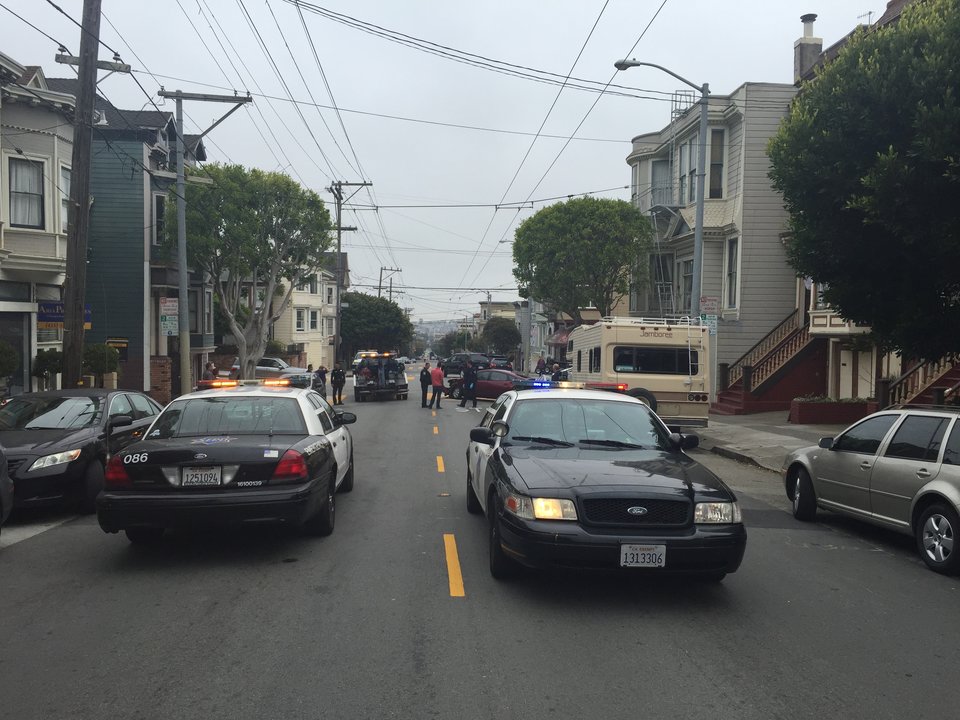 Update, 1:15pm: According to Officer Carlos Manfredi of the SFPD, police officers attempted to stop the Infiniti at 7:55am at 18th and Sanchez after observing a traffic violation, but the driver sped away. SFPD officers did not pursue the driver, and returned to Mission Station, but when they got there a call came about the 18th & Eureka collision.
"Officers arrived at accident to find the same Infiniti involved in the accident," said Manfredi, who confirmed that there were three occupants in the Prius, two of whom went to the hospital with non-life threatening injuries. (One of them had a pre-existing medical condition they wanted checked out.)
The driver and passenger of the Infiniti, a man and a woman in their 20s, fled on foot. The car came back as registered and not stolen, according to Manfredi, and SFPD is looking at surveillance video and talking to witnesses for more info.
The intersection remained closed until approximately 11am this morning, as two trucks worked to remove the cars.