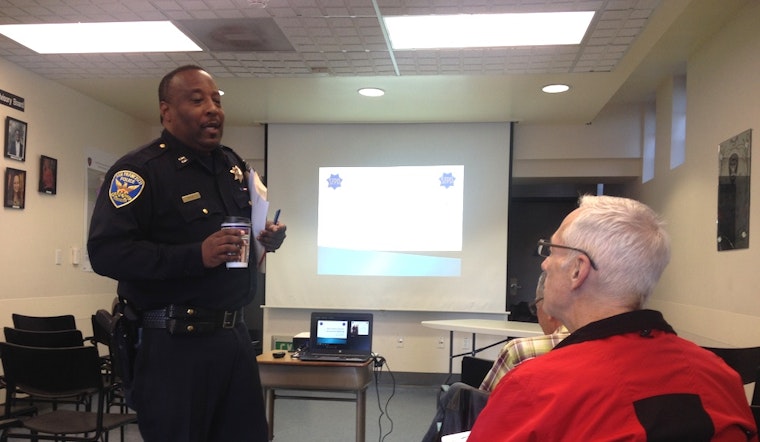 Published on September 14, 2016
A handful of citizens gathered in the community room at SFPD Park Station last night for the monthly meeting hosted by Capt. John Sanford, Jr. During the session, Sanford walked attendees through recent crime stats and traffic enforcement operations before taking questions.
Representatives from the San Francisco Deltas, a professional soccer team that plans to play its home games at Kezar Stadium starting this February, were also on hand to explain how their presence would impact crowds, traffic congestion, and alcohol sales—and to answer questions from a small, but vocal contingent of concerned attendees.
Plainclothes Unit
At the top of the meeting, Sanford announced that Park Station's plainclothes unit, which targets street crimes, narcotics, burglaries and cases requiring surveillance, is now fully staffed. "I think that's going to work very well for the Park District," he said. "A lot of good police work comes out of these officers."
Acting on tips from neighbors and merchants, the plainclothes team conducted several arrests on the Haight Street corridor last month. "They put together a strategy to pay attention to that particular area, and since that time, there have been numerous arrests," including a drug buy/bust that netted a loaded Glock handgun.
Monthly Crime Statistics
Burglaries were down across Park District, which covers part of the Inner Sunset, Cole Valley, Twin Peaks, Buena Vista, Duboce Triangle and portions of the Western Addition. According to SFPD stats, there were 26 burglaries in August, compared to 30 in July.
The number of stolen vehicles also declined slightly, from 33 in July to 31 in August, but thefts from vehicles increased 12 percent, from 167 in July to 187 in August. As has been the trend, many of these thefts targeted tourists, particularly in Golden Gate Park.
Sanford said the park is a known "problem area," but he also explained that maintaining constant surveillance there, with plainclothes and uniformed officers, would create fresh opportunities for criminals in other tourism hotspots, like Twin Peaks or along Haight Street.
To manage resources, Sanford said the station analyzes crime patterns on an ongoing basis to "strategically deploy officers," but "we simply do not have enough cops to put them everywhere these crimes are occurring, and so we need help from the community."
A total of 702 traffic citations were written in the district last month; apart from one pedestrian and one cyclist, the remainder were received by drivers. Eighty-one people were ticketed for using a cell phone behind the wheel, 254 were cited for ignoring stop signs, and 25 felt the long arm of the law after blowing through red lights.
In August, police warned 10 people about violations of the City's sit/lie ordinance, and two people were cited.
Q&A with the San Francisco Deltas
The meeting closed out with a question-and-answer period with Brian Andrés Helmick, CEO of the San Francisco Deltas. The team, which plays in the professional North American Soccer League (NASL), signed a five-year deal in March to play its home games at Kezar Stadium.
Two residents pressed Helmick for details on the Deltas' plans to provide security, manage congestion issues, and mitigate any problems related to alcohol sales on game days.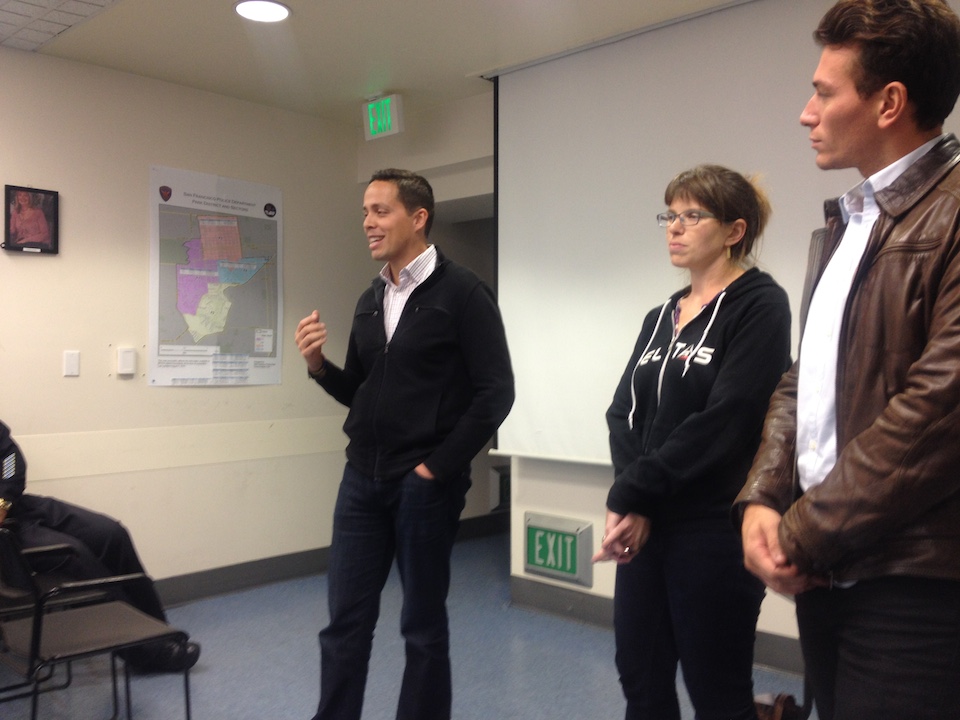 While plans call for selling beer and spirits during games, Helmick noted that hard liquor sales will be restricted to premium ticket holders, and that 90-minute soccer matches don't encourage the same party atmosphere that comes with a long afternoon at a football stadium.
Helmick said the Deltas have been working with Sanford, Muni and the Department of Parking and Transportation to create game-day strategies for an expected 15 to 20 matches per season. Given Kezar's residential setting, Sanford said tailgating will not be permitted at Deltas games.
As part of their deal with the city, the Deltas will spend $460,000 to refurbish Kezar Stadium, including the locker rooms and bleachers, where 500 more vintage seats reclaimed from Candlestick Park will be installed. Helmick also announced that the Deltas are in negotiations with Mission business accelerator La Cocina to use its members as concession vendors.
The first Deltas game at Kezar Stadium will be a pre-season match in February against the San Jose Earthquakes. The next Park Station community meeting will be held on October 11th at 6pm in a to-be-determined location; we'll post a notice when one has been selected.