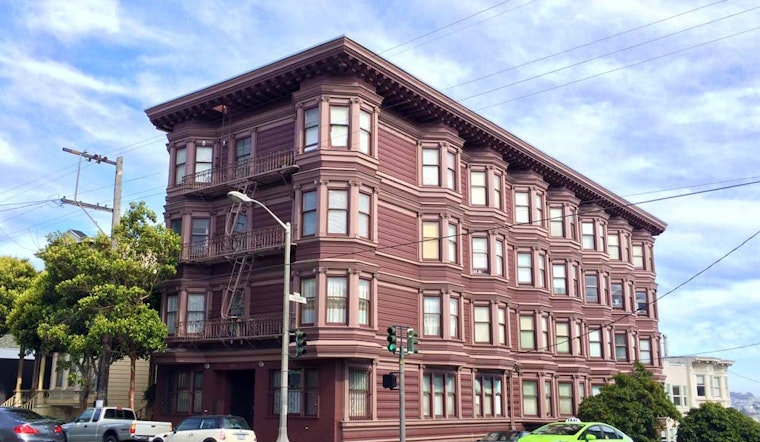 Published on September 06, 2016
We're revisiting some of our favorite local history stories to give new readers a look back. This story by Andrew Dudley, originally published in July 2014, takes a peek into a short-lived, but well-documented Lower Haight gay bathhouse. 
---
It's now home to 20 apartments, but not too long ago, this building at the corner of Oak and Steiner was better known as a gay bathhouse called the Fairoaks Hotel.

According to the curator of a photo exhibit focusing on the hotel, while there were a number of such bathhouses in San Francisco in the late 1970s, the Fairoaks was unique:
"The hotel was a converted apartment building owned and operated from 1977 to 1979 by a group of men who had formerly lived together in a commune. These men infused the Fairoaks with a different atmosphere than was evident at other bathhouse at the time. For example, all the rooms were normal scale (no cubicles), there were non-institutional furnishings, artists had been commissioned or allowed to decorate and paint the rooms, and it was generally lighter than a normal bathhouse. Most significantly, the Fairoaks was racially inclusive, and was promoted as a party location."
Those are the words of Gary Freeman, curator of the Fairoaks Project, a collection of Polaroids and digitally restored prints that were taken by Frank Melleno.
Melleno was a member of the commune that purchased and converted the Victorian, and he snapped a series of candid, often explicit photographs at the Fairoaks in the spring and summer of 1978. Some of Melleno's photos can be found on the Fairoaks Project's Facebook page:
The Advocate posted a gallery of selections from an exhibition of the photographs, and an accompanying essay by Mark Thompson describes the scene at the Fairoaks.
It was indeed a hotel, Thompson writes, with rooms running $5 to $7 per night. It featured a lounge with a snack bar and DJ booth, a pool table, and erotic art, among other flourishes.
Despite its popularity, the Fairoaks' heyday was short-lived. The venue closed in 1979, and most of the city's bathhouses would be shut down five years later in response to the AIDS epidemic. Melleno stored his Polaroids in a shoebox for nearly three decades, until a meeting with Freeman in 2007 inspired him to restore and display them for public consumption. 
The Fairoaks Project debuted in 2010, and has had a few gallery showings since. If you're interested in learning more about it, check out the project's book to relive this unique moment in Lower Haight history.