2 Block of Art returns tomorrow for an evening of live art, music and local business exploration along Sixth Street.
The annual event was founded six years ago by the Central Market Community Benefit District, and is hosted in partnership with Urban Solutions. It aims to build civic pride in the neighborhood and promote local business, while reinforcing the area's position as a hub for community arts.
This year, more than 100 artists are participating in 26 different locations on Sixth Street from Market to Howard—one of the "action zones" in Mayor Ed Lee's Mid-Market and Tenderloin revitalization strategy.
In addition to visiting the neighborhood's artistic staples—1AM Gallery, Luggage Store, Hospitality House's Community Arts Program and SF Camerawork to name a few—photographers, sketch artists, painters, performance artists and more are descending on local businesses and vacant storefronts throughout the corridor to showcase and sell their work and engage with the community.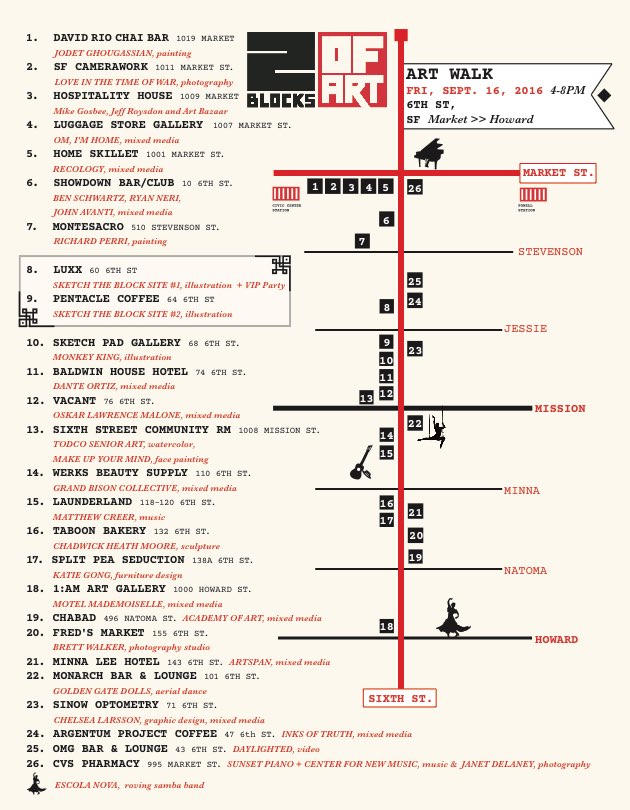 Joining 2 Blocks of Art for the first time is Sketchpad, a new Sixth Street gallery that specializes in contemporary and entertainment illustration. The gallery is turning 64 Sixth St. and 60 Sixth St. (the nightclub Luxx, formerly Club Six) into a 'sketch con' featuring a dozen artists who will be handing out, selling prints, paintings, sketches, zines and more.
Neighbors should also keep their eyes peeled for the work of renowned South of Market photographer Janet Delaney.
The free event runs from 4-8pm tomorrow night, but surely Showdown and Monarch would love to keep you later.