Café International, a popular mainstay of the Lower Haight, was recently nominated for SF Legacy Business status. Owner Zahra Saleh, who's run the cafe since 1992, was notified of her nomination last month. 
Saleh told us she's pleased to have been nominated for the program by District 5 Supervisor London Breed. "I've worked hard, and there's a strong community here at the café." 
The Legacy Business Registry was created by the passage of Proposition J in March 2015, and recognizes businesses that are "30 years or older, have contributed to their neighborhood's history, and agree to maintain their identity, name and craft," according to the legislation.
Once nominated, business owners must fill out an application form that describes the business' contribution to the "history and/or identity of the neighborhood."
"Café International is exactly the kind of business we should be protecting with the Legacy Business program. It's been around since I was a kid," Breed, who grew up in the Western Addition, told us. "Zahra knows people from the neighborhood; she's watched kids grow up and adults grow old. She's a fixture in our community. Places like Café International keep our history and culture alive—and they also happen to make really good coffee."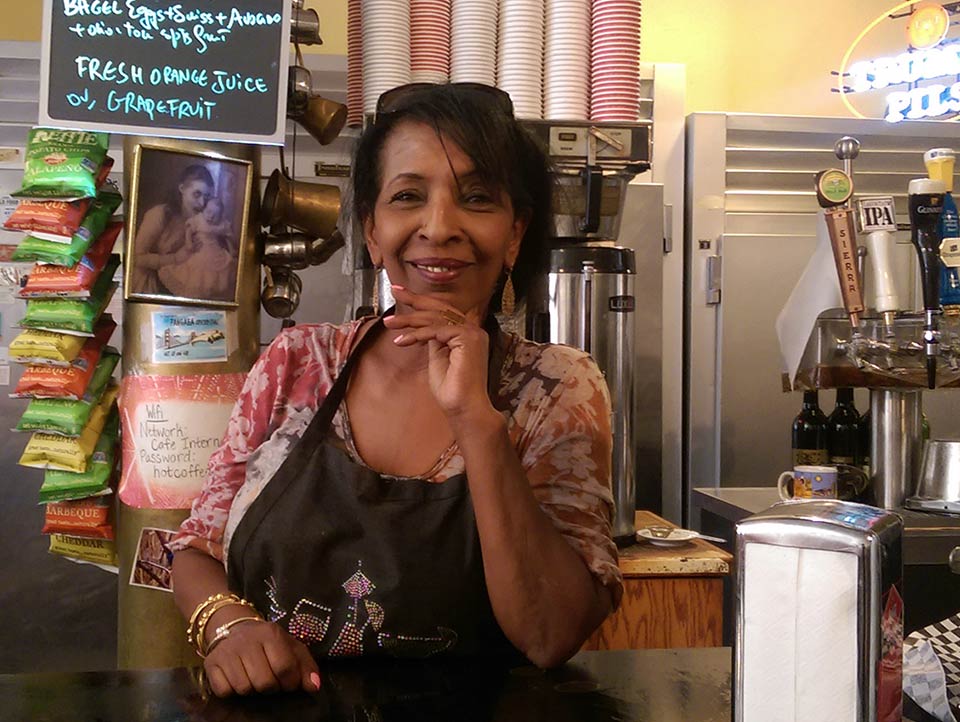 To receive legacy business status, Saleh will have to undergo hearings with the city's Historic Preservation Commission (on October 19th) and the Small Business Commission (November 14th). Both hearings are open to the public, and Saleh says the cafe's fans are welcome to join her.
Regina Dick-Endrizzi, executive director of the Small Business Commission, told us the review process looks at whether a small business nominee can be seen as a neighborhood "anchor business" that draws and engages the public, and how it impacts the local community. 
At the hearings, Cafe International will be considered alongside eight other businesses from around the city, including Chinatown restaurant Sam Wo to North Beach's City Lights Booksellers. So far, 14 businesses have received legacy status, including the Lower Haight's Two Jacks Nik's Place and the Upper Haight's The Booksmith. 
Saleh's lease is up in two years, and she says she's "unsure" about what the future holds. However, if she's selected as a legacy business, she can apply for assistance from the Legacy Business Fund, which will pay her $500 per full-time employee per year. If her landlord agrees to extend her lease for a minimum of 10 years, the program will also subsidize Saleh's rent, to the tune of $4.50 per square foot. 
For more on SF legacy businesses, check out our conversations with Specs Twelve Adler Museum Cafe, Two Jacks Nik's Place, Toy Boat Dessert Cafe, Moby Dick, and The Booksmith.