If you feel like you've seen an increase in hypodermic needles and human feces on the sidewalks of San Francisco (especially in the Tenderloin and South of Market), you're not alone.
According to the annual Street & Sidewalk Maintenance Standards report released last week by the SF Controller's Office, 311 reports of the two biohazards are both significantly on the rise from last year. 
Hypodermic needles saw the biggest jump in reports—a 41 percent increase citywide, from 2,527 in the 2015 fiscal year to 3,551 in FY2016. Of those reports, the vast majority were concentrated in District 6, which encompasses SoMa and the Tenderloin. D6 had 1,653 reports of needles on the sidewalk this year, compared to 1,106 last year, making for a 49 percent increase.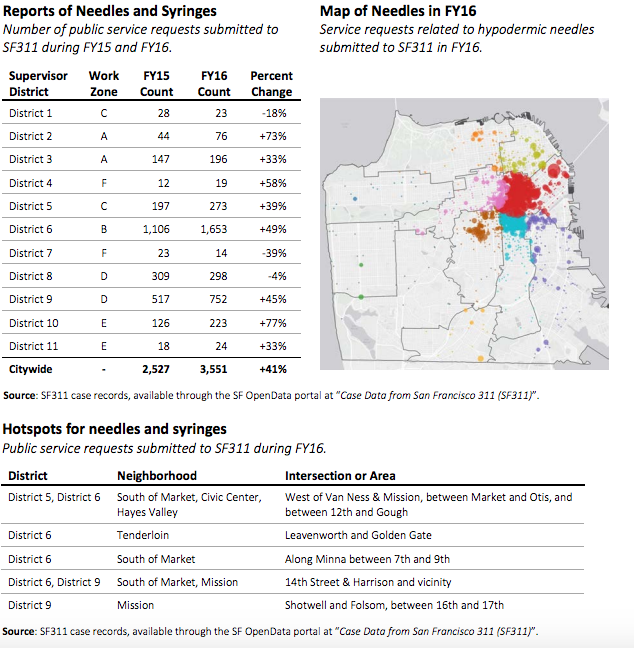 Needle hotspots in D6, according to the report, include Leavenworth & Golden Gate in the Tenderloin, Minna Street between Seventh and Ninth streets in SoMa, and Mission/Van Ness between Market, Otis, 12th, and Gough streets.
Citywide internal counts of needles collected by SF Public Works' "Hot Spot" team were also way up—by nearly 40 percent, from 16,000 in FY2015 to 23,300 in FY2016.
While D6 had the most hypodermic needles by far, reports of needles also increased 45 percent in District 9 (Mission/Bernal Heights), from 517 to 752. By comparison, Districts 1 and 2 (the Richmond/Seacliff and the Marina/Pacific Heights) only had 23 and 76 reports of needles, respectively, in FY2016. 
#SF #streets& sidewalks were cleaner in FY16, but graffiti & some hazards cont'd to grow despite additional services https://t.co/5nY1zjZqo1 pic.twitter.com/W7j6l42bfH

— SF Controller (@sfcontroller) October 27, 2016
The city is also taking more crap than usual—literally. Reports of human waste were up 39 percent citywide from FY2015 to FY2016, with the heaviest concentration also in District 6, which saw a 29 percent jump (from 5,811 to 7,509).
District 10 (Bayview/Potrero/Dogpatch) saw the biggest year-over-year increase in human waste reports, rising from 340 to 816—a jump of 140 percent. But every single district in the city saw reports of human waste rise—and by double digits in all but one district.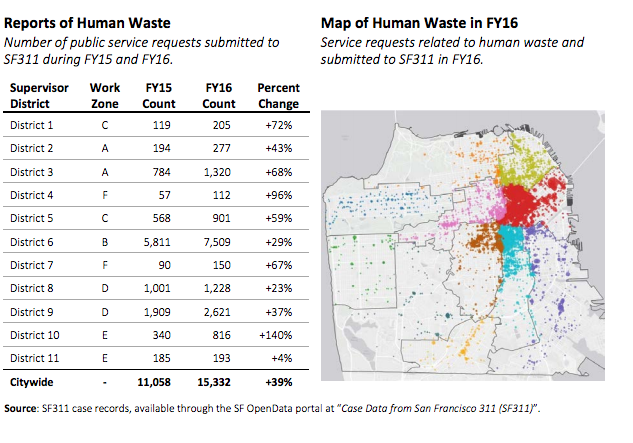 While the report notes that SF311 use jumped by 25 percent in FY2015-16, thanks to both a growing city population and new innovations like a dedicated 311 mobile app, it also points out that reports of both needles and human waste far exceeded the average growth in new 311 users. 
The news isn't much better when it comes to graffiti and broken glass. While Public Works' internal evaluations found a decrease in broken glass on most routes, the controller's office reports that 311 requests regarding broken glass on the streets are up 24 percent citywide, correlating with a rise in auto break-ins in the city.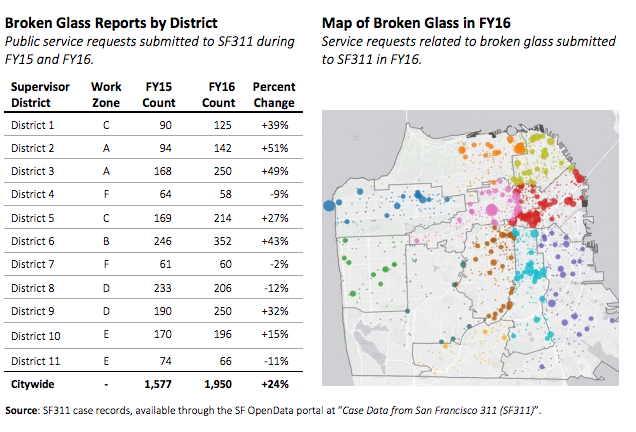 However, it appears that many of those reports came after a spike in public awareness this spring, which didn't necessarily correlate with a spike in auto break-ins: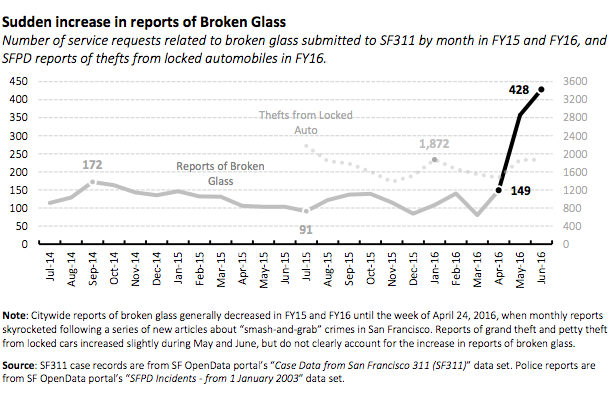 As for reports of graffiti, they were up 21 percent citywide, with a particularly high jump (76 percent) in District 3 that the report says was largely driven by a 170 percent increase in Chinatown.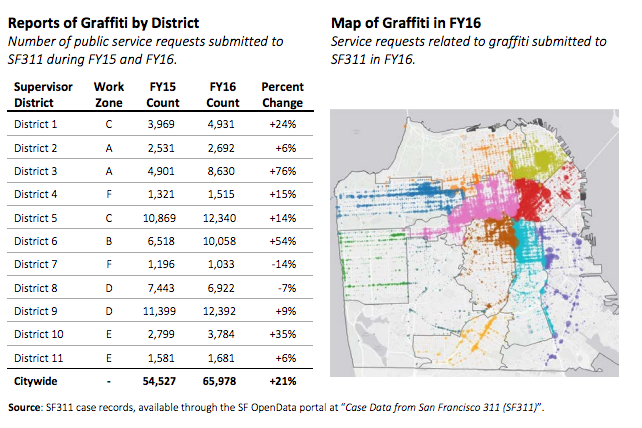 The report isn't entirely a downer: reports of some other issues that bedevil locals, like non-hazardous sidewalk litter and cleanliness around trees and landscaping, are on the decline.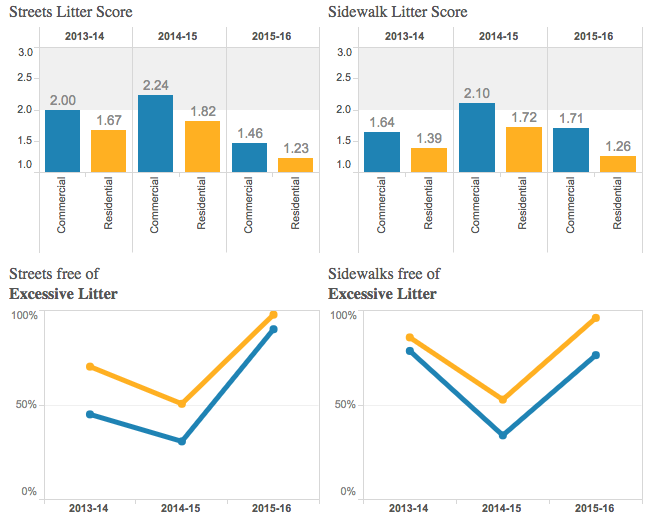 But those improvements will likely come as cold comfort for those who've had to step around a pile of feces or a used needle on their walk home.
You can see the full Street & Sidewalk Maintenance Standards report here, and see visualizations of some of the data here.