On August 27th, just before a game against the Green Bay Packers, San Francisco 49ers quarterback Colin Kaepernick kneeled in protest during the national anthem, sparking a national conversation about racism, police brutality, and patriotism. 
"I am not going to stand up to show pride in a flag for a country that oppresses black people and people of color," Kaepernick, who continues to kneel during the anthem at 49ers games, told NFL Media. "To me, this is bigger than football, and it would be selfish on my part to look the other way. There are bodies in the street—and people getting paid leave and getting away with murder."
While Kaepernick received backlash from the San Francisco Police Officers Association, which issued a letter to the NFL describing the protest as "foolish" and encouraging the NFL to "separate themselves from his actions," other local organizations and individuals have stood in solidarity with him.
Most recently, that solidarity has been expressed through public art, with murals of a kneeling Kaepernick emerging in different neighborhoods throughout San Francisco. One that recently appeared in Bayview, on Hudson Avenue at Newhall Street, displays Kaepernick kneeling, with the words "Believe the Message, Not the Hype."
While we couldn't get information on the Bayview mural's artist (if you or someone you know painted it, drop us a line), we did speak to some neighbors, who have mixed feelings about it.
Some are on a mission to have it removed, as they feel it's "unsightly ... the content is good, but the artwork is a little tacky," said one neighbor, who asked to remain anonymous. But another anonymous community member told us he liked the artwork. "Art brings discussion, and that's a good thing," he said.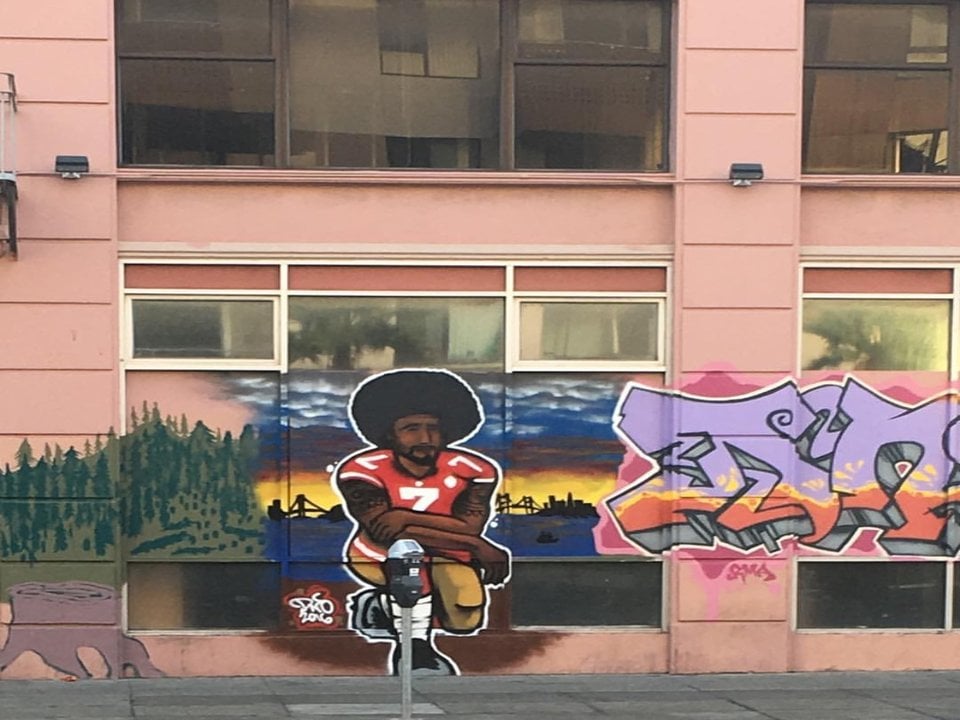 A second mural of Kaepernick also recently went up at 15th and Mission. Painted by artist "Dino," it depicts the quarterback kneeling in front of the San Francisco Bay. According to ABC7, the mural was commissioned by the building's new owner, Amy Kozlowski, who supports peaceful protests. "I think art is a fantastic way for people to express themselves," she said.
But not everyone agrees Kaepernick's protest should be celebrated. "I don't go for that," a Mission resident and Vietnam vet told ABC7. "I'm a Vietnam vet. I think you should respect the flag and respect your country."
Have you seen a Kaepernick mural in your neighborhood? If so, send us a tip.