Chinatown is the most densely populated neighborhood in the city, and Portsmouth Square is known as its "living room," an extension to many resident's homes where the community can congregate.
That living room now has some new decor: this Sunday at 11am, the Chinese Culture Center (CCC) will unveil Sunrise, a new permanent art installation on the pedestrian bridge connecting the square to the Financial District Hilton. The new installation is part of an effort to increase the amount of usable public space in the neighborhood.
Sunrise, created by artist Mik Gaspay, is an outdoor mosaic installation on the staircase leading up to the CCC. It was selected by an art advisory panel after a competitive public open call, with input from an advisory committee of business leaders, nonprofits, and stakeholders in the Chinatown community.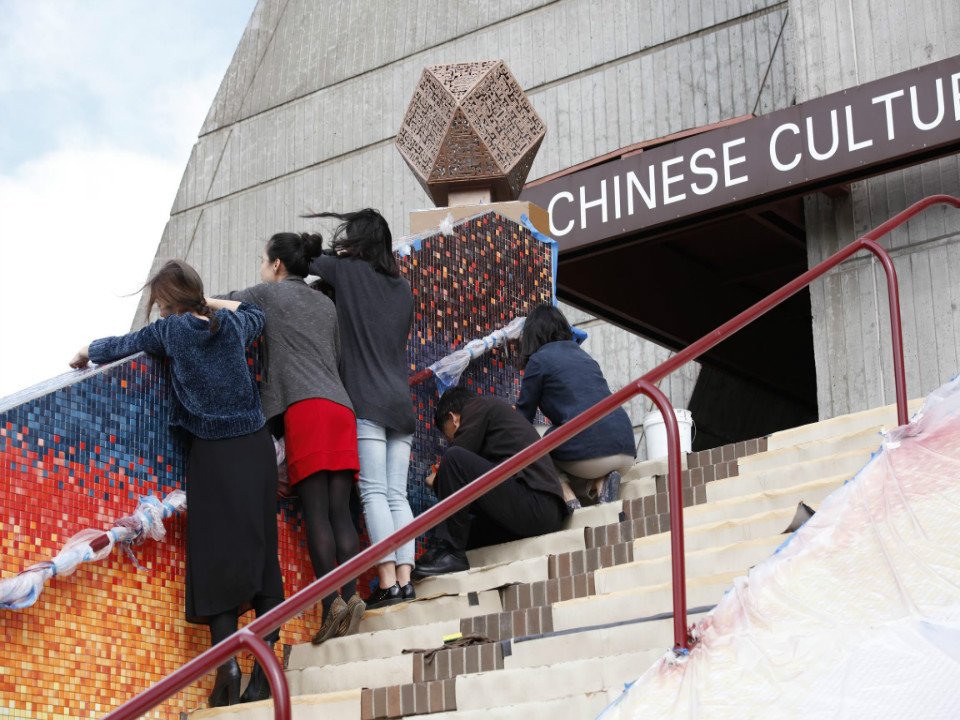 Gaspay said that his work was inspired by the history of the site, and the colors of Chinatown. "This location was once part of the San Francisco shoreline, and a place where one could have watched a sunrise," he said. "I hope this will be a beacon for residents and visitors to Chinatown."
The artwork is part of a larger strategy to beautify the Lowe Community Bridge, turning it into a mini-park and outdoor community space in order to increase the amount of usable public space in Chinatown by 10 percent. That effort is set to be completed in 2017.    
"The CCC always had a vision for the bridge and 'placemaking' in the community, to build community through art," said Jenny Leung, project director for Sunrise. "CCC began an effort to do more activities out in the community, starting with the Chinatown Music Festival in Portsmouth Square in 2009. [We also] started 'Museum Without Walls' a couple of years ago, to activate spaces in Chinatown and beyond with murals."
"The bridge was really the next step," Leung said. "And we thought it would be a great project to partner with community organizations and with the SF Community Challenge Grant," which helped fund the project.   
The bridge was a challenging space to design for, but "we are very happy with the result," Leung said. "It's such a stunning piece of work, and the CCC sees it as a landmark piece in the city for many years to come." 

Sunday's unveiling is being held in concert with the annual San Francisco Arts Commission Passport event, which is taking place in Chinatown for 2016. Art lovers can go from gallery to gallery to get stamps created by local artists in a limited edition "passport." Gaspay is participating in the event, and will be stationed by his artwork on the steps to hand out stamps.