Fewer than 10 civilians gathered last night at SFPD Park Station for its monthly community meeting, led by Capt. John Sanford, Jr. During the session, Sanford reviewed traffic statistics, addressed recurring violent crimes near the station, and used statistics to counter claims from some residents that crime is on the rise in the district.
In September, officers from Park Station participated in multiple traffic operations, targeting areas where motorists are known to behave badly. In all, 26 drivers were cited for running red lights, and 390 drivers received tickets for blowing through stop signs.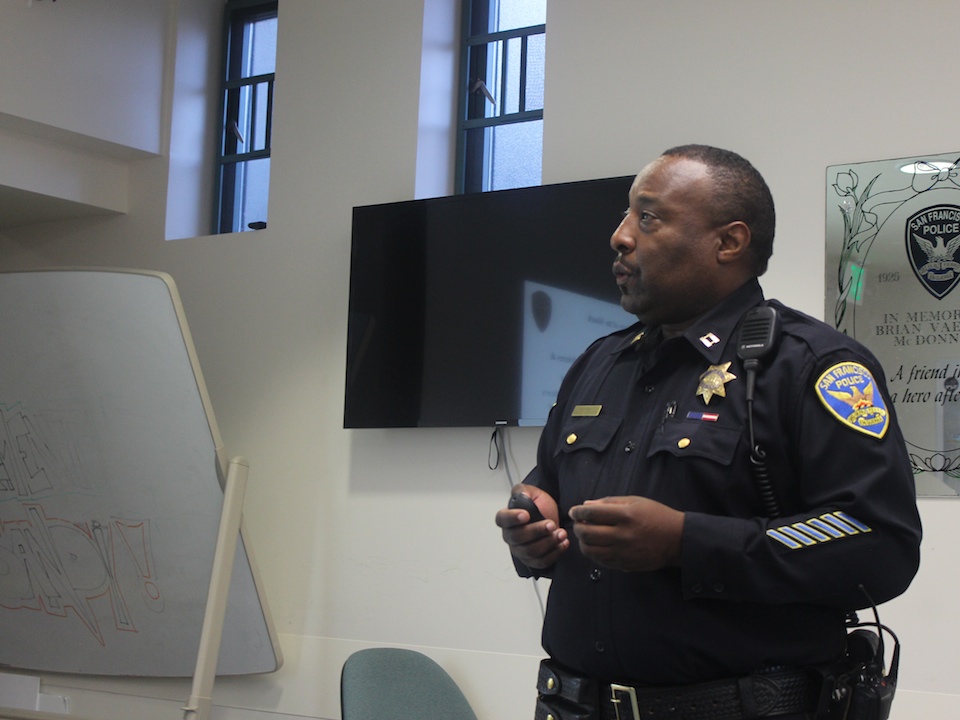 47 people were caught violating the sanctity of active crosswalks; 101 drivers almost certainly regret their excessive speed; and police also gave out 97 citations for cell phone use. Nine bicyclists received citations, but no pedestrians felt the long arm of the law last month.
Although officers haven't targeted bicyclists in the latest operations, Sanford said he continues to fret over the potential for accidents along the Wiggle. "The way many of the cyclists behave is very dangerous and very reckless to their own well-being," he said. "When we're doing enforcement, we're just trying to really exercise public safety."
Sanford said he's stood on corners along the bike-friendly route in full uniform—"even with a captain's hat on"—and many cyclists "are going so fast, they haven't even seen me." 
"If you can't see me on the corner, that tells me you don't have a full view of what's going on," said Sanford, who said officers "will be returning to the area."
In September, Park Station police warned three people against violating the city's sit/lie ordinance, cited three others, and booked one individual. Since the beginning of the year, 67 people have been warned, 117 cited, and 10 booked for sitting or lying on a public sidewalk.
Because the station no longer has its own crime analyst, no monthly crime statistics were available during the meeting.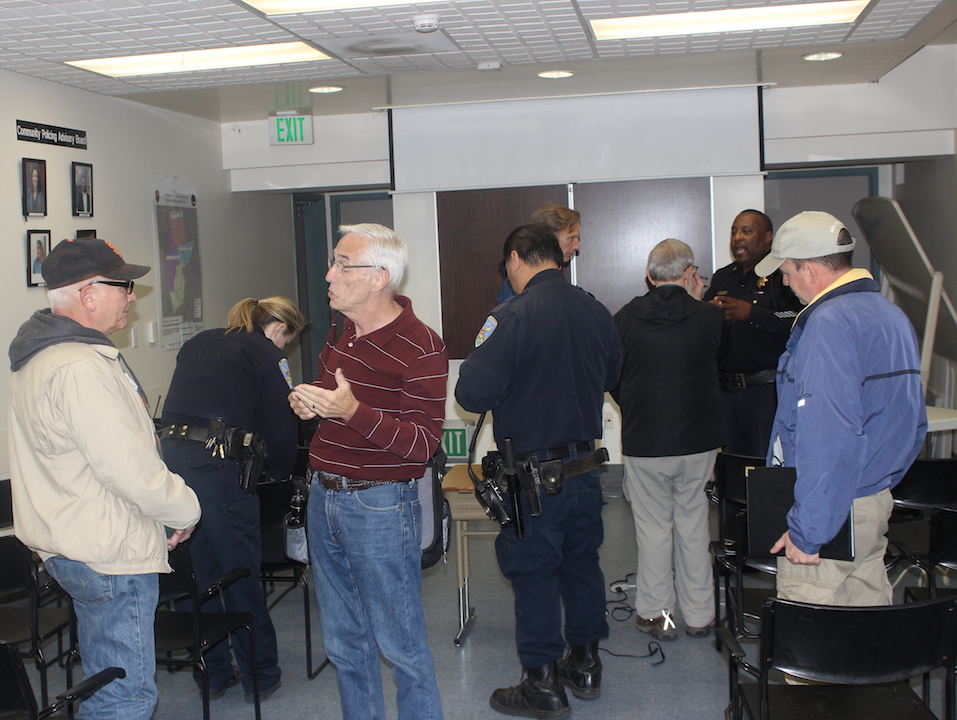 Officers on the station's Homeless Outreach Team continue to break up homeless encampments around the district, said Sanford. HOT officers made one arrest in the Panhandle, and dismantled a large cardboard encampment behind Safeway at Duboce and Church.
"This is something that happens basically every single day in our community, but it's something that we want to hear about every single day," said Sanford, who encouraged residents to report encampments to the station via email ([email protected]) or its non-emergency number (415-553-0123).
Sanford said he's become aware that some homes under renovation are also being used as illegal encampments. On the unit block of Walter Street on Monday, police arrested an individual for trespassing on a construction site, who was determined to be an unregistered sex offender.
"I get the feeling that a lot of the thieves in the district are targeting construction sites, because they know people are not paying a lot of attention," said Sanford.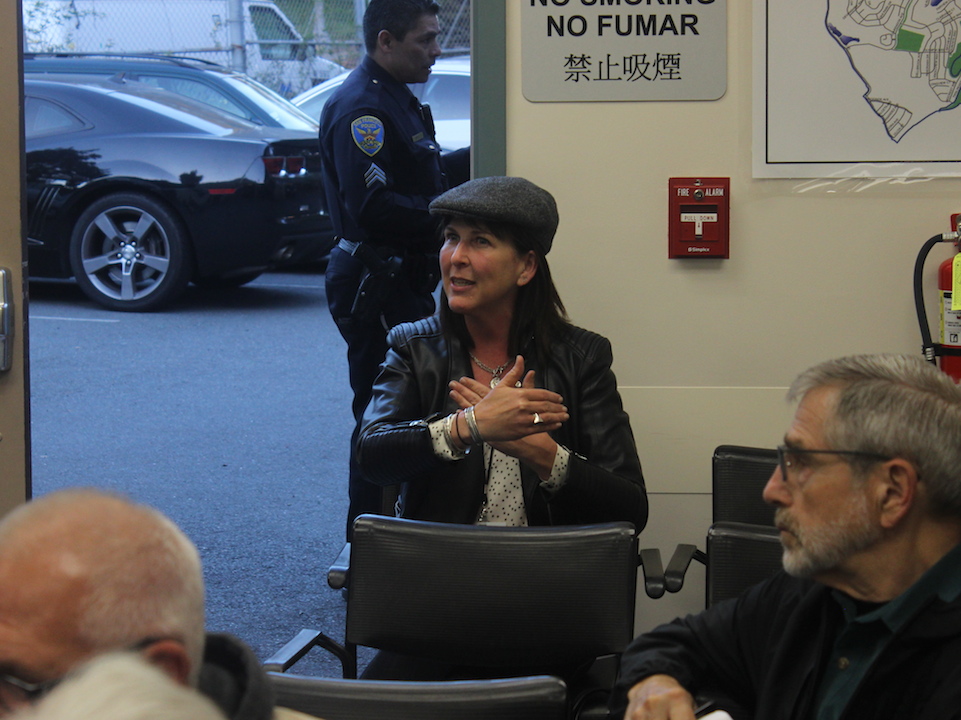 After a perpetrator fired a gun during an armed robbery attempt near Duboce Park, Sanford said he started receiving reports from concerned residents that crime in the area was on the rise. But he said the robbery attempt was "a very isolated incident," Sanford said, noting that there were only five robberies in the area between January and September.
"Five robberies occur in one day in some districts of the city," said Sanford, who encouraged residents to subscribe to the station's newsletter or attend monthly meetings to become more informed. Around Park District, analysts have tracked only six aggravated assaults in 2016, "versus other districts, where you get six in half a day."
"This is something to be concerned about, but nothing to be terrified about," he said. People who post misinformation online about violent crime are "being irresponsible," Sanford said.
When asked why there were so many violent crimes within a short radius of Park Station, Sanford said that many suspects they've apprehended had no idea that the station is a few hundred feet away.
"Unfortunately, we are not always dealing with very rational perpetrators," said Sanford, who noted that many criminals are either under the influence or transients who are unfamiliar with the area—such as the escaped convict captured last January when he "ran into the police station, where there are 30 officers."
Next month's station meeting will be on Tuesday, November 8th at 6pm. On October 28th, from 4pm to 8pm, the station is hosting a children's Halloween dance with refreshments; children must be accompanied by a parent or teacher.