Nabe sounds like shorthand for neighborhood, but the name of this new Marina restaurant at 2151 Lombard St. (celebrating its grand opening tonight), refers to Japanese hot pots. It's also the name of co-owners Hilwin and Hubert Wong's Irving Street spot that serves the same menu—bursting with meaty, miso, seafood and fresh vegetable flavored shabu shabu, kamo nanban and sukiyaki.
Architect-designer Alan Tse achieved a modern, mellow look with printed banners hung from the ceiling similar to "noren" curtains that mark entrances of Japanese restaurants.
The sleek centerpiece of Hilwin Wong's latest venture with her older brother, is a long, hickory communal table, surrounded yet set apart from four-tops by colorful curtains and hickory floor.
All tables boast burners for preparation of traditional nabemono (regular and large sizes $21-$29). Carefully arranged rows of tofu, squash, Napa cabbage, carrots, daikon, mushrooms (enoki, shiitake, king oyster or shimeji), along with any of the menu's add-on ingredients, are brought to the table for diners to cook, dip or mix into boiling bowls of broth.
Depending which of the six sets you choose, platters arrive boasting paper-thin, heavily marbled beef; slices of duck breast; pork belly; shrimp, salmon, scallops and clams; or vegetarian options, all accompanied by ramen, udon or soba noodles, and homemade ponzu and sesame sauces. Try to save a smidgen of appetite for complimentary zosui rice porridge, simmered table side with leftover broth, egg and green onion.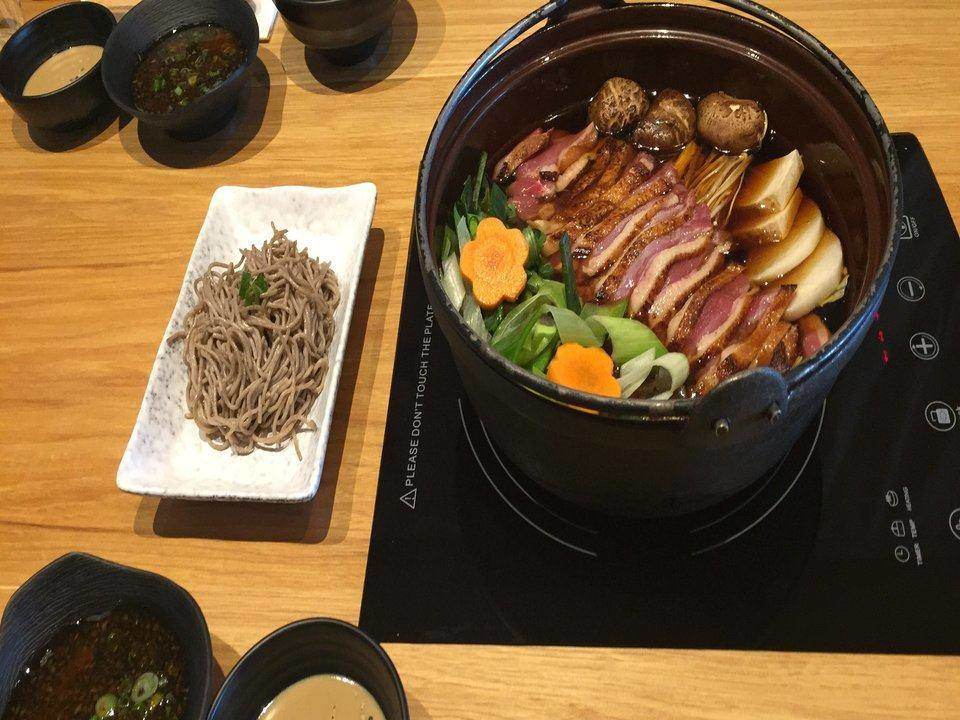 Wong observes lots of friendly conversations taking place at the communal table, occasionally between strangers who end the happy meal by paying for someone they just met. She looked for more than a year for a suitable space, but exorbitant prices in the Mission, Castro and Noe Valley prevented her from leasing there.
Formerly H&R Block and before that, Pizza Hut, the Lombard Street address demanded a complete buildout. Tse, an old friend of Wong's, chose two contrasting floor materials to make the smaller tables look like they are on a sidewalk running alongside the communal table's "box," reminiscent of a vibrant, Japanese alleyway lined with food kiosks.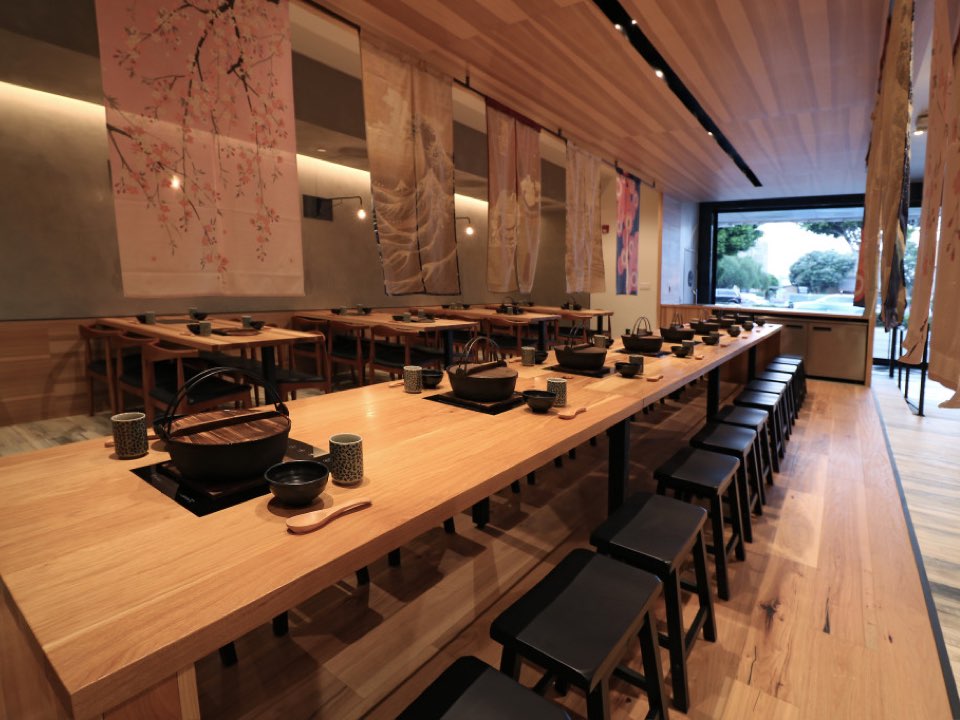 Tse wanted clean lines and an overall effect that's relaxing, at the same time lending itself to gregarious, group dining. With Wong at the front door (if she isn't stirring soup in the kitchen or helping out in the dining room), the welcome is genuine. She agrees with New York restaurateur Danny Meyer's hospitality style, greeting customers warmly and treating them well.
Having grown up in a restaurant-centric family (her father owned several, her mother is the produce-buyer), Wong honed her palate traveling and working for Chinese airline Cathay Pacific. She still loves to explore eateries all over the globe, but wanted her own business.  
Just like popular Inner Sunset Nabe, the Marina location is open for dinner only, 5-10:30pm weekdays and 5-11pm Fridays and Saturdays. But a bigger kitchen means more variety and currently in the works: sake- and shōchū-based cocktails.