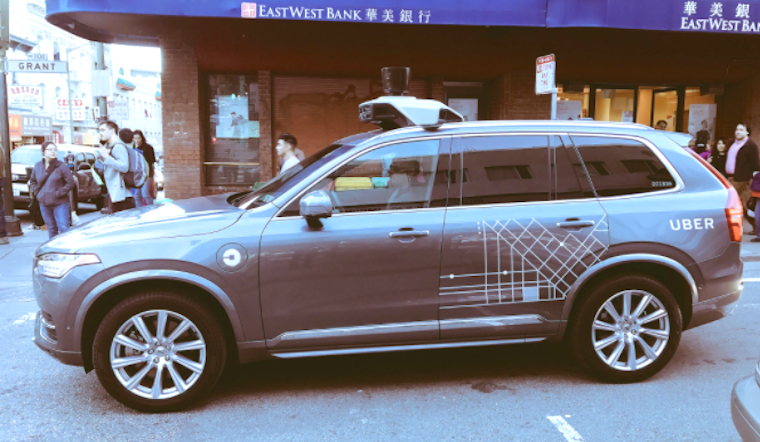 Published on December 14, 2016
It's only been a few hours since a fleet of 100 11 self-driving Ubers hit the road in San Francisco, and already, drivers are pointing out misbehavior by the autonomous vehicles. 
The Examiner obtained a video, taken by the dashboard camera of a Luxor Cab driver around 10:37am this morning, that depicts a silver Volvo XC70 SUV blowing through a red light on Third Street between Mission and Howard, just outside the SFMOMA. A pedestrian is in the crosswalk as the car runs the light.
The radar apparatus on the top of the car and the logo on its flank clearly designate it as a member of Uber's fleet. 
Each of Uber's self-driving vehicles has an engineer behind the wheel, so it's unclear why this particular Uber's copilot didn't hit the brakes after the car made a bad judgment call.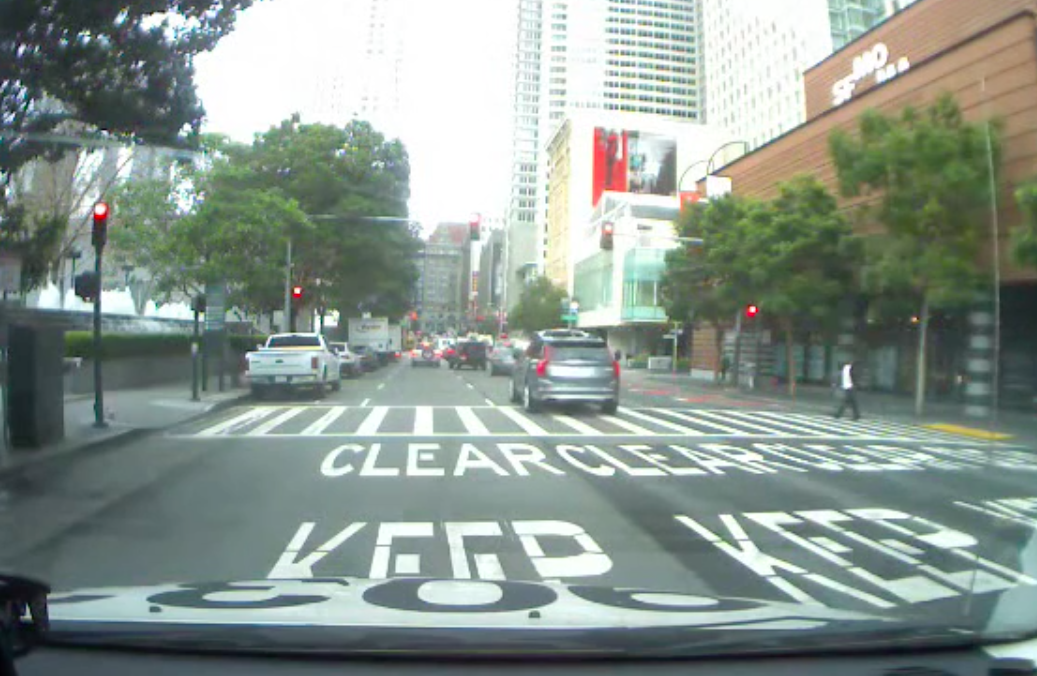 The blown red light isn't the only incidence of possible self-driving Uber misbehavior in the city today. Writer Annie Gaus told the Examiner that she was a passenger in a Lyft this morning when one of Uber's self-driving Volvos jutted out into the intersection of Van Ness Avenue and Union Street, despite a red light.
Just passed a 'self-driving' Uber that lurched into the intersection on Van Ness, on a red, nearly hitting my Lyft.

— Annie Gaus (@AnnieGaus) December 14, 2016
The Uber nearly struck her Lyft vehicle. "It was close enough that both myself and the driver reacted and were like, 'Shit,'" she told the Examiner. "It stopped suddenly and stayed like that, as you see in the photo."
(Not enough time to get a good shot, but...whoops!) pic.twitter.com/XK49nMF2Q4

— Annie Gaus (@AnnieGaus) December 14, 2016
Uber may face additional criticism for these incidents because it did not register for an autonomous vehicle permit with the California DMV (unlike its competitors GM, Tesla, and Google) in advance of today's launch.
The company insists it does not need the permit, as its vehicles are not fully autonomous, and engineers are present to act as a failsafe. However, the DMV insisted in a statement that the company still needs to register. 
Spot any other incidences of bad robot driving on the streets of San Francisco? Text us a tip at (415) 200-3233, or tweet us @hoodline. 
Update, 4:59pm: The California DMV has sent a letter threatening legal action if Uber does not put a halt to its self-driving car program, reports the AP. The DMV says that the company's arguments are not valid, and that it must get a permit to operate its autonomous vehicles in the state. It's unclear as of yet whether Uber will comply.