By
Susan Xu
- Published on December 22, 2016.
Michael and Lisa Lewis have filed a wrongful death suit against the city of Oakland after their 16-year-old son, Jack Lewis, was fatally struck by a broken tree limb at Lake Merritt last December.
On Tuesday, Lewis' family and friends, alongside arborist Denice Britton and attorney John Winer, gathered by the stump of the fallen tree.
"The goal of the lawsuit really is to make this area safer, to change the city of Oakland's apparent priorities," said Winer, according to the East Bay Times.
The Oakland Technical High School student had been climbing a black acacia tree with friends when the accident occurred just outside of Children's Fairyland on the evening of December 4, 2015.
At the tree stump where 16yo Oakland resident Jack Lewis, of Oakland, died last year. pic.twitter.com/mTDTJX9vlh

— Malaika Fraley (@malaikafraley) December 20, 2016
"We don't expect them to cure every problem with a tree in some remote park, but you have got to prioritize high usage areas," Winer said.
According to CBS SF Bay Area, the tree had been pruned and marked for removal; under city regulations, the tree should have been removed within 24 hours.
"It is very difficult for urban forest managers to deal with all the potential hazards that are in their parks, in part, because the funding for the parks departments and the tree departments are very limited," said arborist Denice Britton in a prepared statement.
"This tree was obviously extensively decayed prior to its breaking," she noted, adding that "there are still several other trees with dead tops and branches" near the site of the fatal accident. "We need to encourage more funding so that these kinds of tragedies don't happen," she said.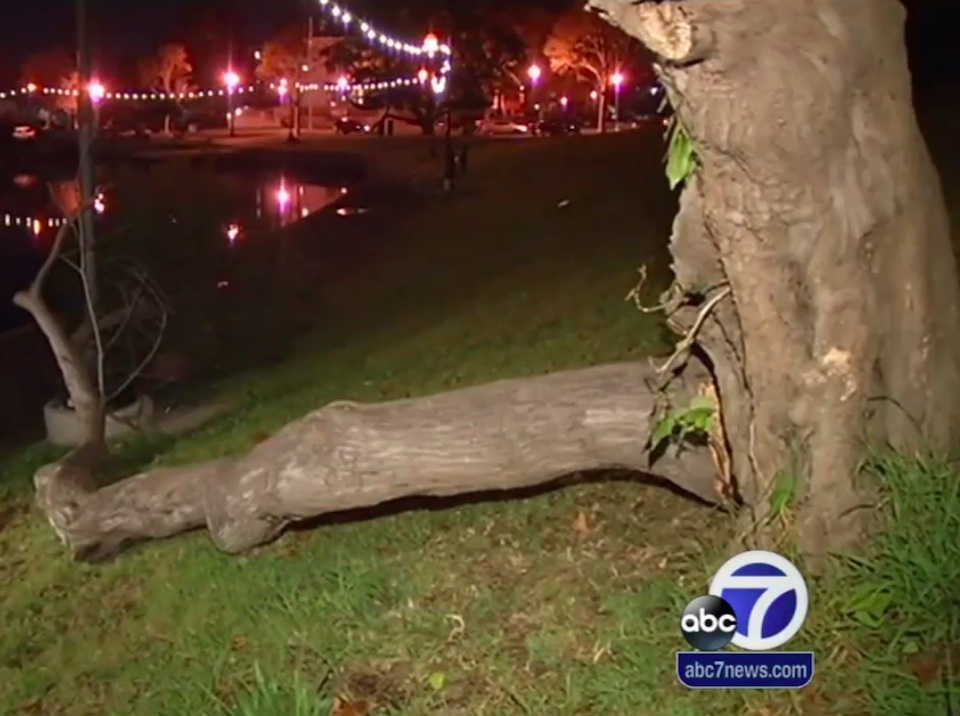 The East Bay Times noted that Britton didn't examine the tree that killed Lewis before it was removed, but she said remaining trees with "extensive decay" have "a probable chance of failing."
Although Oakland once budgeted roughly $4.5 million to its Tree Services Division, arboreal advocacy group American Forest said funding fell to $2.5 million per year in 2008. Tree Services staff subsequently downsized from 32 to 19 employees.
As outlined in the 2015-17 city budget, the reduced team is responsible for maintaining 250,000+ trees, a daunting task, particularly during stormy winter and spring months. Tree Services is currently seeking a grant that will enable it to complete a tree inventory and create a plan to effectively maintain Oakland's trees.
Following a November 2013 windstorm, officials received over 190 calls for assistance to address power outages and toppled trees. In the aftermath, crews were left scrambling to assess the damage, reports CBS SF Bay Area.
Urban forestry programs like tree watering, planting, and aesthetic pruning have been been terminated since 2008. Tree Services Division handles only emergency responses and hazardous tree inspections and maintenance. Despite the fact that 24.8% of the city is covered in tree canopy, Oakland has no Urban Forestry Master Plan.