The SFMTA is holding two open houses this week to gather feedback on improvements plans for Folsom and Howard streets.
As the 7th & 8th Street Safety Projects head into construction, the department is kicking off the Folsom-Howard Streetscape Project. The project aims to improve public transit, bicycle and pedestrian infrastructure on Folsom from 2nd Street to 11th Street and Howard from 3rd Street to 11th Street—two high-injury corridors spanning the South of Market—to benefit current and future SoMa residents and workers. According to the project website, the city expects a 212 percent growth in residents and 140 percent growth in workers in SoMa by 2040.
The open houses are scheduled from 6-7:30pm Thursday, December 8th, and 12-1:30pm Saturday, December 10th, at Gene Friend Recreation Center (270 6th St. at Folsom). During these identical meetings, the project team plans to gather the community's feedback on designs for parking and loading zones, bike lanes, pedestrian safety measures, improvements to the streetscape and open space.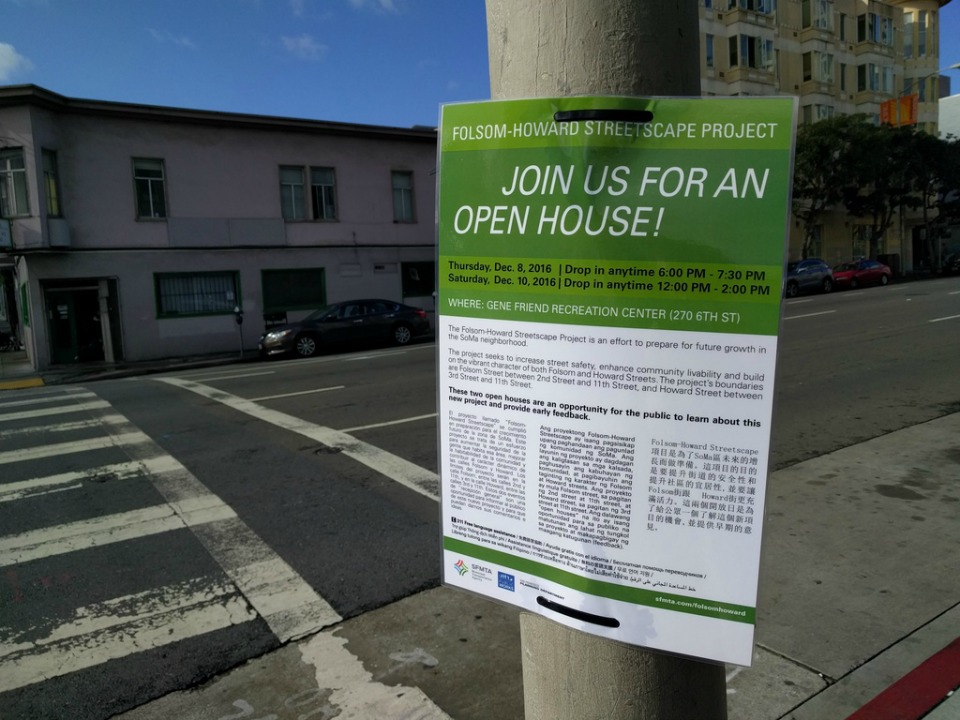 While draft plans have not been published on the project website yet, the site does note that the department's concept designs will be based on the Planning Department's draft Central SoMa Plan and Eastern Neighborhoods Transportation Implementation Planning Study. In addition to upgraded bike lanes and pedestrian safety infrastructure, there has been talk of turning both corridors into two-way streets (see page 5 of this Finance Information & Technology motion from March 2015).
Per the latest project timeline, planning and community outreach will continue through summer 2017. Assuming the project is approved by the SFMTA board of directors by the end of next year, construction should begin in 2020 and take two years to complete.
The city has already allocated $26 million to fund this project.