Word on the street: Grocery chain Bristol Farms is expected to close its only San Francisco location, in the basement of the Westfield San Francisco Centre mall on Market Street, on January 27th.
While the company's headquarters have not responded to our inquiries to confirm the closure, Hoodline tipster Jamison R. and the Chronicle have reported that employees have begun breaking the news to customers.
Cashiers at Bristol Farms in Westfield mall are telling customers that the store is closing on January 26. Rumor has it that Westfield is increasing rent by 25% and Bristol is deciding not to renew. —Jamison R.
Thanks to notices posted in the store and on Yelp, many shoppers were aware that the health department had slapped the grocer with "Poor" health code scores over the past couple of years. The store's score hit an all-time low of 54 in 2015, moved up to 68 in April 2016 and finally rose to 80, which equals "Needs Improvement," in September 2016.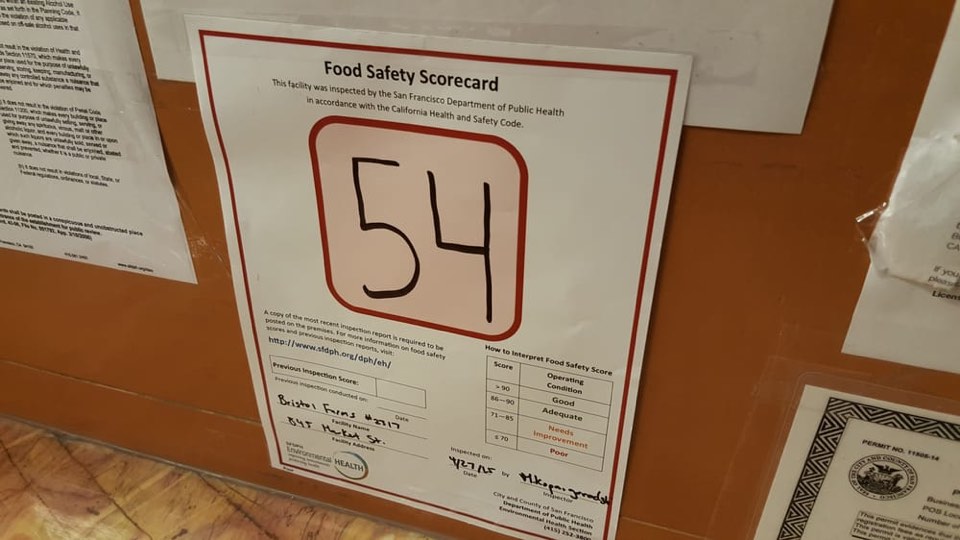 Despite food-safety concerns, Bristol Farms is the nearest grocer (sans alcoholic beverages) for many residents and workers based in the Mid-Market.
But that won't be the case for long. Trader Joe's is opening a full-service grocery store (including wine and beer) below Old Navy at Fourth and Market sometime this year. While the store was originally expected to debut last October, the date was pushed and a new timeframe for opening has not been announced.
There's also still hope that a grocer could make its way into the new 6X6 mall, opening soon on Market Street between Fifth and Sixth.
Back at Westfield, the Chronicle reported today that the mall has not chosen a tenant to replace the grocery store once it vacates.
Bristol Farm's selection of hot dishes, salad bar and grocery staples won't be the only thing some neighbors and tourists will miss. "No more delicious hot chocolate chip walnut cookies? Say it isn't so," commented another Hoodline tipster, Asamson M.