Forty portraits paired with oral histories of formerly homeless individuals combine for a moving exhibit currently on display at the San Francisco Public Library's Main Branch.
The subjects of the photographs all live in homes supported by the city Department of Public Health's Direct Access to Housing Program, managed by Delivering Innovation in Supportive Housing (DISH). Each of them has struggled with mental illness, substance abuse or a physical injury or debilitating illness that caused them to spend time without a home.
The idea for the project stemmed from a 2014 partnership between Elizabeth "Liz" Gjelten and the California Shakespeare Theater Company that focused on writing workshops but also included some portrait photography. In 2016, DISH received a grant from Cal Humanities to build on the portrait aspect of the project and provide a platform for subjects to expand on their personal stories. The Jewett Gallery is the first to exhibit the collaboration.
"I expected to come away with a theater piece to be performed," Gjelten told attendees at the artists' opening reception on January 11th. But because this was an instance of art as a civic practice, she went to her subjects and directly asked what they needed to express themselves before applying her artistic lens to identify the best way to meet those needs, she said. The subjects wanted the art project to offer them a sense of community and ownership of their space, she said. They also wanted this to be something that could be continued once the artist is gone, rather than a one-off project. The resulting portrait and oral history format seemed most fitting to meet those needs, she said.
Gjelten conducted the interviews, with audio content support from Colin Peden of local public radio station KALW and Elliott Peltzman of The Complex Recording Studio.  The photography was the work of Audra Miller of Miller Studios, who was formerly an intern with DISH.
"Taking portraits is a very intimate setting, many people were very uncomfortable," Miller said. But "taking photos of people looking their best helps build self-confidence," she added. 
More than 130 photos were taken, and there are 40 included in the library's multimedia display. Many of the pictures portray the subjects holding hand-written signs describing what home means to them. More than half of the portraits are accompanied with transcribed interviews that include the option to call in to hear a portion of the subject's recorded oral history.  
The title of the project is linked directly to the mural that decorates DISH's Windsor Hotel above Boeddeker Park, which was commissioned by DISH and painted by muralists 1AM.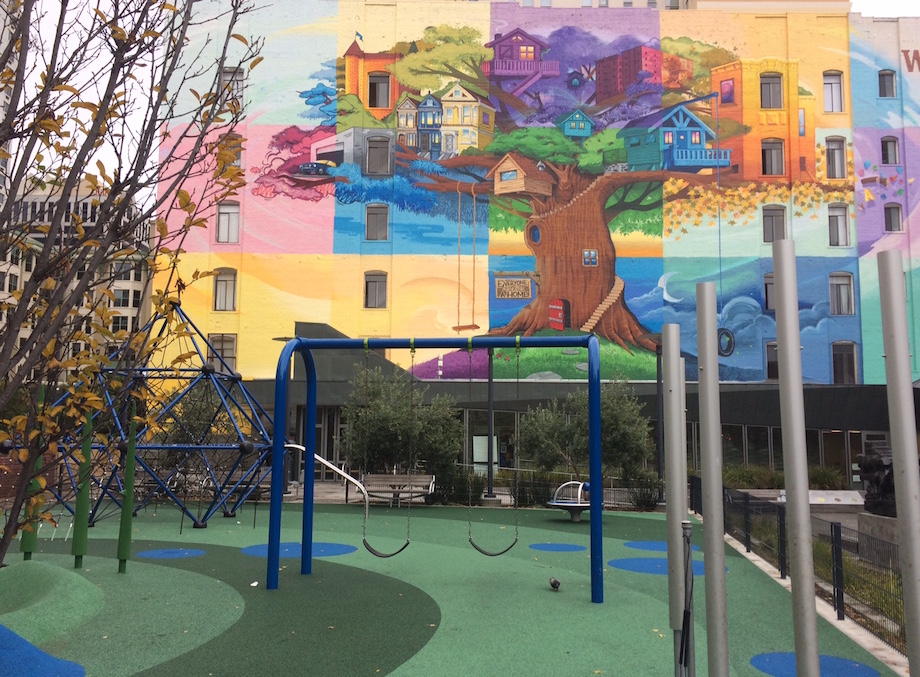 The exhibit is open on the lower level of Civic Center's Main Library through March 12th. A panel discussion scheduled for March 1st in the library's Latino-Hispanic Community Room is expected to feature Audrey Cooper, editor-in-chief of the San Francisco Chronicle, Jeffrey Kositsky, director of the SF Department of Homelessness and Supportive Housing, District 2 Supervisor Mark Farrell, Mission Neighborhood Resource Center director Laura Guzman, and others.