Joe Biden has only 11 days left as U.S. Vice President—which is just enough time for a final grilled cheese run. 
To the non-delight of San Francisco's rush-hour drivers, the Veep's Secret Service motorcade has brought traffic to a standstill on Howard Street between 1st and 2nd streets, so he can make a stop at The Melt for a grilled cheese. (Given the weather, it's understandable that he might want some comfort food.)
Joe Biden's #milliondollarmelt #joebidenjam in sf pic.twitter.com/9uY5ucAoBd

— Ryan Tucker (@_rtuck) January 10, 2017
Joe Biden sighting! 🙌🏼 pic.twitter.com/EjCPLgvczP

— Bruno Wong (@BrunoWong) January 10, 2017
Joe Biden, my 2nd favorite VP just passed by pic.twitter.com/4sbsdAKnkI

— Richard Titus (@richardtitus) January 9, 2017
The trip to the Melt was actually Biden's second: last April, he visited the Embarcadero Center location, where he enjoyed a classic grilled cheese with tomato, a tomato basil soup and a chocolate shake, which the chain then dubbed the "Vice Presidential Special." It's not clear what he ate this time. 
The meal may have been the result of a lunch plan cancellation: Biden was originally scheduled to be the keynote speaker at the JP Morgan Health Care Conference at Union Square's Westin St. Francis hotel at noon, after which he and his staff presumably would have been fed and watered.
But Biden's plans were delayed, and it appears he decided to grab a snack on the go before speaking at the conference at the rescheduled time of 5pm. 
#SanFrancisco- #Vicepresident Joe Biden just arrived at Mason and Powell for speech at JPMorgan Health conference. pic.twitter.com/EdvqFQUkzg

— Jana Katsuyama (@JanaKTVU) January 10, 2017
If you see the VP around town today, be sure to text us a tip or photo at (415) 200-3233—that is, if he doesn't peel out in that bitchin' Corvette of his before you get a chance. 
Update, 7:03pm: The Melt confirmed that Biden dropped by the Howard Street location around 3:30pm, and ordered the same thing as last time—a grilled cheese with tomato and a chocolate shake. (He skipped the soup this time, though.)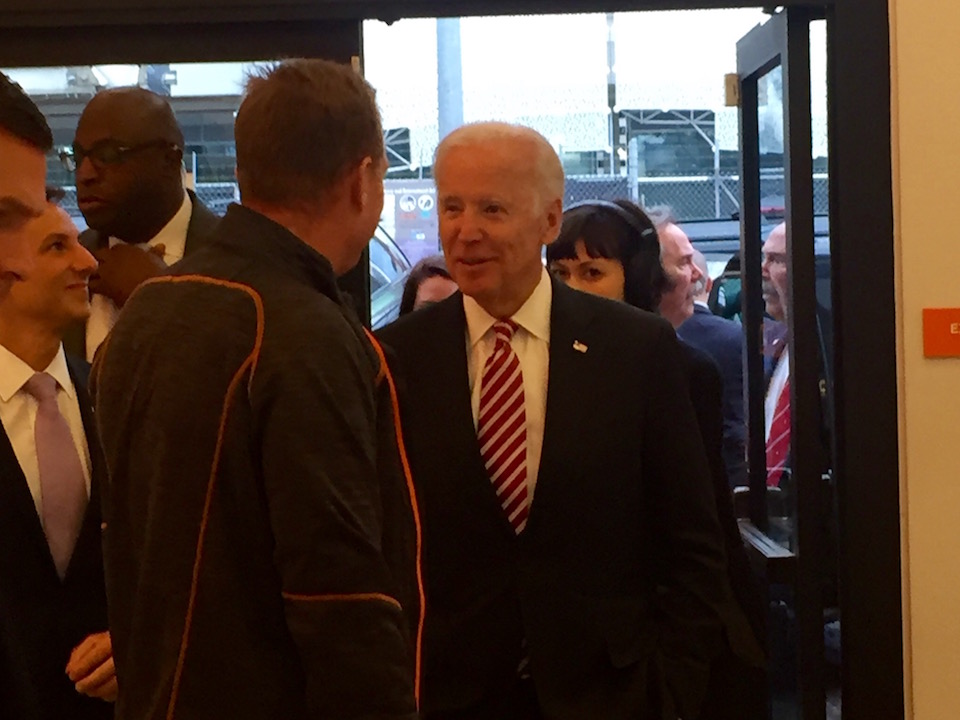 Update, 1/10, 3:09pm: Given that The Melt is a national chain with locations in Colorado and Texas, SF's homegrown grilled cheese spot, The American Grilled Cheese Kitchen, isn't thrilled about Biden's choice of grilled cheese purveyor: 
@eatersf we hope the #vpotus tries a real, #local grilled cheese next time; that uses CA ingredients, sf #bread, and lots of #love! pic.twitter.com/opBB0c9JGI

— Grilled Cheese (@TheAmericanSF) January 10, 2017