Former Alcatraz interpreter and Park Ranger Tom Ryan walked through the first set of double doors of the island's New Industries building, a raw space where paint is chipping off the white walls and rusted pipes jut out of the ceiling.
"If you've gotten off the ferry and come straight here," Ryan said, "you're probably lost."

Visitors who do find themselves in this back corner of Alcatraz enter a dilapidated space where bright, new NFL jerseys strung out on a hemp string provide stark visual contrast. These jerseys are not some consolation for Bay Area fans who no longer have teams in Super Bowl contention, but rather an art installation pointing to an ongoing conversation about the nation's prison industrial complex.
"As a society, we're having many conversations about our judicial system," said Nelson Saiers, the artist, math Ph.D. and mastermind behind the abstract exhibit. "I like the aesthetics of sports—the colorful jerseys, the colorful stadiums and fields, and incorporating that in art was something I was very interested in."
"Football numbers" is a slang prison term used to describe double-digit year prison sentences, reminiscent of the numbers on most football jerseys. Historically, these sentences are not only given for violent crimes, but also for minor, non-violent offenses, which many have called "irrational."

Starting with a large, turf "3," the exhibit carries on with a "14" jersey, then a "15" jersey, then a "92" jersey. Titled "Shortening: Making Irrational Rational," the installation's jerseys spell out pi, an irrational number, which by definition never repeats or ends. The only way to make an irrational number rational is by shortening it.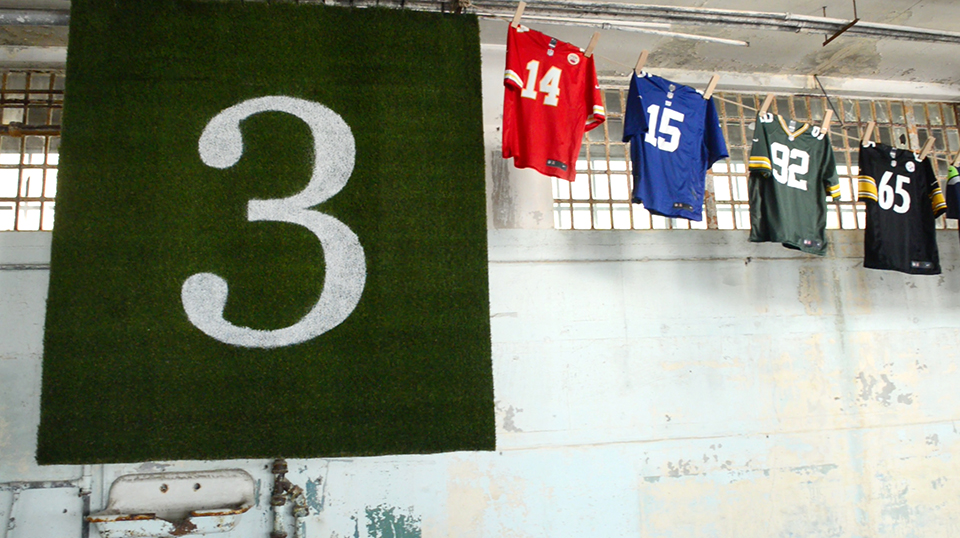 "This idea of shortening an irrational number is a good metaphor for what needs to be done to these irrationally long prison sentences," Saiers said.

The jerseys appear to be hung out to dry, which Saiers said happens to many offenders when they enter the prison system.
When Roy Gardner, a former Alcatraz inmate, came into the prison system in 1920, former Ranger Ryan said that Gardner cited his occupation as "horse-shoer." When he was released in 1938, technology had advanced and there was little need to shoe horses anymore.
"What was he going to do after those 17 years in prison?" Ryan asked. "Is he going to go back to college that he'd never been to? Go to a new company and get a new career at the age of 56-57 years old? How are you going to start life?"
"The exhibit helps visitors to understand Alcatraz and connect it to the 21st century, get a better understanding of violent versus non-violent crimes, and examine the use of sentence lengths," Ryan said. The former Park Ranger, whose job it was to explain Alcatraz's history to today's visitors, said he is proud that the island is supporting history lessons that drive present-day discussions.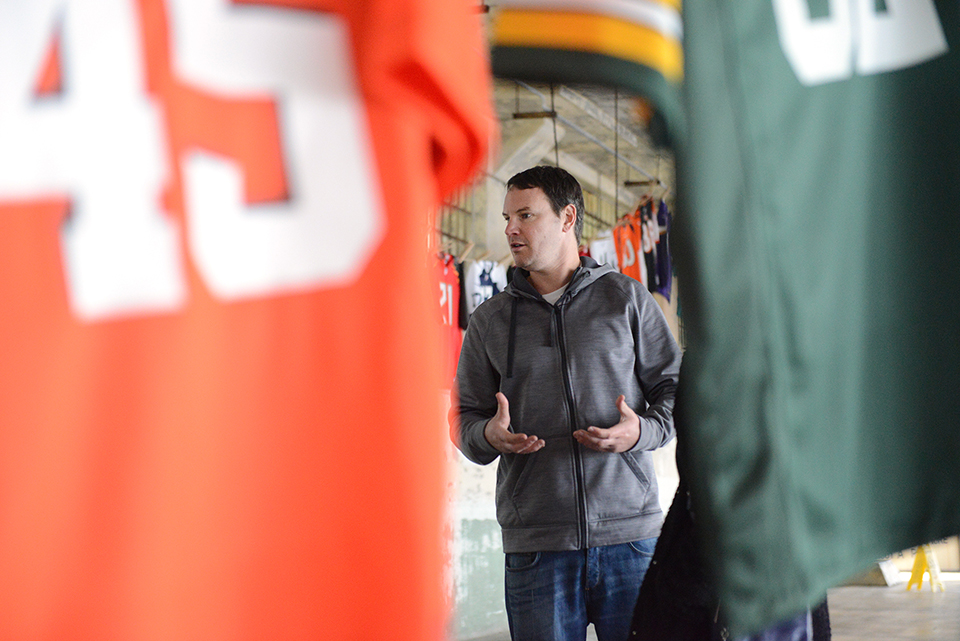 The abstract exhibit contains numerous riddles where visitors are asked to examine our justice system. Nowhere is this more apparent than on the backs of the jerseys, where fragmented lines of Alice In Wonderland and its Queen of Hearts are hidden in deconstructed player names.
For any violation big or small, the Queen of Hearts' solution was the same—"Off with their heads!"
"You want to have prisons and a judicial system where the sentence is proportionate or reasonable compared to the crime that was committed," Saiers said. "The idea that the Queen had only one way to solve this problem, I think it's something as a society to make sure we don't do a similar type of thing."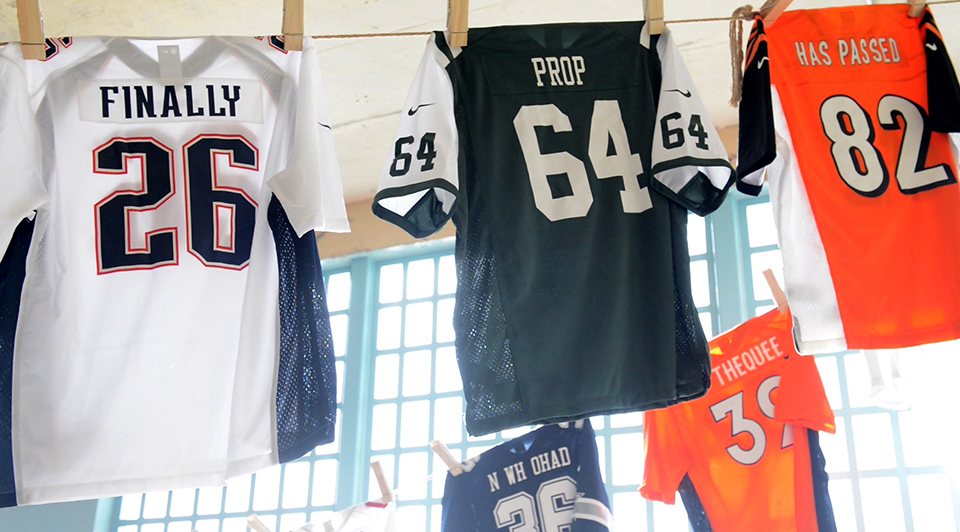 Allusions to Alcatraz's history abound. Robert Stroud, the "Birdman of Alcatraz," was inmate number 594. The jerseys of the five NFL bird teams represented in the exhibit all add up to 594.
Al Capone was Alcatraz inmate number 85. Both times 85 is referenced in the displayed digits of pi, Saiers used a Chicago Bears jersey. Intentionally, he swapped one of the instances of 85 for the only small-sized jersey in the exhibit, a number "11" Bears jersey. "He was given 11 years for tax evasion, and there it's actually irrational the other way. The number should have been 85 there in the sequence, maybe the number should have been 85 in his case," Saiers explained.
Every team name is prominently displayed, except for the Washington Redskins, whose mascot is blacked out by duct tape in a conscious effort to silence the term, which Saiers feels is derogatory.
Because Native Americans play an important role in the history of Alcatraz, Saiers used a Kansas City Chiefs jersey as the first jersey in the exhibit, which he says is a nod to Native Americans in a less offensive manner. 
"You're saying 'Wait, the Kansas City Chiefs begins it, the Cowboys ends it,' so it kind of asks the viewers in general what should be done to help out Native Americans for some of the injustices we did to them as a government," Saiers said.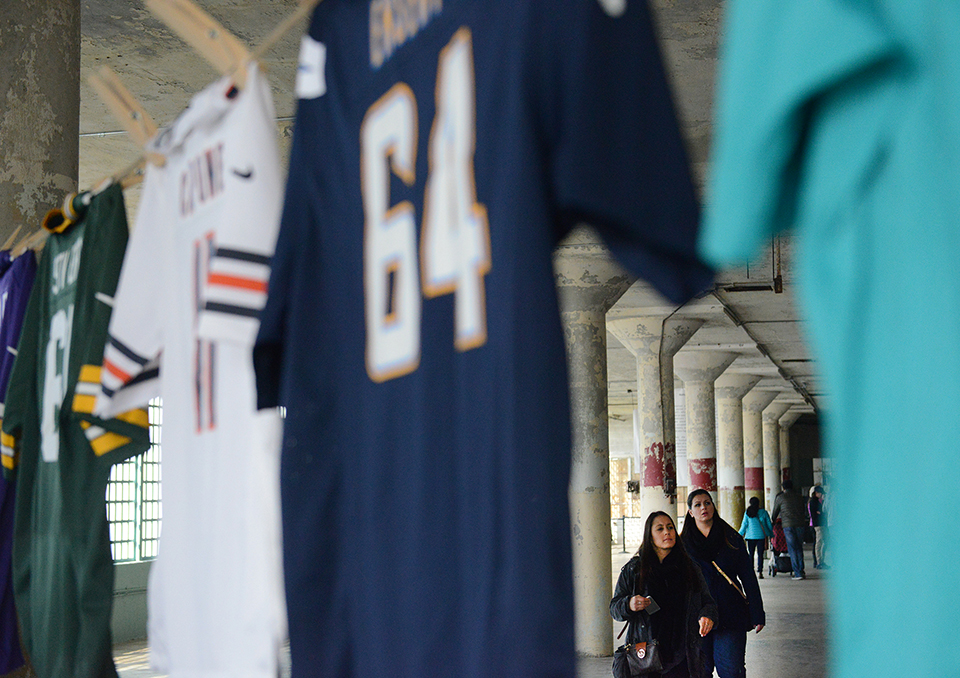 While there are more riddles to unlock within the Alcatraz exhibit, Saiers admitted that he didn't want to give them all away.
"Whether people agree with me or not, I hope that they leave and think about these issues more. As a society, we do need to think about it, improve it and make it a more fair place," Saiers said.
"Shortening: Making Irrational Rational" will be on display through the Super Bowl on Sunday, February 5th, from 10am– 2pm daily. The exhibit is free with a ferry pass to Alcatraz, which can be purchased at AlcatrazCruises.com.