As the black clouds have given way to clearer skies above, many have wondered just how heavy this month's heavy rains were—and if they've done anything to make a dent in the ongoing California drought. So we asked two Bay Area environmentalists and waterway experts for their input: Suzanne Gautier, of the San Francisco Public Utilities Commission (SFPUC), and John Monteverdi, a professor of meteorology at SF State.
Were this month's rains unusually strong? 
So far, at least, they were certainly above average.
"The city of San Francisco received 5.03 inches of rain in the three most recent storms," said Gautier. By contrast, the average SF rainfall for January is 4.49 inches—and we're less than halfway into the month, with more rain likely in the middle of next week.
"In Oakland's Piedmont Avenue District, I've had about 7.5 inches of rain since January 1st," said SF State's Monteverdi, who has a record of average rainfall around the Bay Area by month that dates back 31 years. His long-term average for January is about 4.6 inches, "so we are already way over normal."
However, Monteverdi noted that calling the single-day rainfall totals "extreme" was a widespread misconception.
"We've had no more rainfall than should be expected to occur once in five or once in ten years," he said. "There were no outstandingly extreme values in the Bay Area."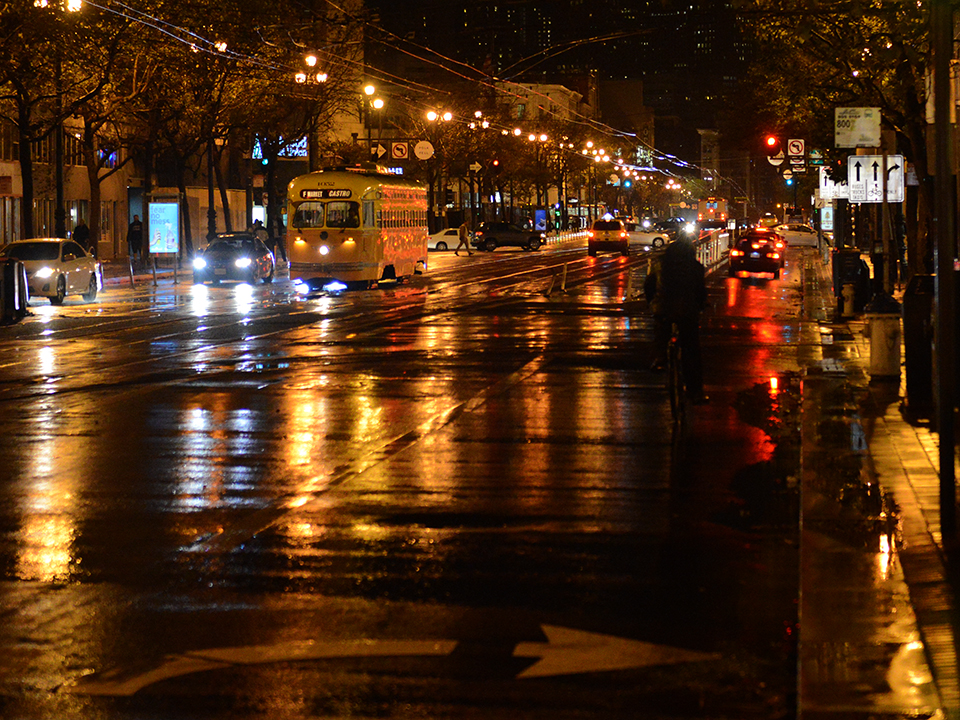 Is this level of rainfall bad for waterways? 
While the rainfall wasn't extreme, the amount the Bay Area received can still cause problems, such as rivers and creeks spilling over their banks.
"Short, intense bursts of rain can place a strain on our combined sewer system, which treats both wastewater and storm water runoff from our streets," said Gautier, adding that the commission generally prefers longer periods of steady rain to drenching storms like this one.
"Heavy sustained rainfall replenishes groundwater and provides sustenance to plant life. It also flushes creeks and rivers clean," said Monteverdi. But he also acknowledged the downside of too much rain, citing the numerous rivers and streams flooded around the Bay Area this month.
Are we still in a drought? 
The latest smattering of storms has many wondering if California is anywhere close to being out of the drought yet.
"We've been getting a lot of these questions," Gautier said, "but the State of California still officially says that we're in a drought, and that has not changed over the past few weeks." 
However, Monteverdi notes that by meteorological standards, "the drought is already ended, and was ended last year in our area. That means that the pattern producing dry conditions no longer existed."
He said that Northern California has now been removed from the meteorological drought category, and while southern California is still in a drought, conditions are improving.
Both Gautier and Monteverdi noted that the true test for rainfall numbers comes in April, when the state's accumulated snowfall melts, gradually filling reservoirs and allowing experts to adequately recalculate conservation needs.
Should I still be practicing water conservation?
Things may be going better for the state right now, but in the long term, climate trends still indicate that water conservation is the right way to go. 
"Conservation needs to become a way of life," Gautier said. "As our climate changes and becomes more and more unpredictable, droughts may increase in frequency. Water is a precious resource, and we can't take it for granted."

She encourages residents to look into the city's new Adopt-A-Drain program, in which locals can care for one of the city's 25,000 storm drains, clearing it of leaves and debris in the rainy season to reduce storm runoff and conserve water.
1,200 drains across San Francisco have been adopted so far, and adoptive drain "parents" get to nickname them, too. So far, the names have included "Blame it on the Drain," "Make it Drain," "You're So Drain," "Stormy McFloodsalot," and "Leavesdropping."
Both experts said they hope people will continue to find other creative means to reduce their water consumption. 
"In general, people should not waste water, and be mindful how they use it," Monteverdi said.