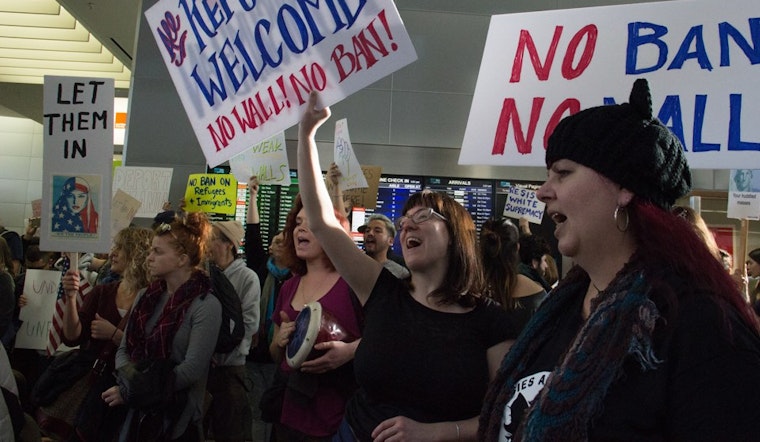 Published on February 11, 2017
Rabbi Susan Leider, who leads Congregation Kol Shofar in Mill Valley, knows that this past week's victory at the U.S. Court of Appeals for the Ninth Circuit in San Francisco isn't the end of the battle. In a 3-0 ruling, the court refused to reinstate President Donald Trump's temporary ban on refugees from seven predominantly Muslim countries.
"It's one small step, but we shouldn't get too comfortable," the rabbi told Hoodline. "We have a long road ahead of us."
Tomorrow, Rabbi Leider and her congregation will be participating in a National Day of Jewish Action for Refugees at the Holocaust Memorial at the Palace of the Legion of Honor in San Francisco. The event is a joint effort between Bay Area temples, including Congregation Emanu-El and Kehillah San Francisco. The Islamic Center of Mill Valley is also co-sponsoring the action, which Rabbi Leider feels is an important show of solidarity between the two communities.
National Day of Jewish Action for Refugees is a national event with simultaneous rallies scheduled for New York City, Chicago, Los Angeles, Boston, Denver and other cities. HIAS, an international advocacy group for refugees of all faiths and cultures, is the primary sponsor of the Day of Action. 
Holding San Francisco's rally at the Holocaust Memorial is particularly significant, Rabbi Leider said. "President Trump's executive order banning refugees coming as we were commemorating International Holocaust Remembrance Day was particular painful for all of us."
"We felt that our histories are being erased," she said, pointing to President Trump's Holocaust Remembrance Day declaration, which omitted any reference to the Jewish people. "We saw people being turned away at the airport."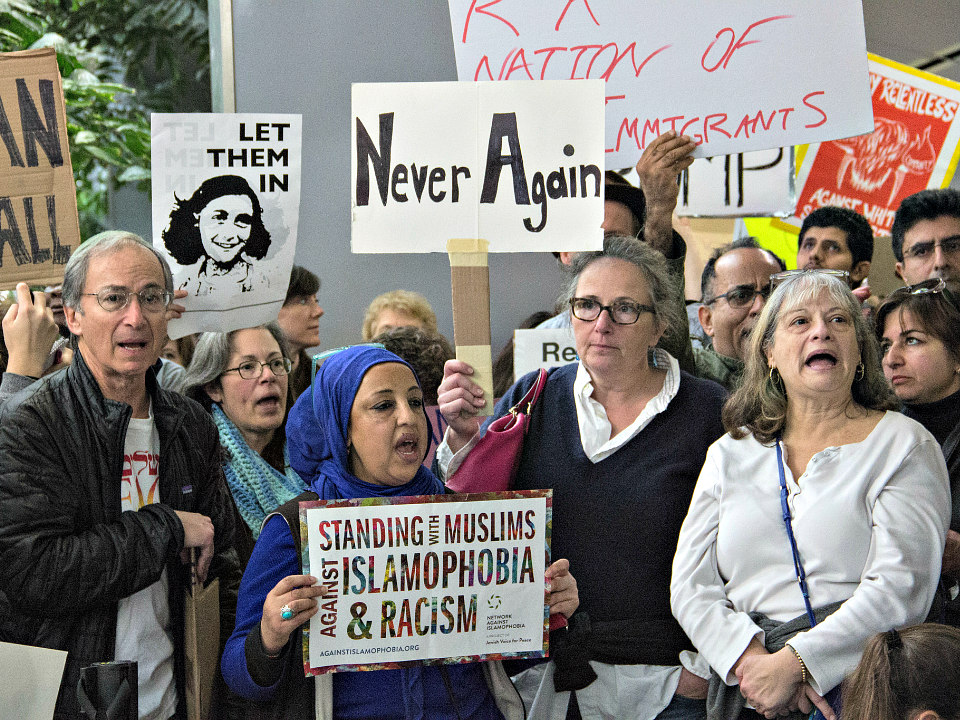 Rabbi Leider also cited the Voyage of the Damned as an example of what can happen when refugees are turned away. In 1939, an ocean liner carrying more than 900 Jewish refugees attempting to escape Nazi Germany was denied entry to Cuba, the United States and Canada. The passengers were later accepted at various European countries, including Belgium, France and the Netherlands. But Nazi Germany invaded those countries a year later, and many of those refugees were killed in the Holocaust.
"This is way too familiar for many in the Jewish community and beyond," Rabbi Leider said of the president's executive order.
"We have multiple examples in the Jewish tradition against stereotyping people," Rabbi Leider noted. "One example of this is that we're made in God's image. If we really hold to that, it makes it difficult to stereotype or to make blanket generalizations."
The Day of Action in San Francisco will include musicians and chanting. In addition to Rabbi Leider, speakers will include Rabbi Carla Fenves of Temple Emanu-El and Rabbi Aubrey Glazer of Congregation Beth Shalom.    
The rally will convene at 3pm Sunday and will run for approximately an hour. All communities are welcome.
The Palace of the Legion of Honor is located at 100 34th Ave. The 38-Geary, 18-46th Avenue  and 1-California Muni lines offer service to or near the museum.