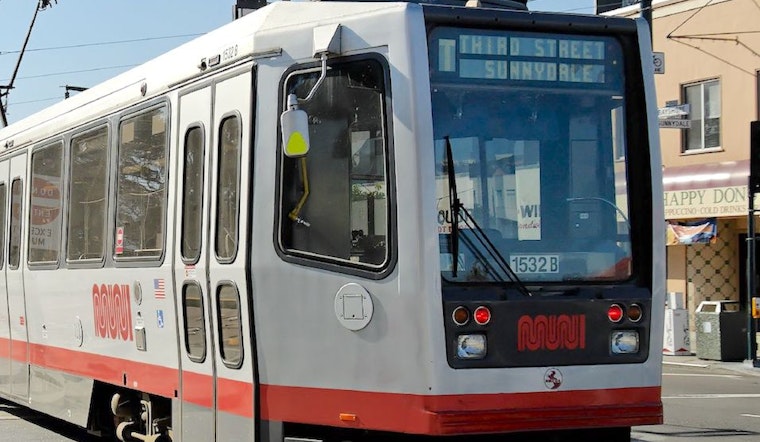 Published on February 16, 2017
A 29-year-old man, and known gang member, has been arrested in connection to the shooting that took place in broad daylight last week on a T-Third Muni train in Dogpatch.
As we previously reported, two men were injured just before 2pm Thursday, February 9th, following a fight on a train near 3rd and 22nd streets. Police said the suspect opened fire on one victim, shooting him in the head, and struck the other before fleeing the scene.
Yesterday, the SFPD announced that San Francisco resident Anthony Ray has been arrested in connection to this case. He was booked into county jail and charged with "attempted murder, aggravated assault with a firearm, aggravated assault upon the passenger of a streetcar and carrying a loaded firearm."
Offering more information on the incident, the police department stated that a witness at the scene intervened, grabbing the suspect's gun after the shooting. The witness and the suspect fought for control of the gun, which landed on the ground outside the light-rail vehicle. The suspect then fled.
Officers from Bayview Station and the Muni Response Team later recovered the weapon and surveillance video from the scene. Bayview officers then viewed the video and identified the suspect, "known to be associated with a known San Francisco gang," from prior "police contacts," the department stated.
Members of Bayview Station's plainclothes team and the SFPD's Gang Task Force took Ray into custody February 14th at a residence in Vallejo.
The SFPD also confirmed that the victim who sustained a gunshot wound to the head is in recovery.
Despite the arrest, the department is asking anyone with information on this case to call the SFPD Anonymous Tip Line at (415) 575-4444 or Text a Tip to TIP411 with "SFPD" at the beginning of the message.