The transit planners in charge of designing the Polk Streetscape Project have announced an alteration to the corridor's future bike lanes.

In a blog post published this month, the SFMTA confirmed that the northbound bike lane will be street-level, rather than raised, and include soft-hit posts to keep drivers from parking in the lane.
As we previously reported, the Polk Street project is expected to make the corridor safer for bicyclists and pedestrians while improving transit efficiency. Planned modifications include changes to the 19-Polk bus route, a protected bike lane, corner bulb-outs and high-visibility crosswalks and updated street lighting. 
The SFMTA says that the changes to the bike lane design were made in response to studies conducted last year on the city's first raised bike lane, installed on Market between 12th and Gough. Planners experimented with different curb designs as it worked to improve bicycle safety along the two-block bike lane.
The agency's final assessment: Along commercial streets, drivers tend to park in raised bikeways, unless there is a lane of vehicle parking and loading zones between the road and the bike lane.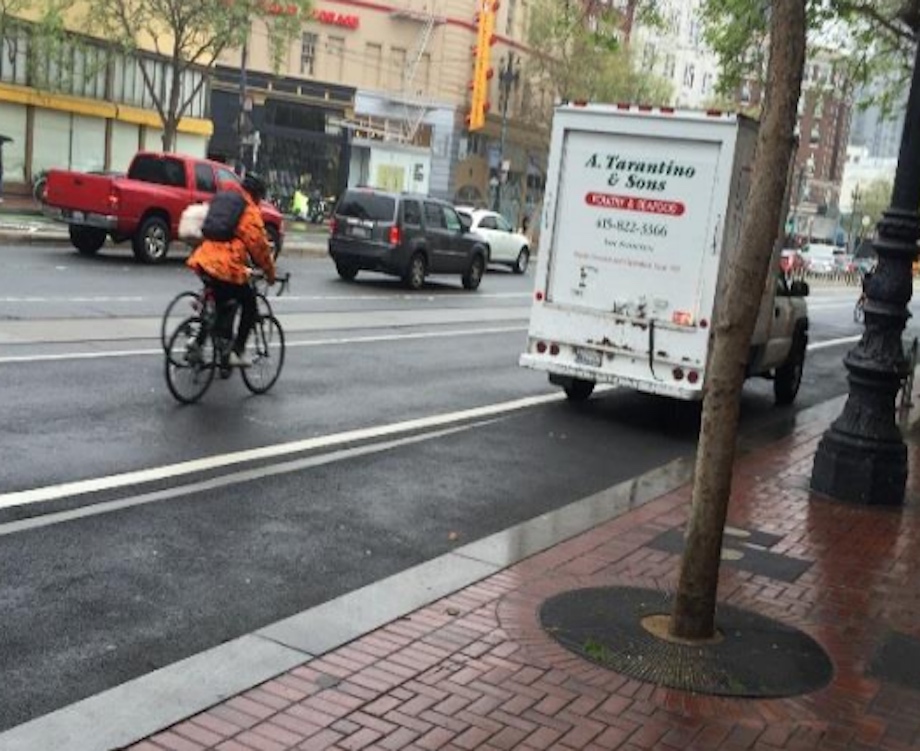 It isn't feasible to install another parking lane along Polk without drastically altering the existing plans, Coma Te, a public affairs officer with San Francisco Public Works, told Hoodline. So instead, the bike lane will be street-level, separated from traffic lanes with a painted buffer zone and plastic safe-hit posts.
This new design will not impact the agency's original plan for parking and loading zones, which will remain on the opposite side of the street.
Madeleine Savit, founder of Folks for Polk, tells Hoodline that the MTA didn't need to do a study to learn that better physical barriers would be necessary to prevent parking in the bike lane. Protecting bike lanes with a physical barrier has been a standard nationwide, and even internationally, for years, she said. However, she's pleased that the northbound bike lane will now be genuinely buffered.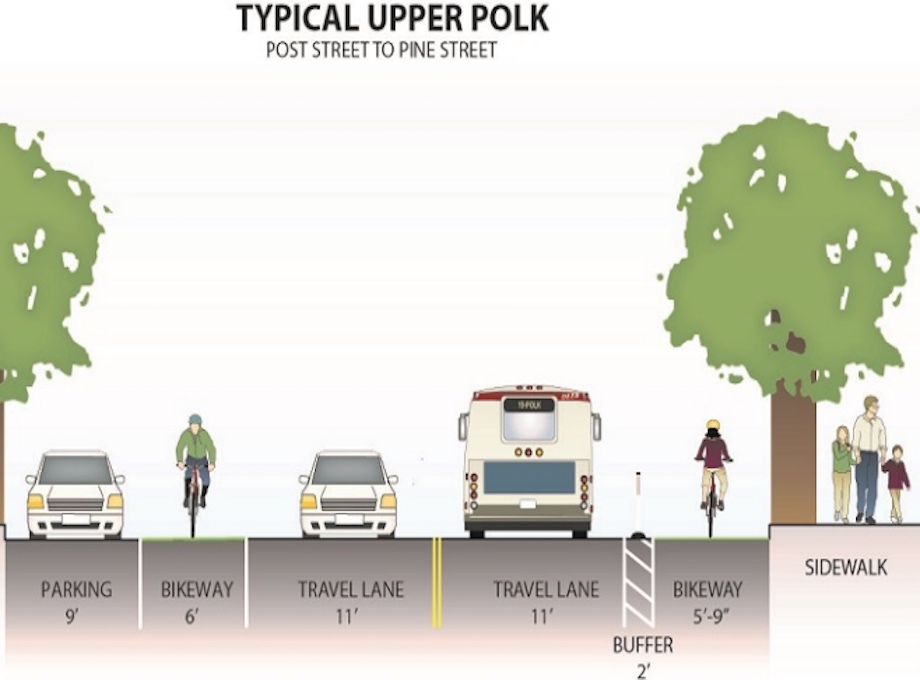 The project, a Vision Zero initiative, has a contentious history. Bike advocates called for more protected, continuous lanes, while many Polk Street store and restaurant owners argued their business would be harmed by the loss of parking spots. SFMTA's final plan preserved 70 percent of parking on Polk Street and 90 percent of parking spots within a block radius of the project and added 61 loading zones.
Construction on the Polk Streetscape Project began in October 2016, in conjunction with sewer and water main installation work on North Point from Larkin to Van Ness and along Polk Street from North Point to Vallejo Street, Te said.
The project is divided into several segments and will progress southward. Work in the Tenderloin is expected to start late this summer or early fall, Te said. Traffic signals are also being upgraded along Polk Street from Union to Post Streets.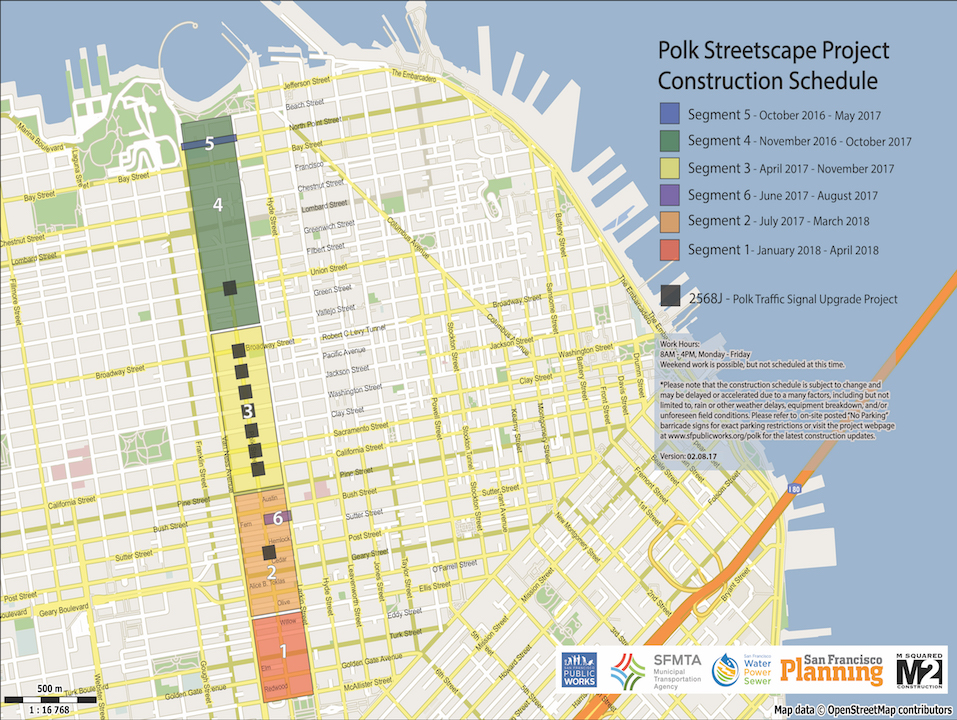 Work is expected to wrap up in late spring or early summer of 2018. You can subscribe to receive updates on the project website.