San Francisco's oldest park—South Park—will finally re-open at 64 South Park Ave. following a $3.8 million makeover.
A March 7th ribbon cutting ceremony will mark the completion of more than a year's worth of repairs to the park's storm and sewage system, along with updated landscaping, seating, lighting, and pathways.
Construction began in fall 2015, with workers initially planning to finish by August or September 2016. That deadline was pushed following struggles with fixing the park's drainage issues.
Officials set the new completion date for February, but that was pushed, too, due to recent rainfall.
"The rain kept the construction crew away from South Park," wrote J. Marien Cross, a project manager on the renovation, in a recent update. "We are still working to open the park soon."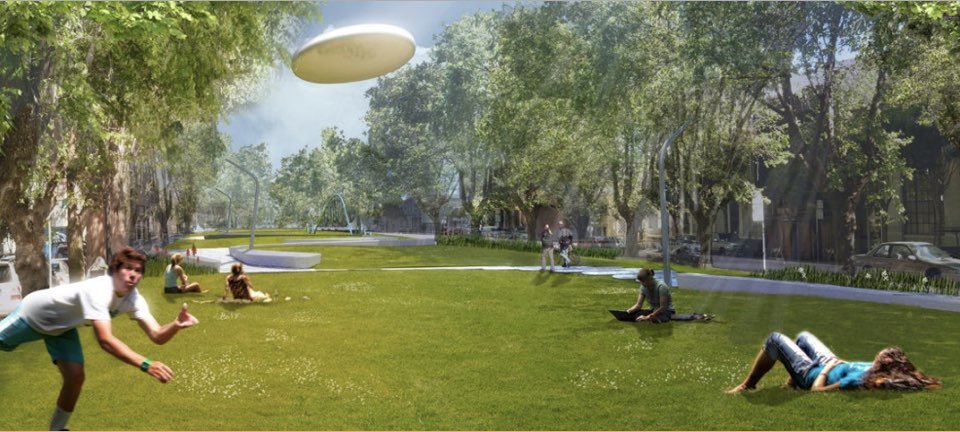 South Park was built in 1852, making it San Francisco's oldest park. 
In the early 1980s, neighbors formed the South Park Improvement Association to organize efforts around renovating the aging green space. Despite years of meetings and minor community-driven improvements, the first $1 million in funding for a large-scale renovation wasn't secured until 2012.
While the project was originally billed as a $2.8 million renovation—funded by the 2008 and 2009 park bonds, a grant from the San Francisco Parks Alliance and funds raised by the South Park Improvement Association—Rec & Parks spokesperson Joey Kahn has confirmed that the actual price tag was $3.8 million.
"There are multiple funding sources," Kahn said via email regarding the discrepancy. "In addition to public bond money, there are also funds from private donors and in-kind donations including from SPIA and Fletcher Studio."
"There may have been various iterations of the amount because it may have been listed as construction costs (aka hard costs) alone, or with soft costs (e.g. design, planning, outreach) and/or contingency budget included," Kahn added.
Representatives from Rec & Parks and the South Park Improvement Association, plus "community members and elected officials," are among those expected to attend the March 7th "special picnic" to mark the reopening. It'll take place from noon to 2pm, with a ribbon cutting ceremony at 12:30pm.
Thanks to Juan G. for the tip.
See something interesting while you're out and about? Text Hoodline and we'll see what we can find: (415) 200-3233.